This feature was contributed by the people behind Between App a private app for two people in a committed relationship. Download it HERE.

This Christmas, we've invited 3 lovely female guest influencers to share what their Christmas experience was like with their other half, and the best gift they've ever received from him – a gift that can never be bought.
--------------------------
Maggy & Joseph
As the jolly season of Christmas draws closer, it's not surprising to find yourself walking in a town saturated with Christmas decorations and promotions. There's just something delightful and cheery about the abundance of Christmas decor. This period of time is the best time for families and friends to gather for dinner, and also more often than not, a fun-filled Christmas gift exchange.
But to the beautiful Maggy Wang, a radio presenter based in Malaysia who also impressively juggles other freelance roles such as emceeing, acting and writing, Christmas is more than just a season of giving. To her, Christmas is also a season of loving and joy - one of her favourite times of the year where she gets to sing Christmas carols, rejoice over the amazing year that past and spend time with her loved ones; sentiments that her other half Joseph Lee shares as well. To them, the more gratifying part about Christmas is being able to enjoy the company of people who mean the world to them - and of course, that includes each other.
Having started dating each other just earlier this year, the two lovebirds share a cute story behind how they met. Just when you think going to the same house party after having 'matched' on Tinder on the day itself was coincidental enough, they bumped into each other again on a particular night when they turned up for a volunteering activity. As Maggy and Joseph chatted, chemistry bubbled and love eventually blossomed over other dates.
Being both health freaks and sharing common interests, deciding on dating activities was a breeze. It's not hard to find them on a prowl for healthy food joints (and occasionally something more sinful for cheat days)!
How do you guys usually celebrate Christmas?
I usually celebrate Christmas at church in the day, and have a home-cooked Christmas dinner with my best friends at night! For Joseph, his godmother holds a Christmas party every year.
Do you guys have the habit of exchanging gifts?
It's actually our first time spending Christmas together (and we're really excited!)
Is it okay if your partner didn't give you a gift?
M: I'd be lying if I said yes (laughs)! Well, honestly, I wouldn't really mind, but it would be a bonus to receive a gift :)
J: Definitely. We both have really busy schedules, and I'm happy as long as I get to spend time with her.
Something interesting - if each of you is given a budget of $10, what would you get for your partner?
M: A first aid kit, probably (laughs) He's always injuring himself during jiujitsu trainings! J: A big box of mineral water! Her place is no different from the Sahara Desert. (M: Hey! In my defence… I just moved in!)
So… what would the fresh-faced beauty consider as the best intangible gift she's ever received from Joseph?

If you have to choose only one trait of your partner as the best intangible gift you've received from him, what would you choose?
Oh man… I'm torn! He's such a kind-hearted goofball. I'll go for kindness.
Why that trait?
His heart of gold was what made me fall for him. He may seem rough and tough on the outside, but deep down inside, he has an extremely kind heart. If he could help, he would. Sometimes, he would even get out of his way just to help someone in need.
He's always so giving and selfless; I find that really really attractive.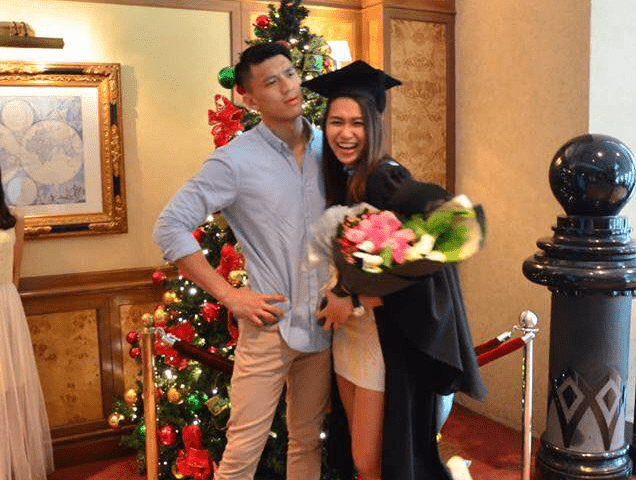 Share one event that made you feel that way!
I remember we were walking down the streets in Bangsar one day, and there was this blind man standing by the roadside. He seemed really lost. I can be more cautious about situations like these because I've heard and seen so many scam stories out there. He on the other hand, without a shadow of a doubt – dropped his things and walked towards the blind man to ask if everything was ok. The man could barely speak or walk, so Joseph guided the man step by step to the nearest taxi, carried him into the cab and reassured him. Then, Joseph paid the driver to make sure the old man gets home safe. I remember watching him the entire time. I couldn't help it… My heart melted!
I
n exchange, what is the one intangible gift you can give to him for the rest of your life?
I guess from what we've been through thus far, I would say trust.
It took me a long time to open up to the idea of being in a relationship again after being single for some time. There were times where I would be swayed by my own crazy thoughts and insecurities. Nonetheless, he always makes sure that the things that he does would make him earn my trust. Like I always say, it's the littlest things.
To say the least, if there's one intangible gift I can give him for the rest of my life... it would be my trust. I'd trust that he would always make things work; I'd trust that in whatever circumstances he would never let me down; and I'd trust that he will always be there for me.
After all, trust is the foundation of any relationship, no? :)

You're the gift I ask Santa for every Christmas
Magdeline Wang

, also known as Maggy Wang, is a radio presenter, emcee, actor, and model. Her professional journey began shortly after emerging as one of the Top 8 Finalists of Miss Malaysia Universe 2012. She recently graduated from Monash University with a Double Degree in Bachelors of Biz/Commerce & Bachelors of Communications. Besides writing and talking on the radio, she has also emceed numerous events, carnivals and reality shows, appearing on talkshows such as Grandstand Arena, Bella NTV7, and Football Overload, just to name a few. Catch her on FLYFM weekdays from 10am to 2pm!

As a health and fitness enthusiast, Maggy advocates a healthy lifestyle and even started a fitness movement initiative on Instagram called #movewithmaggy. Her partner Joseph Lee, a model, actor and Brazilian Jiujitsu enthusiast, shares the same belief when it comes to getting in shape.
--------------------------
Between, the best relationship app for couples
Between is a private app for two people in a committed relationship. Store and share your photos, important dates, and chat only with each other.
Get your special space for two

HERE
.