We all know how anti-ageing products can be beneficial to maintaining young-looking skin, so we were glad to know more about
Clinique
's new product, the
Smart Clinical™ MD Multi-Dimensional Age Transformer Duo Resculpt + Revolumize
last 27 September 2019 at Straits Clan.
The Clinique Multi-Dimensional Age Transformer
If you're intrigued by novel packaging and multi-tasking products, this two-in-one jar will definitely tickle your fancy. The jar holds two creams that serve two different functions: The
Resculpt Cream
and the
Revolumize Cream
. The component itself is sturdily made and luxurious to the touch. The duo packaging is ideal for targeting the different areas of your face with different concerns — similar to
multi-masking
.
We immediately tried the Multi-Dimensional Age Transformer Duo after the event and right away, we noticed that both moisturisers have a barely-there scent that's pleasant and not at all overwhelming.

We found the Resculpt Cream to be very easy to apply. It's a light, white gel-cream moisturiser that has a pleasantly smooth texture. It's perfect for areas that are prone to sagging over time, such as your neck, chin, jawline, and even your forehead. Its active ingredient is soybean seed extract, which helps tighten and lift your skin over time.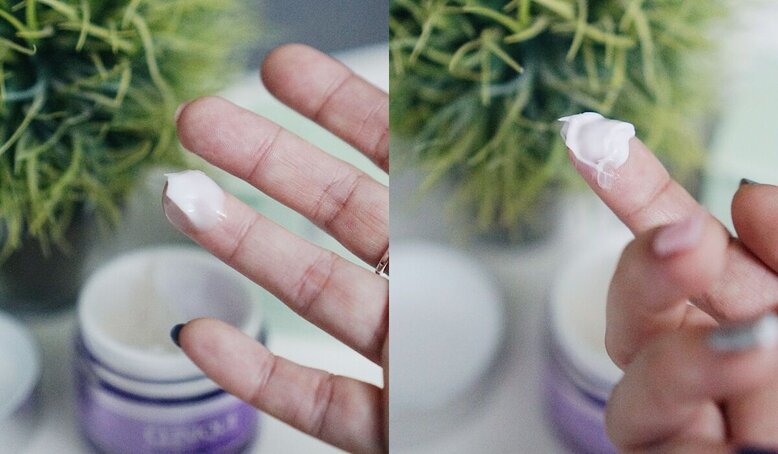 Left: The Resculpt Cream with lifting and tightening benefits; Right: The Revolumize Cream that plumps up your skin
Meanwhile, the Revolumize Cream comes in a pretty lavender colour, with a firmer and shinier texture similar to butter. Despite its appearance, it's actually a non-sticky, oil-free formula that can be used night and day, and feels very light upon application. It may be generously applied on your cheeks, laugh line areas, and forehead to help smooth out the appearance of fine lines. Packed with hyaluronic acid, it's great for moisturisation. It also targets areas that need brightening and smoothening, making them look softer and more supple.
After a few days of putting the creams on both the face and the neck, it's worth noting that they are good at moisturising the skin and making it feel soft. We'll continue using the creams to see further how they would perform.
The Clinique Smart Clinical MD Multi-Dimensional Age Transformer is now available for purchase.
Though the Clinique Smart Clinical™ MD Multi-Dimensional Age Transformer was designed for convenience, you can also choose to purchase the creams separately to fit your own skin concerns. It is now available for purchase at SGD120/~USD69 in Clinique boutiques and Sephora stores in Singapore.