In partnership with artist, drag queen and supermodel Miss Fame,
NYX Professional Makeup
conducted a series of makeup masterclasses around Asia. During the Singapore leg of their tour, the Clozette team caught up with
Miss Fame
for a round of quickfire questions. Watch the video and scroll down below to find out about this stylish and daring multi-hyphenate's take on glamour, haute couture and '90s supermodels.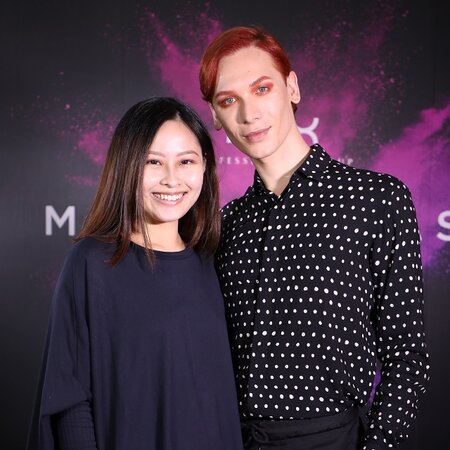 Bold Eyes or Bold Lips?
"Bold eyes. And the reason for me is I really like to create a focus point where people see you first when they talk with you. So features are very important. It's actually hard to answer that because both those features are my main focus. But I take a lot of time to do the eye — it's like the first start to my makeup and it takes a lot of time to do a properly evolved eye but I feel like if you can master a proper eye then you don't have to take much more time elsewhere. The skin can look fresh and the eye can be the most dramatic statement."
Leather or Silk?
"Leather because it's a strong fabric and I find it to be just powerful. There's something about leather that really represents commanding energy and I think it looks like you're a badass."
Laid back or Glam?



"Glam. All the time. I'm obsessed with glamour; I would want to be perceived in glamour every day of my life even though I'm very laid-back when I'm at home. When I'm working, it's always glamour 120-130 per cent. Push, push, push!"
Hair or Makeup?


"Makeup. The reason being: it's what I do; I'm obsessed with makeup. And even if I didn't have the perfect hair or the perfect wig to finish the look, I could accessorise it with a hat, I could wrap my hair in a scarf, and if the face is perfect then everything else is gonna look cool."
Precision Brow Pencil or Microbrow Pencil?


"That's tricky. Let's say Microbrow because I really wanna get nice details and that's gonna give me that."
Mineral Stick Foundation or Can't Stop Won't Stop Foundation?

"For the climate we're in, I'll say Can't Stop Won't Stop because in this climate we really need to have something that's gonna give you long wear and mattification. And as soon as you step outside, the humidity? You're gonna need something that's gonna be [a] bulletproof foundation and that's Can't Stop Won't Stop."
'90s Supermodels or Old Hollywood Icons?
"I can't answer that one… I'll say '90s supermodels because I take inspiration from the genres that you asked. But Linda Evangelista in the '90s was like my all-time mega inspiration for all eternity."


Vivienne Westwood or Jean Paul Gaultier
"Jean Paul Gaultier. That being I just saw his show in Paris for the couture shows and he really brings you a proper Parisian-style couture show. He's also one of the still-standing ateliers with the house represented by the actual artist so in an era where couture is becoming maybe diluted a little bit because you're starting to have people like creative directors behind the name, he is still the name and the creative director and the artist creating the whole vision. And his show's just mind-blowing; you literally feel like you've entered another stratosphere of fashion."