It looks like sovereignty and territorial issues surrounding China doesn't stop at government press conferences and rallies; it has also trickled down to the fashion industry. Fashion brands Coach, Versace, and Givenchy recently issued their respective apologies to China for what is said to be a defiance to the country's "One-China" policy, a mandate stating that despite the differences in the socio-political systems between each state, Hong Kong, Macau, and Taiwan all still fall under one sovereign jurisdiction.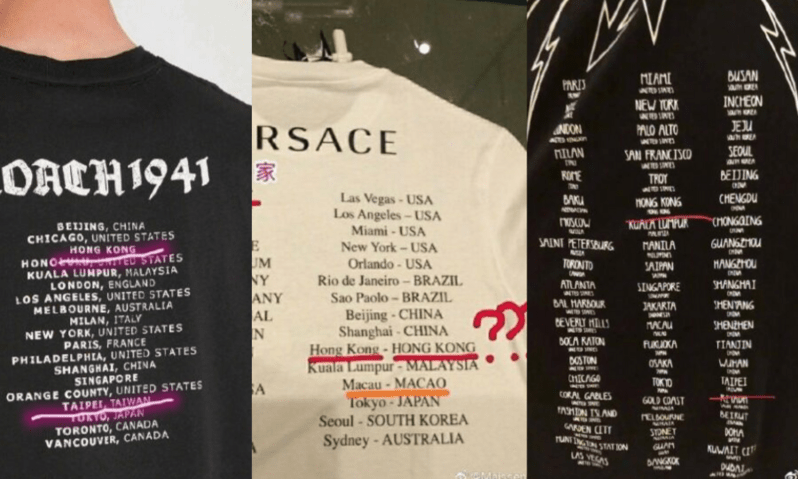 Left: Coach shirt showing Hong Kong and Taiwan as independent countries (source); Middle: Versace shirt showing Hong Kong and Macao as solo states (source); Right: Givenchy shirt showing Hong Kong and Taiwan as sovereigns (source)
Despite being separate occasions, the three fashion labels all released tour shirt-inspired apparel naming Hong Kong and Macau as independent countries rather than special administrative states, and Taiwan as a renegade province status. Each brand has issued an apology on their respective social media platforms and claims to have retracted the items in question. Is this incident is more than what it seems?
Consumers call for boycott, celebrities severed ties
After the designs circulated and trended on the Chinese social media platform Weibo — causing an uproar there — many consumers call for a boycott against all three fashion houses. Many noted that at such a sensitive time for China, given Taiwan's continuous strain for severance and Hong Kong's ongoing rallies regarding the controversial legislation on extradition, making such a mishap seemingly undermining the One-China policy is indeed insensitive. It is worth noting, though, that the line of argument focuses on China being at the disadvantage more so than the states currently protesting against the Asian superpower.
Even Chinese celebrities and personalities who have worked or are presently working with the three fashion labels shared their two cents on the matter. Supermodel Liu Wen wrote on her Weibo account, "At any time, China's sovereignty and territorial integrity are inviolable!" She then went on to apologise for working with Coach and has shared that she is severing her ties to the brand. "I love my motherland and resolutely safeguards China's sovereignty," she added. Meanwhile, Givenchy ambassador and Chinese boy band member Jackson Yee also announced cutting his relationship with the fashion label.