While most of us are safe at home with our loved ones, some dating couples are currently dealing with a forced temporary separation due to social distancing and community quarantines. Issues such as no available modes of transportation or strict city checkpoints have limited their ability to physically see each other. Not to mention not being able to hug, hold hands, or even give each other a quick peck even if they do manage to find a way to meet. For a lot of people, this is quite a challenging time in their relationships. To shed some light on the current dating situation, we've reached out to three couples dealing with social distancing on how they're staying emotionally together, even while being physically apart.

Zoom dates and online games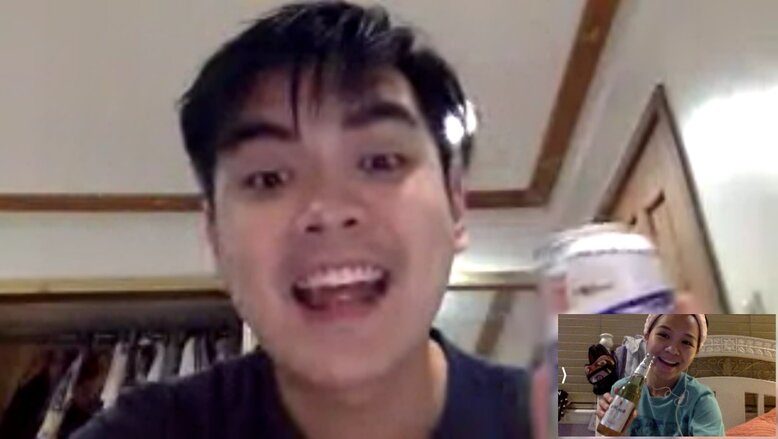 Theatre actors Justine and Anton have been dating for almost a year. Just a week prior to the Luzon lockdown in the Philippines, they were meeting up almost daily for their dates. "The longest we've been apart was around three to four days because we were busy or working," says Justine. "We live very near each other, about 15 minutes away with no traffic, so it's very easy to see each other." Of course, the days of visiting each other's houses, eating ramen, or touring museums had to stop.
Future plans also had to be indefinitely postponed. They planned on going to Osaka, Japan for their first year anniversary in May and have already booked their flights. "Luckily, we didn't purchase lodging or Universal Studios passes, so the only thing we had to refund was our flight tickets." While they can console themselves with saving up for a better trip in the meantime, this wasn't something they saw coming. "We were both very sad that it had to be postponed, but as we are both in theatre, it also gives us a chance to save more money for a better trip in the future."
They're currently keeping each other up-to-date through daily video calls. Topics range from TV show recommendations to the games they play (Justine is currently obsessed with Animal Crossing while Anton is busy with finishing Persona 5). The self-proclaimed homebodies share the love languages of physical touch and quality time, which made the separation especially hard at the beginning. "We try to be creative with our video calls, like getting drinks and playing games like DOS, the ones on Telegram and Facebook, or even Dungeons and Dragons."
Resorting to virtual meet-ups
Like Justine and Anton, social media manager Nica and businessman Ryan are another couple dealing with social distancing through unique ways. They usually saw each other almost every day of the week before being forced to stay apart. Saturdays, in particular, were their designated days for each other. "Most of the time, we'd go to the mall to go window shopping or watch a movie. We'd also go to the gym together and then eat out afterwards," Nica shares. They had to postpone their half-year anniversary celebration once the enhanced community quarantines in the Philippines were set in place.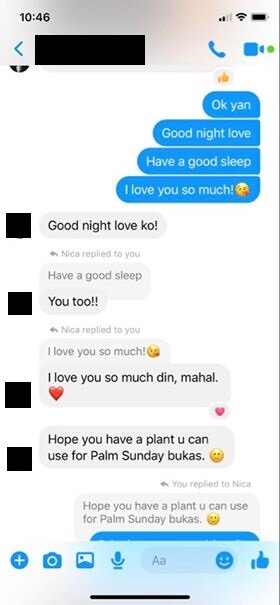 For this couple, communication is key, especially now. "We often chat in the morning and afternoon, then FaceTime in the evening," Ryan says. For Nica, these daily conversations help keep the anxiety at bay. "I get anxious sometimes because seeing each other physically is so different from just seeing each other virtually," she says. "But staying updated about each other's lives is what helps me be more confident that we can make it through this time apart."
Closer together than apart
Law student Ange* and journalist Joanna*, however, are not a couple who was thrown into the deep end. They aren't unfamiliar with having to deal with distance. Joanna travels quite a lot for work, so they're usually in the same city around five out of the seven days of the week. Other issues, such as their busy schedules, forced them to meet only once a week prior to the lockdown. But those Sundays spent going to Mass together, having lunch, watching movies or binging TV shows were priceless.
"It doesn't mean we don't miss each other. Every day is a struggle, and we find ourselves not wanting to say goodbye at the end of the night, just because we'll miss each other." Now that they're not seeing each other for a while — at least physically — Ange and Joanna have taken to evening video calls to stay connected like couples dealing with social distancing. While these were already part of their daily routine, it has taken a whole new meaning.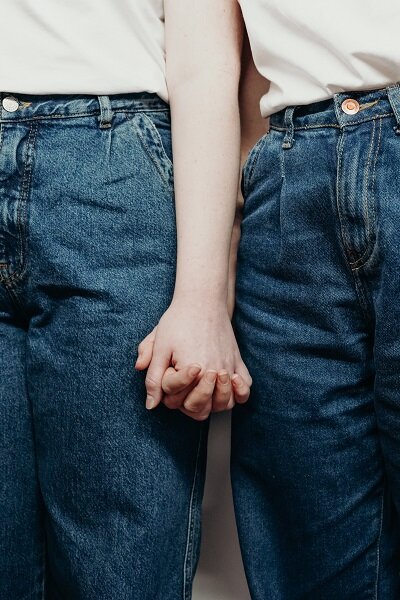 Previously, they'd have long conversations about their days, their frustrations, and other matters important to them. Ange is currently having online classes and Joanna is working from home, so their nightly video chats have turned into day-long conversations. "It's almost like we live together because of this set-up!" The couple, who have been dating for four years, has toyed with the idea of moving in together "when this is all over" so as not to deal with long periods of separation afterwards. Social distancing makes it even more appealing now.
Ange also says she has to deal with anxiety regarding the current situation they're in. Aside from not knowing when she'll see Joanna in person again, they also have to deal with the political and national issues this health crisis has brought to light. On a personal level, they're worried how the lockdowns will affect Ange's studies, which will probably have to be extended by another semester or so. Before social distancing and the lockdowns, the longest they've been apart was two weeks. Now, they're almost at the two-month mark of their forced separation — and it may not end anytime soon.
Moving forward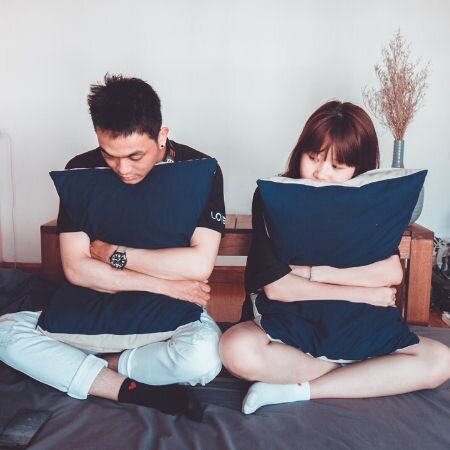 Rica Cruz, a sex and relationships therapist from Ateneo de Manila University, thinks these couples are doing everything needed to keep their relationship healthy while dealing with this forced separation. "This could be a make or break situation for them. If they're used to expressing their love or affection with each other through going out and having dates, then the enhanced community quarantines could definitely put a big dent on their relationship," she says. While the current situation can be likened to a long-distance relationship, there's a major difference: choice.
"The current situation was forced upon us; we didn't choose this and it happened so abruptly that people didn't have time to adjust. As opposed to a long-distance relationship where the couples know what they're getting themselves into," Rica expounds. Not everyone could be as strong in communication as the three couples we interviewed, and that's something to keep in mind if you are also currently forced to not see your partner due to the quarantine.
As of now, dating couples dealing with social distancing need to resort to other means of strengthening their bond. Rica says that constantly connecting and communicating is a must for every relationship right now. Even flirting through text, she claims, is a good way of keeping the intimacy alive. She also advises couples to "remember to tell each other what you like or miss about one another." Aside from that, having meaningful conversations about your feelings and mental health as well as setting tentative plans can help alleviate your anxiety about the uncertain future. She also recommends doing regular bonding activities. "Stick to date nights, watch parties, have e-numans (online catch-ups over drinks) with friends, connect with family, send memes!"
While future plans have been put temporarily on hold, it's worth noting the operative word — temporary. Couples dealing with social distancing need to remember that this forced physical separation will have an end. "Accept that it's not cancelled, it's just postponed. This means it will happen; we just need to hit the pause button for a bit."
*Name has been changed to maintain the interviewees' privacy.

For more stories about love, here's how this couple braved their long-distance relationship.