Over the weekend, we gathered with our Clozette Ambassadors in Singapore for our very first #CreateShootFilm workshop that covered the basics of video production with our friends from Brand New Media and an advanced session on photography by Melvin Lau of Multifolds.
Our #CreateShootFilm workshop has been a long time coming as we envision the growth of our community to not just be fashion and beauty enthusiasts but for our community to fully embody their role as creators--using their passion for all things fashion and beauty to create engaging video and photos to share to their readers and followers.
Watch this video for a peek into what went on at the workshop!
Want to get in on video production? Click next for the tips & tricks our Clozette Ambassadors learned during the workshop!
As we learned from Brand New Media (our wonderful friends behind ClozetteTV), the key to shooting a great video is all about adhering to a few DOs and DON'Ts to ensure good video quality that makes it enjoyable for your audience. After all, the focus with every video is to hook and engage your audience.
Here are the pointers they shared with us!
DOs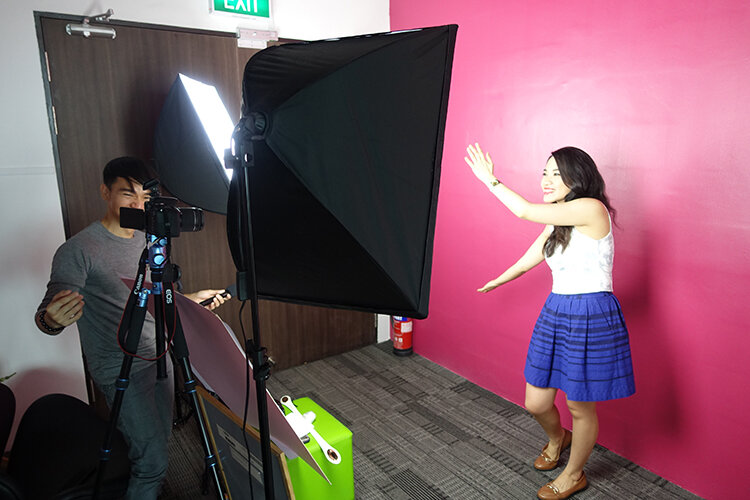 -- Film in a brightly lit room. (white light is better than orange light). Ideally next to a window with a lot of natural light.
-- Plan your shots. Have a look at how your background looks. Clean up, make it neat and presentable.
-- Frame your shot. Give it enough room so it can easily be "square-able" if you intend to derive a snippet for an Instagram video teaser.
-- Shoot in a quiet room. If your room has an echo, use cushions or pillows to pad the walls. Also, a microphone is a good investment.
-- Be natural. Don't script yourself but do have a rough guide so you don't ramble. Choose a topic you are most passionate about so it will come across most naturally.
-- Prepare well and be organized. Sort your equipment. Charge your batteries!
--------------------------

DON'Ts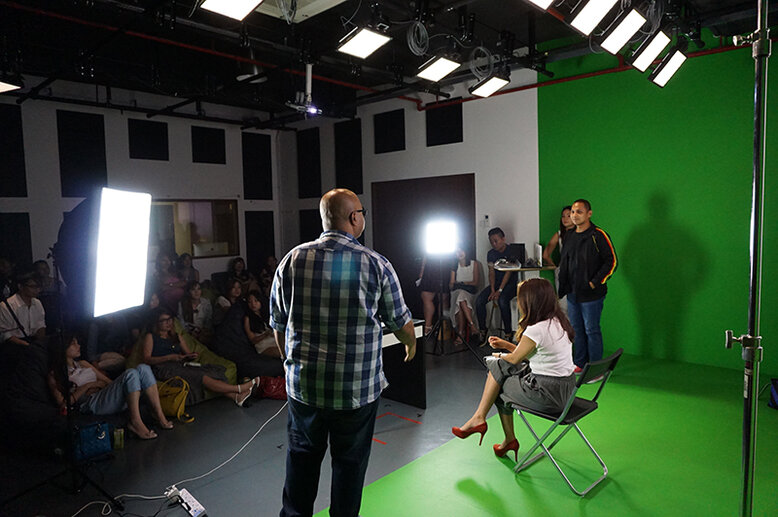 -- Don't wear intricate designs.
-- Don't be too ambitious. Keep it simple, short and sweet.
-- Pay attention to your story. What are you trying to convey?
-- Make sure you're aware of what's behind you. Eg. don't wear a black dress and stand in front a black closet.
-- Don't fidget or stay too static. Watch your hands. Make your movements small.
-- Don't rush your video but don't ramble. If you would like to add music, make sure to dim the music when you introduce vocals.
--
Use royalty free music. Avoid
using commercial music as it makes it difficult for other platforms to use your videos.
So with those tips in mind, #TeamClozette got together to create a video as a starting point to give our own tips & tricks into the video production process. Thanks to our partners from AIBI Fitness, we were given The Facial Fitness PAO as a product to test and give a short review on.
From our own experience in setting up the studio space in our office, to creating the script, to finalizing the sound and lighting, and up to the entire editing process--we were able to share our own hands-on approach to video production, specifically tailored to doing a beauty video. Something which our Clozette Ambassadors were definitely very excited to embark on!
And here's the video we created using The Facial Fitness PAO courtesy of AIBI Fitness:
Video Tips From #TeamClozette

Research – read product information & watch existing videos
Before filming, always research as much as as you can about a product--from reading the press kit, to other reviews posted online, and of course to watch all the other videos being made about a particular product. Your main aim should always be to try to understand the product as best as you can.
Develop overall concept
Take the time to develop the overall concept of the video, from direction, to the script, and to the overall key message you want to portray. Try to see if you can make your video slightly different from what's already out there.
Set a target video duration
To prevent the video from being too long, it's always best to set a target duration. This will ensure that you keep your message as succinct as possible, keeping to the main idea you want to relay to your audience. Throughout the filming process, you do however have to be prepared for things changing and new ideas popping up. So our best tip: just roll with it! It adds a fun element to your video and keep you looking relaxed throughout the video. Remember, it's all a creative process and it's always wonderful to let your creativity roam free!
Video Editing
There are a few video editing tools out there that you can purchase or download, such as iMovie for Apple users or Power Director and Sony Vegas Pro for PC users. To get better acquainted with the software, do watch tutorials online and practice, practice, practice. We've found that with each new video we create, we've become faster and better with the editing.
As a team, we all definitely had a wonderful afternoon learning everything we needed to know to prepare us all to create, shoot, film!
Want to submit your video and have it featured on ClozetteTV?
Send us an email at [email protected] for submission guidelines!