If you want to know where the best-kept French beauty secrets are, simply step into a French apothecary. The traditional equivalent of a modern-day pharmacy, the apothecary encapsulates the allure of the French beauty and wellness lifestyle. It's chic, effortless, and au naturel — wonderful things beauty mavens like us fantasise about for our skin. Now, you can find a piece of this apothecary – characterised with a new world charm — right here in Singapore.
Newly opened at OUE Downtown Gallery 1 is French heritage skincare brand
Crème Simon's
flagship boutique. Founded in 1860 by visionary pharmacist Joseph Simon, his multipurpose cream — Crème Simon — propelled the brand to huge success, and paved the way for modern cosmetology in the 20th century. Till this day, Crème Simon advocates natural beauty remedies with an emphasis on a balanced way of living.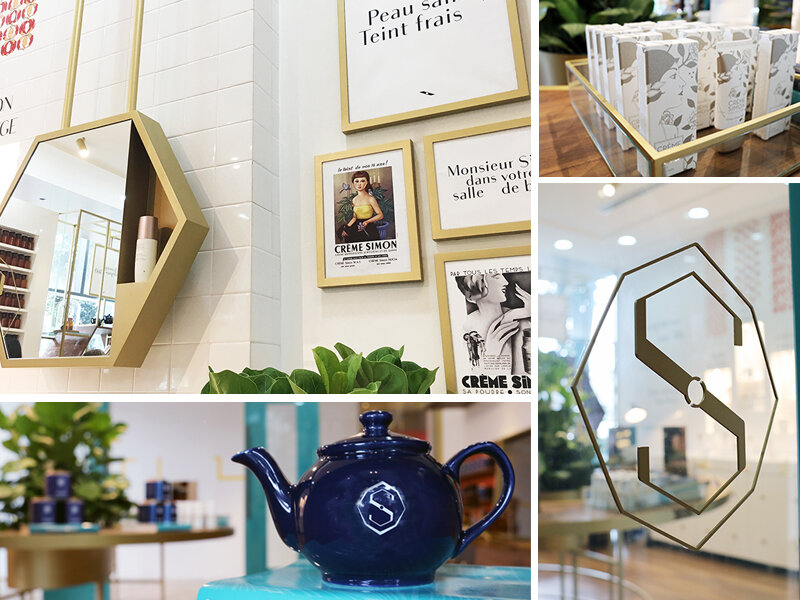 In essence, the new flagship boutique is a true reflection of Joseph Simon's holistic legacy on treating beauty through the overall well-being. Inspired by the residence of the founder, it is quintessentially French with a classic and modern mix. From its parquet flooring and gold hardware detailing, to its decorative old-school medicine bottles and a lone armchair at a corner — the store shows off a contemporary world of la maison de Monsieur Simon without losing its century-old apothecary heritage.
With its exquisite range of multi-awarded natural skincare, teas and supplements solutions — and a modern Parisian home setting to boot — Crème Simon welcomes you home to a pleasurable beauty ritual. Here are our four highlights of the Crème Simon flagship boutique.
The Centerpiece



Accent wall decorated with an 'S' emblem
Lined with Crème Simon's best offerings at a glance, the prominent centerpiece area is an excellent place to help you get started on discovering the finest in natural beauty remedies.
The Heritage Trail



Vintage Crème Simon products lend a sentimental touch to its flagship store
Offset by display boards detailing the French beauty brand's narrative, vintage Crème Simon products — seen on the shelves and other areas — are a testimony of Crème Simon's time-tested skincare history.
The 'Bathroom'



Crème Simon's products are powered by its signature 100% natural Activ Fleur Complex, scientifically proven to enhance skin cell structure
What has truly stood the test of time is Crème Simon's range of natural skincare products — all crafted with
0% paraben
,
oil
,
alcohol
,
sulfates
,
colouring
,
phenoxyethanol
and
silicone
.
In the Crème Simon 'bathroom', you'll find everything your skin needs for full gentle nourishment:
Cleanse
,
Hydrate
,
Treat
, and
Protect
. Our picks? The
Oxygenating Foaming Cleanser
for perfectly cleansed skin;
Oxygenating Light Day Moisturiser
for an oxygenated, hydrated and radiant complexion;
Daily Defense UV Protector SPF50
for total UV protection; and their iconic multi-purpose healing cream, the
Crème Universelle
.
Les Thés



Crème Simon's newest complementary Wellness Tea range packs some serious health benefits for the skin, body and mind
Crème Simon believes in skin food from the outside in — and from the inside out. Take your pick among these four teas: Beauty, a fruity tea for skin and hair health; Skin, a herbal tea for skin radiance; Purify, a detoxifying tea for digestion; and Relax, a soothing tea for better sleep.
To top it off, the teas contain
0% caffeine
,
added sugar
,
artificial flavourings
,
colourings
,
gluten
,
allergens
,
GMOs
, and
preservatives
. They're as natural as they get, exactly how we'd like our skincare to be.
P.S. we also hear that Crème Simon will be launching a new line of supplements very soon. So go ahead, immerse yourself in this modern French apothecary experience right in the heart of Singapore's Central Business District.
Present this article at Crème Simon's flagship boutique at OUE Downtown Gallery 1, #01-05 to redeem a Skincare & Tea trial kit.
*Valid for the first 100 redemptions only.