Ah, glorious sake! Enjoyed by the Japanese for centuries, this delectable clear nectar made from fermented polished rice, koji, and pristine water is revered for its exquisite taste and cultural symbolism. However, outside of Japan, sake is less understood and unfamiliar to many consumers.
So, let's talk about sake and allow us to show you how this underrated drink is a wonderful pairing for many types of food — fatty meats, sushi, vegetable dishes, and especially seafood.
Much like wine, sake complements the flavours of seafood and increases the gastronomic satisfaction factor of a meal. However, according to research by Japan Sake and Shochu Makers Association and Japan Umami Seasoning Association, sake is richer in amino acids that produce umami. As a result, sake surpasses wine by enhancing the umami flavours of food due to a synergistic effect between both them. Not only does sake accentuates the umami tastes, but this delightful rice wine also masks the unpleasant odour of seafood to elevate the whole epicurean experience.

With sights focused on enjoying sake when paired with food, we headed to award-winning restaurant CURATE. They have invited renowned Chef Shinya Otsuchihashi from one Michelin-starred Craftale in Tokyo to create two exceptional sake-seafood pairing dishes that will wow your taste buds, even if you're an entry-level sake drinker.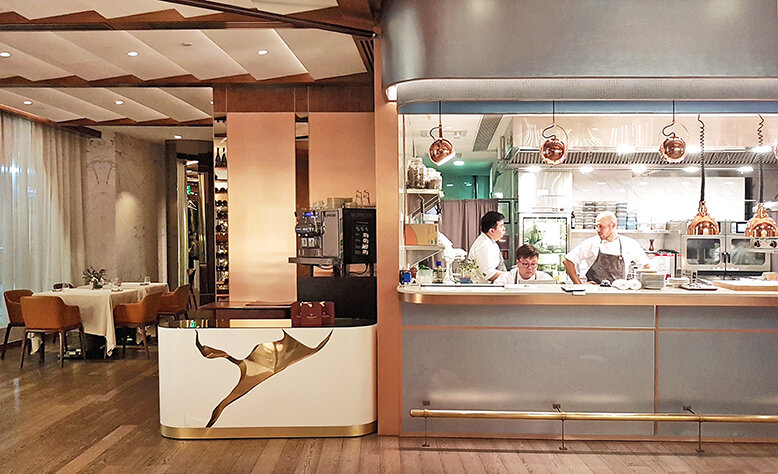 Glazed Hokkaido Scallops paired with John's Sparkling Sake (Keigetsu)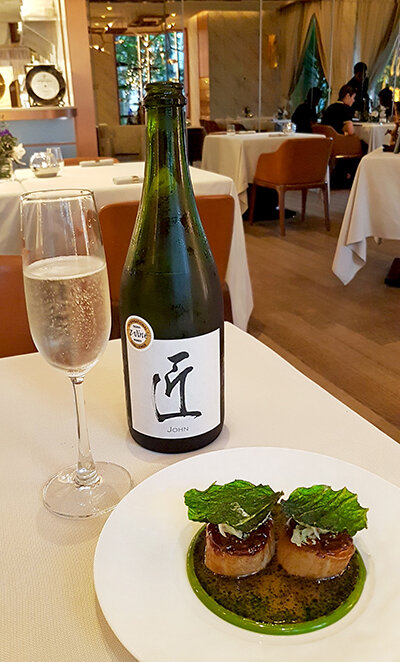 Plump juicy Hokkaido scallops grilled on traditional binchotan and topped with delicious pork terrine sit in a delightful consomme of braised sauerkraut. It is almost too pretty to eat. Although from different food groups, the fresh sweetness of the scallops combined with the savoury pork terrine and the tangy acidity of the sauerkraut broth come together in an exciting yet palate-pleasing harmony.
This exquisite dish finds an excellent partner in the award-winning John's Sparkling Sake (Keigetsu) brewed by Tosa Brewing Company in Kochi Prefecture, where it is famed for its sake culture. Made with high quality "Gin-no-Yume" sake rice that is 50 per cent polished, this is brewed as a Junmai Daiginjo (the highest grade of sake) before it is made sparkling with carbon.
As expected, it lives up to its reputation.
Pale yellow and crystal clear with lively bubbles, this refreshing medium-dry sparkling sake goes exceptionally well with shellfish. With a subtle floral scent and fruity notes of citrus, John's Sparkling Sake surprises the taste buds by accentuating the sweetness of the scallops and intensifying the overall umami flavours. What a sensorial pleasure.
Pan-seared Pike Perch paired with Tatenokawa Junmai Daiginjo Seiryu Sake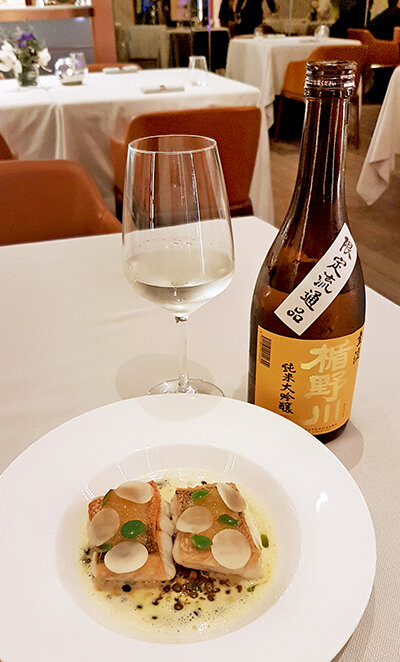 Firm and flaky pike perch is pan-seared to perfection and laid on a decadent creamy base of smoked beurre blanc sauce with the most tasty Le Puy lentils. The nutty lentils have a firmer texture as compared to normal lentils (in fact they are regarded to be the best type of lentil) and it makes a fantastic accompaniment to the mild flavours of the freshwater fish.
This culinary masterpiece is paired with the high-quality Seiryu Junmai Daiginjo, produced by Tatenokawa Brewery in Yamagata Prefecture and it is a brilliant match indeed. Brewed using locally harvested 50 per cent-polished premium Dewasansan rice, the refined softness of the Junmai Daiginjo lures even beginner sake drinkers with its delicate aromas of peach and flowers.
Medium-sweet with a crisp finish, this gentle and smooth sake is extremely easy to drink on its own. But when paired, the medium sweetness of the sake plays upon your tongue and forms a wonderful balance with the more intense flavours of the dish. Mmm... so good!
What makes the experience even better is that wine glasses are used instead of the usual sake cups. According to the wine sommelier at CURATE, the taller and wider opening of the glass traps the aroma so that diners can enjoy the complex bouquet of sake.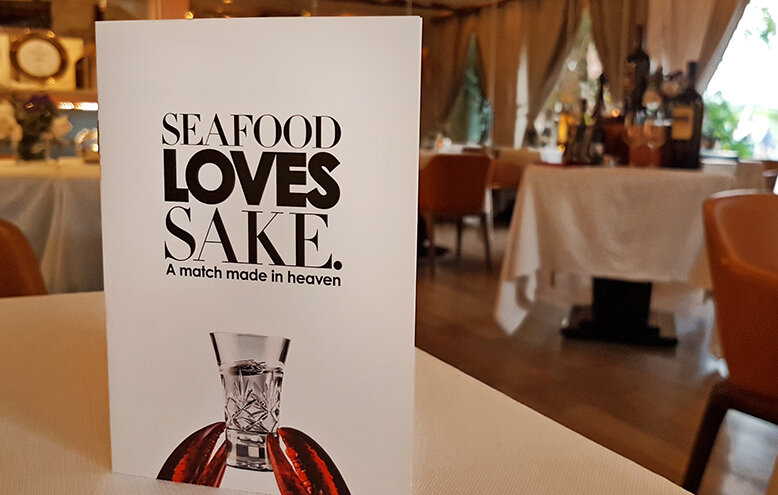 Now that you understand sake and how to pair it with food better, order a sake the next time you think of sipping some tipple to go with your seafood. If you are more adventurous, experiment with different foods and you may just discover new culinary sensations with sake.
If you are interested to try the special sake-seafood pairing dishes at CURATE, they are available until 30 November as part of the "Seafood loves Sake" Restaurant campaign organised by JFOODO (The Japan Food Product Overseas Promotion Center). There are a total of 11 participating restaurants, each with their own unique sake pairing menu for you to discover your own sake-love journey.