(cover photo from VDL Cosmetics)
May is the month of exciting special edition releases of collaboration collections. Beauty makers made products more fun and colourful with their cute partnerships with Kakao Friends, Spongebob and even Avengers. Not only are these lines worth collecting, they also bring out the child in everyone.
Let's check out these irresistibly cute collections right now!
--------------------------

VDL X Kakao Friends Collection
VDL Cosmetics teamed up with Kakao for their collab collection. For those who are unfamiliar with Kakao, it's a messenger app that Koreans use, and part of the app's biggest drawing point is its emoticon characters. The Kakao friends emoticon characters possess different characteristics and personalities portrayed through the collection.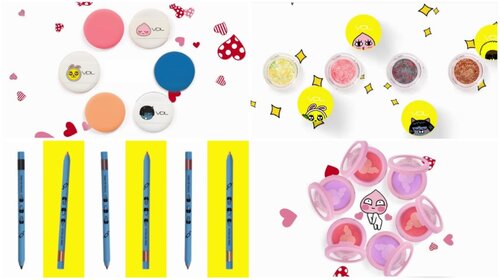 (Photo from: VDL+KAKAO Video)
The collection aims to be "unbearably cute", "funnier than ever", and "naughty" all at the same time. It consists of blusher, eye shadow pots, mascara, lipstick, eyeliner pencil, nail art stickers, make-up, corrector and even Kakao BB cushion puffs!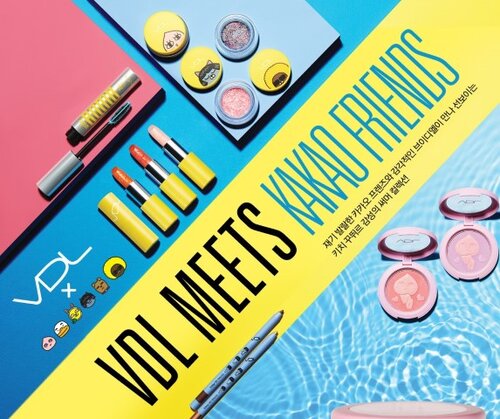 (Photo from: VDL Cosmetics)
It's already out in market and from what I see now, this collection will be a sell-out! I can't wait to get my hands on them too!

Modi Nails X Spongebob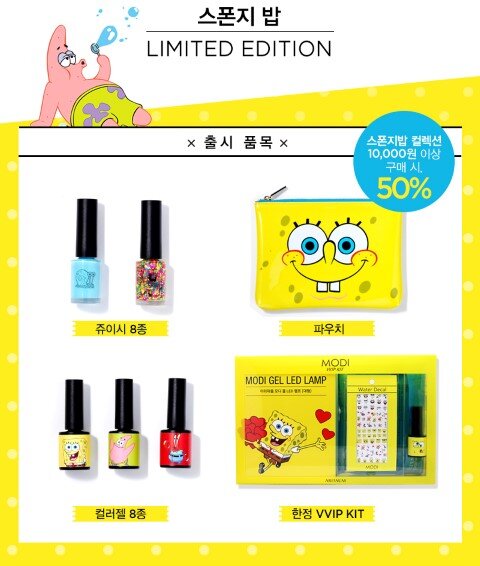 (Photo from: Aritaum)
Who lives in the pineapple under the sea? Spongebob Squarepants! Calling out to all Spongebob fans out there, this collection is for you. Spongebob and his friends came out of the sea to meet us in Aritaum's latest Modi Nails collaboration collection. The collection ahs 8 nail colours and 8 gel nail colours together with nail decals and perfume collectibles.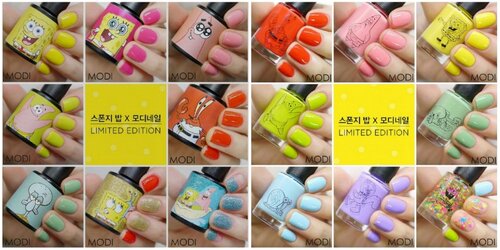 (Photo from : Modi Nails Instagram Account)
You can also check out the Modi Nails Official Instagram account for some Spongebob manicure ideas.The collection is now available in all Aritaum stores in Korea.
Laneige Homme X Avengers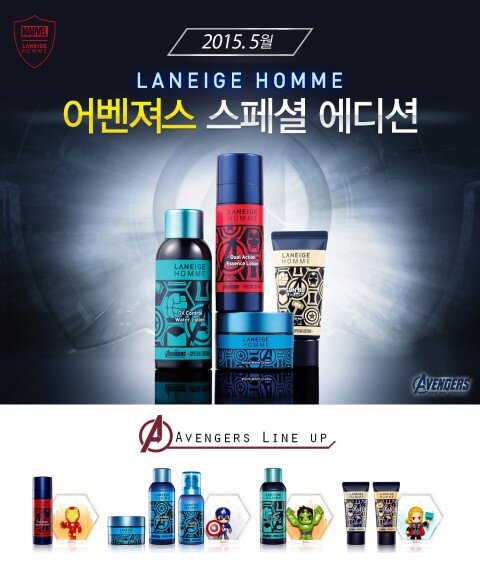 (Photo from: Aritaum)

Laneige did not forget to come up with something for the boys, the Laneige Homme x Avengers line is definitely great for all Marvel fans out there! The release couldn't be more timely because there's a definite Avengers fever going on right now in Korea--the movie has been sold-out since its release and even made box office records.
Each product comes with a collectible figurine and has superpowers for great skin. The line consists of the Dual Action Essence Lotion, Active Water Cream, Active Water Skin Refiner and Emulsion, Oil Control Water Lotion, Sun BB Cream, and even superhero Gel masks.
This special edition collection is available only until end of May in all Aritaum and Laneige stores in Korea.
--------------------------
Which one are you excited to get? Let us know in the comments below!
Share your K-Beauty finds with our K-Wave community today