Bridgerton is the latest Netflix fan-favourite show we can totally see why. Aside from the beautiful Regency-inspired costumes with a modern twist to the beautifully glamorous set designs to the steamy romance between Simon Basset, the Duke of Hastings (played by Rege-Jean Page), and Daphne Bridgerton (played by Phoebe Dynevor), there's always something to gush about the show.
If you're like us, we're sure you've already rewatched it (we're on our third — no judgment, please). One thing we noticed during our most recent rewatch was the natural yet glowing makeup looks they used for Bridgerton's female characters. The show elevated the no-makeup makeup look. It's evident most especially in Daphne's case, where it highlights the actress's naturally beautiful features. We can thank Lynda J. Pearce for that. Lucky for us, she shared her secrets too — every single one of them. The best part? Some of these Bridgerton makeup products are readily available in our region. Below are what you need to get the Daphne look.
For an arresting gaze
Daphne Bridgerton's natural makeup look involved some eye contouring since there were many close-up shots taken to catch her facial expressions. Some staple Bridgerton makeup products were MAC Cosmetics' Eye Shadow in Malt and Brun, which were used to add a slight wash of shadow to Phoebe's eyes.
Bridgerton beauty hack: If you don't feel like taking a few minutes to blend your eyeshadow, choose a neutral muted brown hue to add definition to your eye socket and a slightly deeper brown to line the eyes. Then, it's all about the mascara to lengthen the lashes. P.S. They used the Clinique Power Lash Mascara on the show!
For a slight rosy flush
Blush, or rouge as it was called back then, was a staple in Regency-era makeup. Since the ladies' fair complexions made any slight flush evident in that period, Lynda used some modern blush options to add colour to Phoebe's cheeks to make it obvious on camera. If you have a similar skin tone to the actress, you can use Stila's Convertible Color Two-in-One Lipstick and Blush in Lillium.
Bridgerton beauty hack: Soft pink cream blushes are perfect for natural beauty looks and they're the closest thing we have to rouge pomades that were used in the time period the show was based in. You can either buff in the blush really well so it looks very natural or you can build it up for a stronger swash of colour.
For a just-kissed pout
Lastly, for a smile worthy of Bridgerton's leading lady, Lynda used several moisturising lip products on Phoebe. The Pixi Sheer Cheek Gel was used as a lip stain to keep Phoebe's lips looking plump and kissable, while the DR. PAWPAW Lip Balm was used to keep her lips moisturised.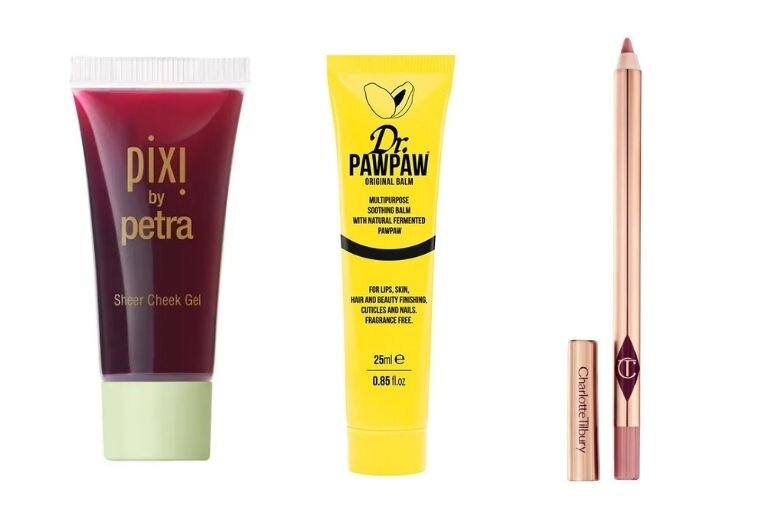 Bridgerton beauty hack: Lynda used the Charlotte Tilbury Lip Cheat Lip Liner in Pillow Talk for a more matte version of Daphne's signature lip look! The product can be seen in the beautiful ball scenes that took our breath away in every episode.
Get these products or get inspired by these (and pick up your version) so you can rock a natural, dewy makeup look — Bridgerton style!
(Cover photo from: @bridgertonnetflix)