Youthful, glowing skin has to be maintained and preserved over time; and as such, one must start incorporating anti-ageing products as soon as you can as the skin starts to age naturally by the mid-twenties. Thankfully, the brand that harnesses the volcanic power of Jeju, DCS helps you embrace that youthful and dewy skin of Korean women with its anti-ageing range, NUTRIDERM--a range that is gentle on the skin and kind on the wallet.
Keep away fine lines with the powerful anti-ageing properties of the rare Korean ginseng berry. For those who don't know, Korean ginseng berry can only be harvested once every four years over a seven-day period, giving rise to its rarity and value. Its powerful anti-ageing properties make the Korean ginseng berry a prized ingredient in Korean skincare; and now DCS is offering this premium ingredient at a modest price.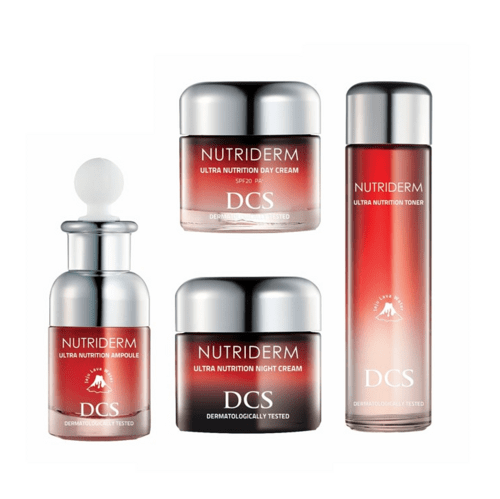 Another key ingredient that gives skin its dewy nature is Jeju's volcanic seawater. Just like all DCS product ranges, the anti-ageing NUTRIDERM range is also infused with the pure, skin-loving water from Jeju, which repairs and regenerates the skin. The products also contain other nature-based ingredients and is hypoallergenic and gentle on the skin,
If you wish to achieve a glowing, youthful appearance, NUTRIDERM presents a range of four products to incorporate into your daily regime: Ultra Nutrition Toner, Ultra Nutrition Ampoule, Ultra Nutrition Day Cream, and Ultra Nutrition Night Cream.