Many members of the LGBTQ+ community have had to wait several years — some even keeping their identity a secret when they were young — before they were able to live out their truth. As a way to share their struggles and triumphs, this June, we asked members of the community to pen a letter to their younger selves, sharing what lessons or pieces of advice they would like to give them.
First up is Koko Alviar, who grew up in a Christian family far from the Philippines' capital. Though now he proudly fights for his rights as a member of the LGBTQ+ community, it has been quite a difficult journey for him to accept his identity. Read how he found direction through his letter to his younger self below.
Hey 16-year-old Koko,
I'm not gonna ask you how you're feeling. I know exactly how, perhaps better than you do. I look in retrospect; I am you, albeit wizened and made wiser by a decade.
Let me explain what you don't understand yet: You hide in the persona of the Reverend's good kid, behind leadership roles, under excellent scorecards, in those male cliques you know very well look at you and say you're not man enough. It's difficult because your "status" is a thin and fragile veil people can see right through and tear with the slightest tug. Under it hides the effeminate, gay, loving you that you've been exterminating to be normal. In your medieval little town, macho outweighs intellect and leadership.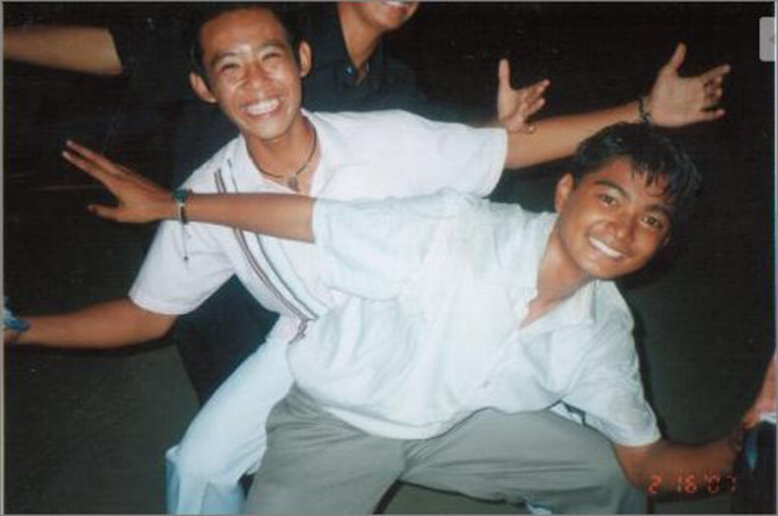 16-year-old Koko Alviar with friends
You won't accept your authentic, rainbow self easily. You'll take Communication in Baguio City and make tons of friends, but you will avoid romantic relationships altogether. You'll be a wallflower appreciating cute guys from a distance; you will pretend to be flattered by females confessing a crush on you. You'll graduate with a portfolio of self-denial essays like, "I'm not gay and I believe myself" (because nobody else buys it), with a manly but pretentious broadcast voice, and friends who see you as effeminate but straight. You'll do great but will be profoundly confused.
After graduation, your parents will send you to Manila to job-hunt. You'll be angry at them and afraid of the capital, but you'll eventually find urban living liberating. Your gay heart will fall in love for the first time and break for the first time. You'll intermittently fall in and fall out of love and intermittently believe and not believe love per se. (I'm currently single and looking.)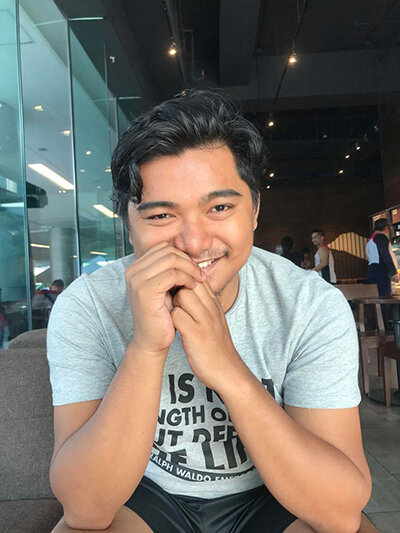 Koko at present
As you grow older, you'll find that your narrative is part of a bigger struggle. You will step up and be a human rights activist. You'll write the LGBTIQ+-affirming statement for the Church your priest-father serves; speak before hundreds of communities on human sexuality and rights; counsel depressed LGBTIQ+ youth; fight HIV and AIDS in the Philippines; join the Pride March. I suffer a bad back now because you've slouched for years to hide the man boobs classmates would tease you about (the man boobs will stay, if you're wondering).
I sometimes randomly remember the elementary teacher who told us while our classmates listened, "Toughen up so we don't call you gay." Oh, and the audacious aunt who, in front of all our relatives, said: "You pass off as a normal boy until you speak — too softly." The parents, to whom I haven't yet come out even as most all my other circles know, still ask me when I'll introduce a girlfriend.
Those demons and ghosts will linger, but so will we. Our anxiety and anger will turn into determination and direction. Over the decade, conversations about Sex, Sexual Orientation, Gender Identity, and Expression (SSOGIE) equality will grow louder, and we will be talking and pushing and fighting. Our drag will be our wings. We'll do great.

Lovingly yours,
27-year-old Koko
Koko now works as an account manager for a digital publishing company and does freelance writing and communications consultation on the side. He heads a national ecumenical youth group and actively fights for the LGBTQ+ to be accepted in society. See more of his adventures on his Instagram.
(Cover photo from: @koko_nutnut)