It's official: the old Taylor Swift is never, ever going to be seen again. To celebrate the stronger and harder TayTay, we're looking at the fashion winks and nods in her latest music video, "Look What You Made Me Do." You can also count this is as a fashion obituary in memory of all the past Taylors and their iconic styles.
Literally Burying The Past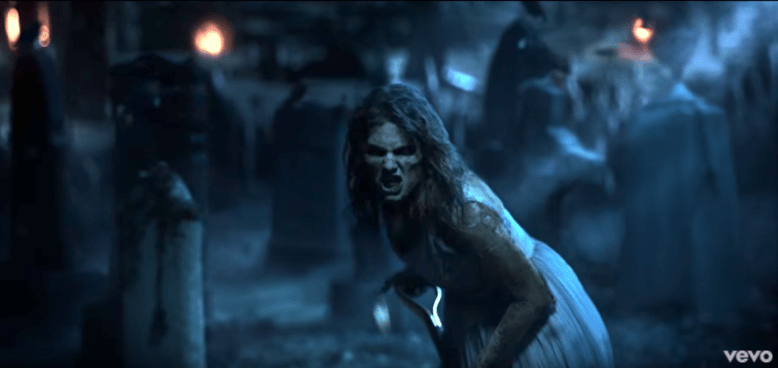 The video opens with a zombified Taylor in a dirty, shriveled blue dress that looks like something she wore in her Out Of The Woods music video. Basically, this is angry zombie Taylor literally digging a grave for herself (and maybe figuratively, too).
RIP To The Iconic White Dress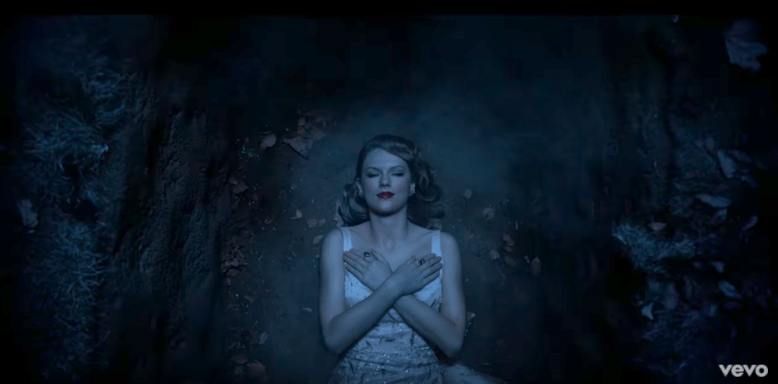 R.I.P. Old Taylor Swift's iconic look a.k.a. the girl in a pristine little white dress clutching a guitar. The dress she's wearing in this scene was the same one she wore to the 2014 Met Gala, a few months shy of the release of her formal crossover to pop music, 1989. The dress was created by Oscar De La Renta.
Is This A Kim K. Reference?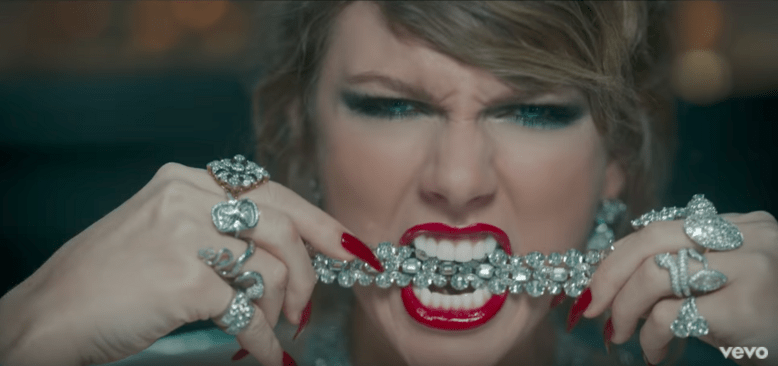 Remember when Kim K. got robbed and got tied in a bathroom? Hmmm...
Apparently, these jewels are real and the jeweler behind it is Neil Lane. According to hollywoodlife.com, these jewels are worth over $10 million.
Queen Of Snakes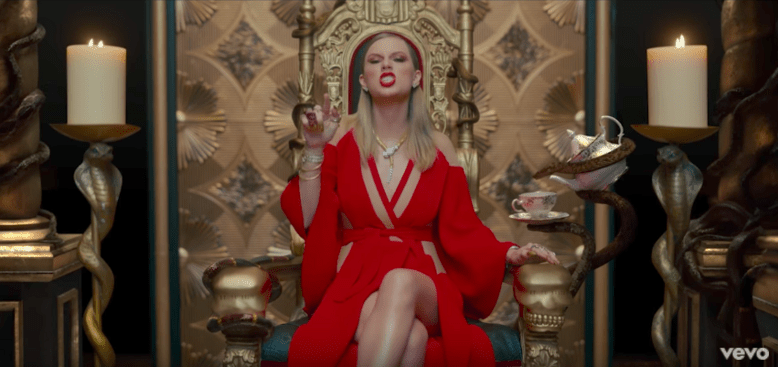 Remember when the Snapchat drama broke and Tay's Instagram got flooded with snake emojis? Now, she's owning up to the title and has dubbed herself the queen of snakes. Whether you love her or hate her, you have to admit that that red off-shoulder wrap-around Balmain dress with nude accents looks gorgeous.
Most Glamorous 'Death Scene'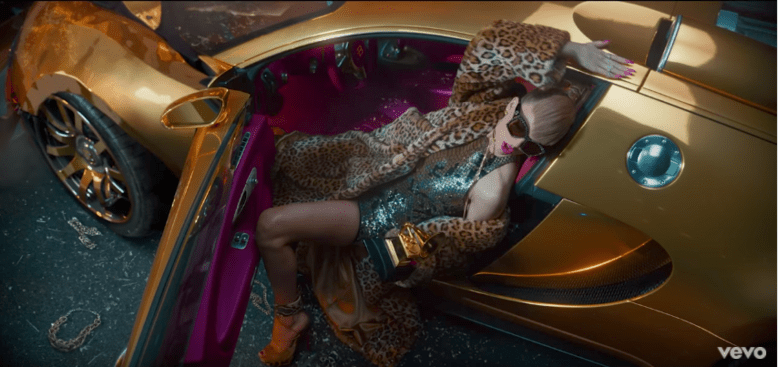 This scene could be titled "When fame goes crashing down on Taylor Swift." Even though this is old Taylor's supposed death scene, we can't help but notice that the glamorous leopard and sequined dress outfit, which kind of reminds us of Katy Perry's flamboyant fashion choices. Cue drama.
Celebrity Cage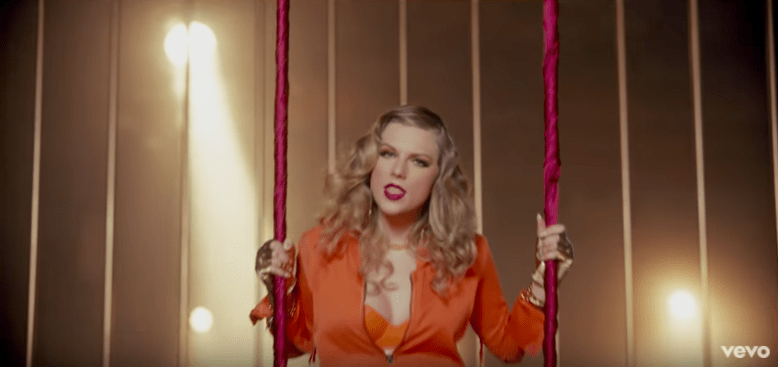 The cage signifies the heavily publicized and scrutinized life of a celebrity. Almost all celebrities who started with a sweet image and later emerged with a rebellious, edgy persona used cages in their 'breaking out' performances (think Britney Spears and Miley Cyrus).
We love the metaphor, but we also love the orange monochrome going on here. We see Taylor in an all-orange ensemble with matching orange bra and an orange knee-length stockings. While other celebrities who went edgy had more revealing outfits, Taylor's still a bit more modest.
Catty Tay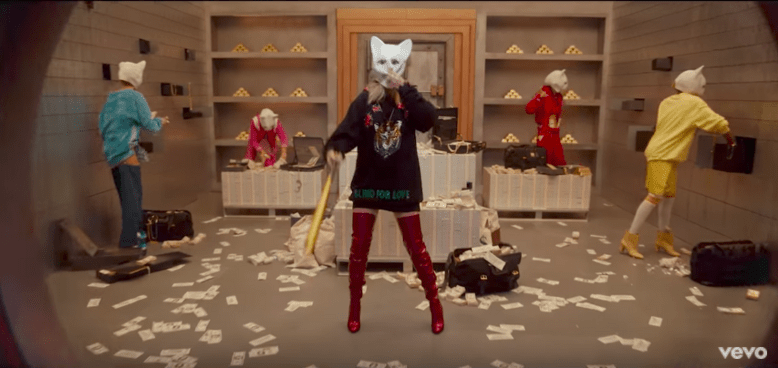 This reminds of us two things: Tay's ever-famous feline friends, Meredith and Olivia, and her Never Ever Getting Back Together music video where she wore pajamas and sang alongside animal mascots. Our attention was also caught by that hoodie with leopard print with the line 'Blind For Love'. But don't be fooled by the cuteness; this scene is reportedly a jab at the people who said she robbed streaming sites by taking her music off of them.
Blank Space Nod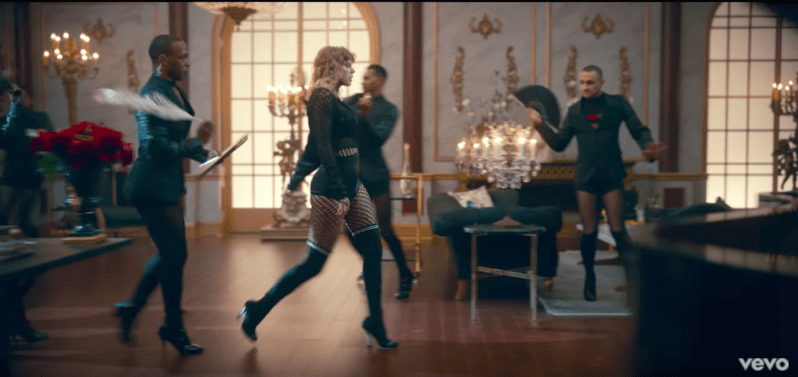 Here, Taylor walks into a similar (or, maybe it's the same) mansion seen in her Blank Space music video. This time, she's wearing the celebrity angst wardrobe trademark — fish nets. And her minions are wearing 'I <3 TS' shirts, a print that was seen emblazoned on a shirt worn by Tom Hiddleston in 2016. Plus, there are eight dancers behind her. This is said to signify the number of highly publicised relationships she's had.
All The Old Taylors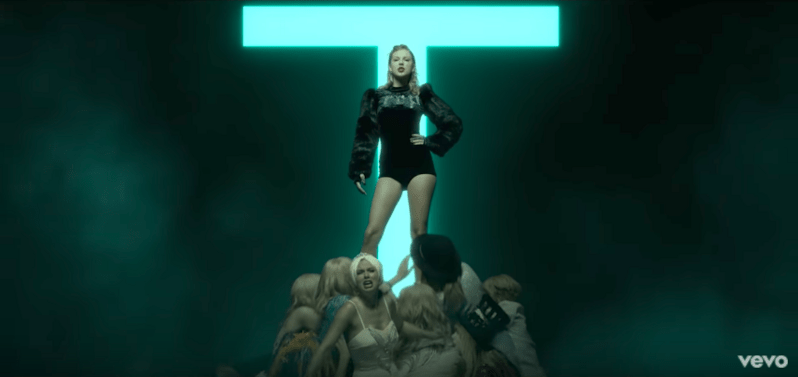 Now we see Taylor standing above all of her past selves. It's both amazing and funny to see all of her 'stages' in one scene.
That Epic Final Scene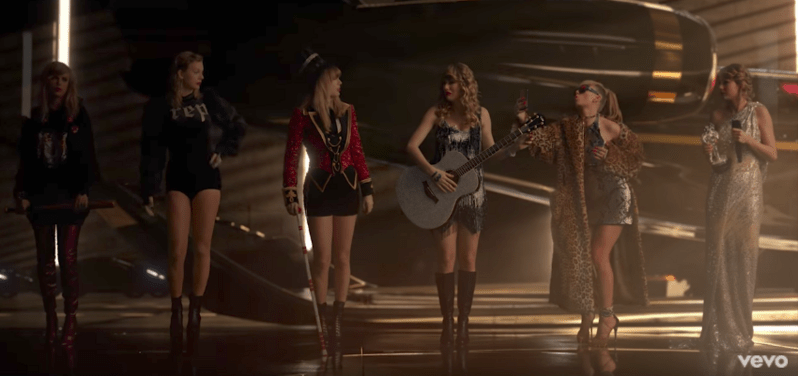 In that last scene, we see old Taylors talking to each other. This also represents Tay's different reputations and images throughout the years. Starting with the 'Surprised Taylor', wearing an outfit from the You Belong With Me video complete with the glasses and messy pony tail. Then we see 'Country Taylor' literally dropping teardrops on her guitar after being called 'fake nice'. The video ends with Tay during the famous interaction with Kanye West at a past MTV Video Music Awards show, saying, "I would very much like to be excluded in this narrative."