What's so exciting about Singapore Fashion Week (SGFW) 2016 is not just its new home at National Gallery Singapore. This year, rather than presenting a majority of star-studded international brands like what was done in previous years, SGFW – for the first time ever – set the stage for an All-Asian designer lineup.
From
26th October 2016 to 30th October 2016
, the five-day fashion funfair showcased a mix of Asian international designers the likes of Indian-American designer
Naeem Khan
and Malaysian-born, London-based designer
Han Chong (of Self-Portrait)
; and Singapore's very own homegrown designers such as
Max Tan
and
Ong Shunmugam
.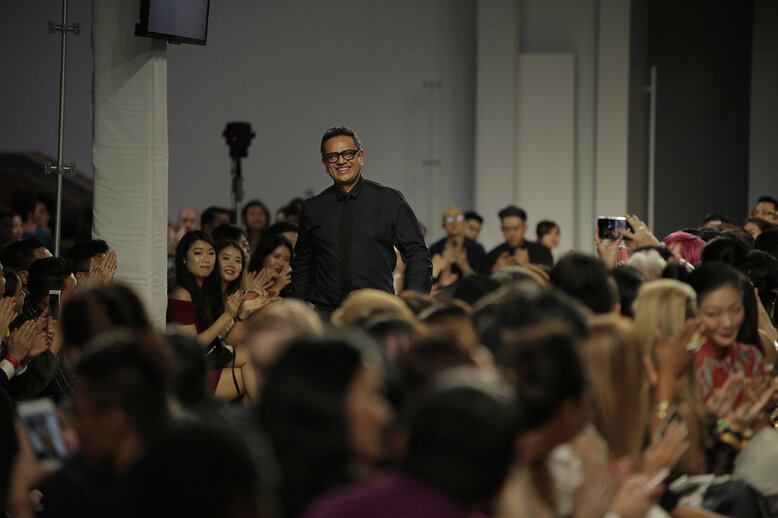 Naeem Khan at SGFW 2016
From MAX.TAN as the opening show to fashion week – a first in the history of SGFW with Tan being the first Singaporean designer to open – to Self-Portrait's first ever runway appearance in Asia since its debut in 2013, in retrospect: SGFW 2016 made a glorious statement on the revolution of Asia fashion.
Of course, we had to be there, fresh-faced and glowing skin courtesy of a particular
Facial Treatment Essence
(
ahem
, SK-II). Read on as we put the spotlight on our favourite designer looks this Singapore Fashion Week 2016.
--------------------------
Structured Minimalism at MAX.TAN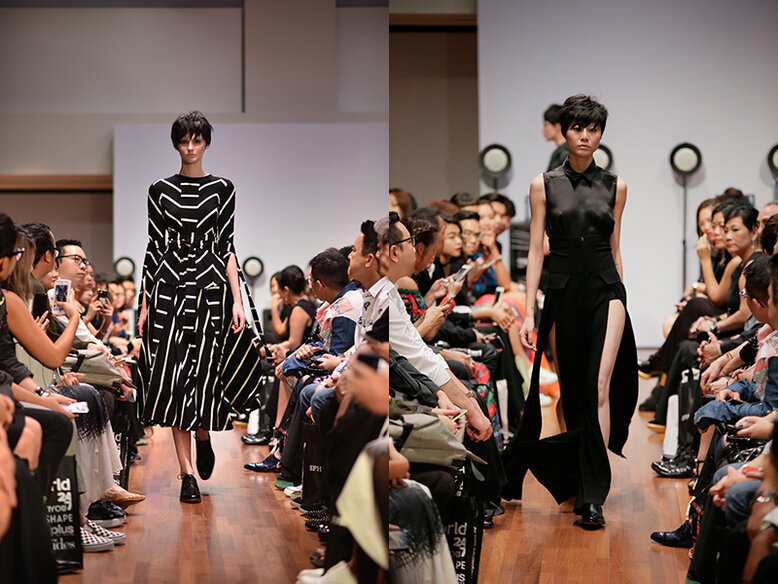 MAX.TAN Spring/Summer 2017 at SGFW 2016
It's all about roughening up feminine aesthetics and softening the edges of masculinity at
MAX.TAN
Spring/Summer 2017. Architectural silhouettes and monochromatic tones made up the DNA of the six-year-old brand, while deconstruction was the keyword for the latest collection. Ruffles and fringes were "manned up" with elements like hard, geometrics lines, while pants were given ultra-deep slits at the front and at the sides.
--------------------------
Royal Decadence at Guo Pei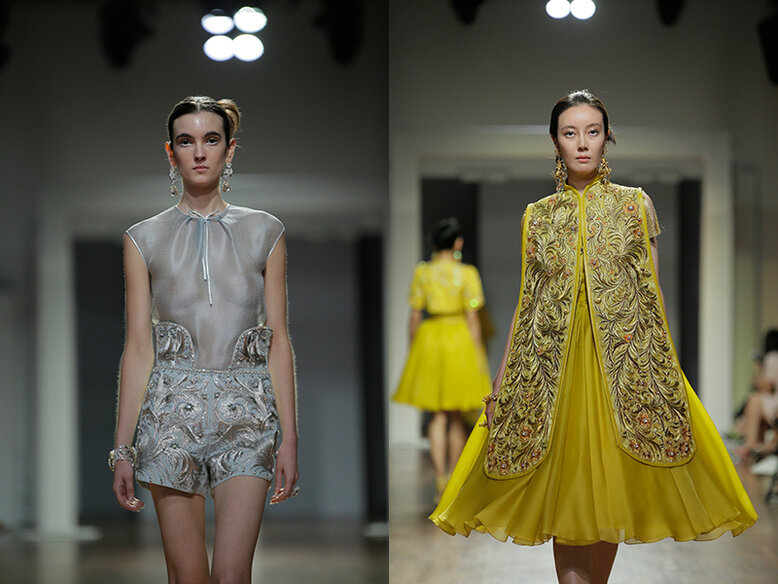 Guo Pei Spring/Summer 2016 at SGFW 2016
Couturier
Guo Pei
set the tone for her Spring/Summer 2016 "Courtyard" collection when she gave the media a glimpse of the saffron-yellow robe dress that Rihanna famously wore at the 2015 Met Gala hours before her show. Featuring design elements from historical noble court culture, it's evident that the designer's aesthetics – braced by her signature beading and embroidery works – are heavily influenced by traditional Chinese culture.
In essence, Guo Pei's "Courtyard" collection – from the Pheonix and floral patterns, to the decadent colour palette and textiles – is made for the modern queens and princesses.
--------------------------
Make A Statement at CHI CHI VON TANG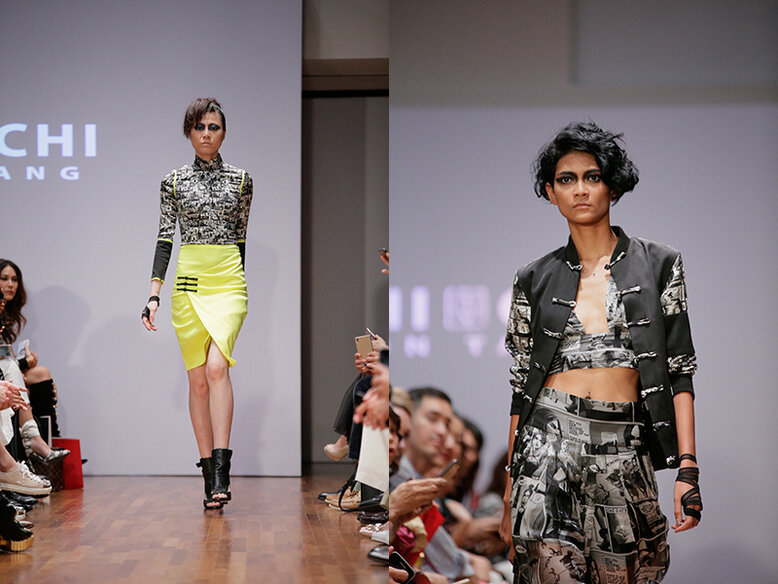 CHI CHI VON TANG Anime Collection at SGFW 2016
CHI CHI VON TANG
knows what makes a statement (piece). The Singapore-based street-luxe brand, the brainchild of former model and designer Lisa Crosswhite, continues to celebrate feminine power as models strutted down the runway as superheroes donning the "Anime" collection.
The brand's iconic Chi Chi Warrior Bomber, mandarin collar blouses and harem pants were printed with comic strip created by Canadian artist and animator, Mujia Liao. Who is CHI CHI VON TANG? She, or he, is definitely one we'll be looking out for.
--------------------------
RGB at Ong Shunmugam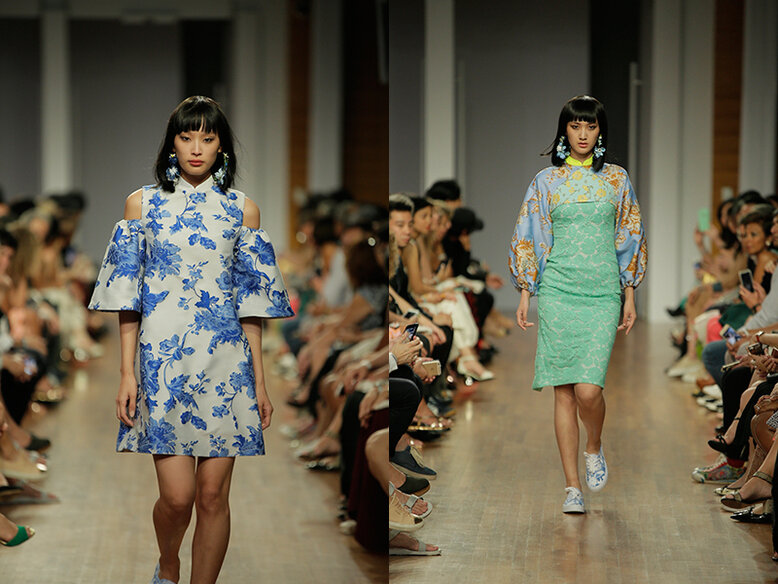 Ong Shunmugam RGB Cheongsam Collection at SGFW 2016
Designer
Priscilla Shunmugam
is known for modernising the traditional Chinese cheongsam dress into wearable pieces in tune with today's style tone. In her latest Cheongsam 2017 collection titled RGB, Shunmugam perfected print-on-print-on-print ensembles on Asian textiles, introduced a shocking fluorescent yellow to some of the looks, and showcased a new Chinese silk fabric printed with a Chinese watercolour painting and motifs. The result is a collection that we want to wear not just for Chinese New Year, but also all year round.
--------------------------
Colour Parade at Naeem Khan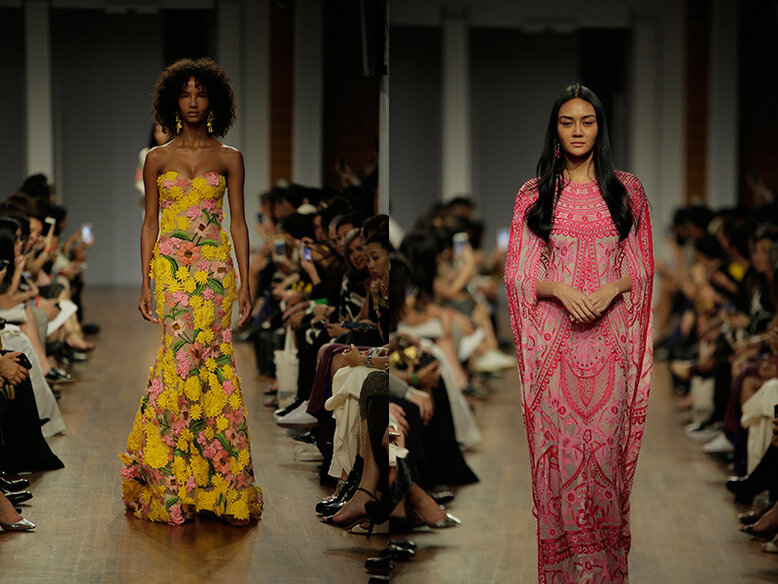 Naeem Khan Spring 2017 at SGFW 2016
"The collection is vibrant in colour inspired by my deep love of cooking. To me, taste is colour," read the show notes at
Naeem Khan
Spring 2017. A total of 50 looks took to the runway – a rich explosion of colours presented in laces, embroideries, sequins and fringes. The collection showed off the masterful artisanal skills of the House under Naeem Khan's creative direction. As Khan took his bow at the end of the show to astounding applause, we only wished there was more.
--------------------------
All Grown-Up at Self-Portrait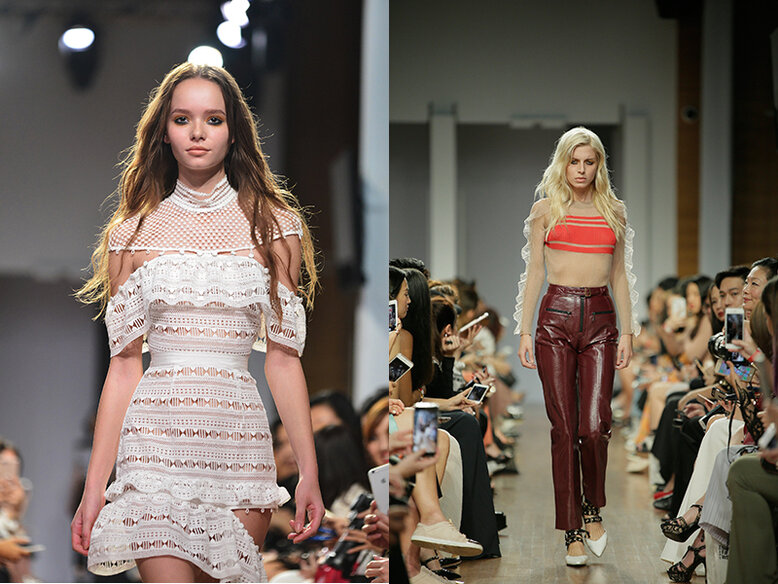 Self-Portrait Spring 2017 at SGFW 2016
Malaysian-born designer Han Chong might have burst into the scene just three years ago. But judging by the list of international stockists under his belt, the Central Saint Martins graduate's London-based brand
Self-Portrait
has already won the hearts of an international crowd with his signature guipure lace pieces. Closing SGFW 2016 with his Spring 2017 collection, Chong featured a series of looks that hinted at a more grown-up Self-Portrait woman. Lace looks with strategically undone buttons for a playful peek-a-boo effect, utilitarian-inspired ensembles (those patent leather pants!), and ruffles aplenty – we're bracing ourselves, and our wallets, when this collection comes out next season.
Photos by: Singapore Fashion Week
--------------------------
What collection did you love from SGFW 2016? Share them with us below!