He was an award-winning TV documentary producer, director and writer who has produced for international networks like National Geographic, Discovery Channel and History Channel. Today,
Mashizan Masjum
is a footwear designer and the creative brain behind his eponymous brand,
MASHIZAN
.
The Florence-based Singaporean designer launched the brand almost two years ago, after a sabbatical in 2013 that allowed him to embark on a four-month shoe-making course. There, he studied under master shoemaker Angelo Imperatrice, and veteran shoe designer and former head designer of Ferragamo, Ilaria Papucci.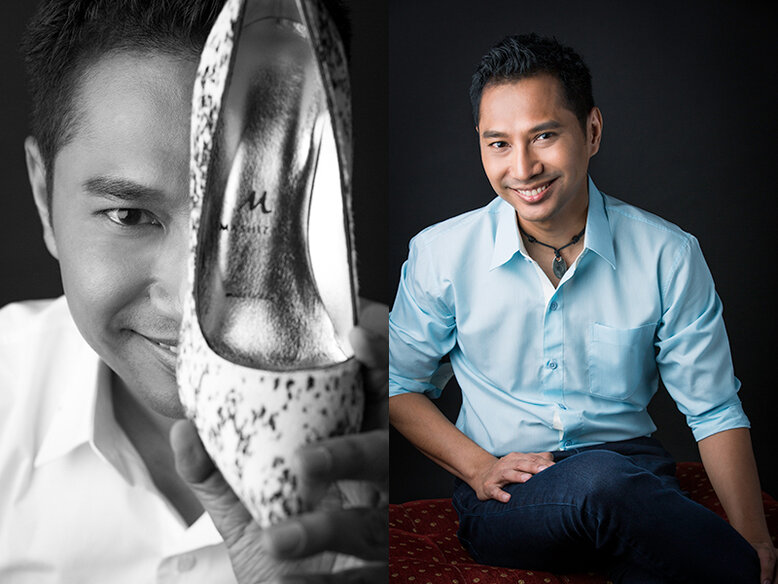 Fascinated by 60s Italian glamour, you can spot hints of Sophia Loren and La Dolce Vita aesthetics in the MASHIZAN brand packaging. Prices go from SGD450 for a pair of flats to SGD980 for a pair of knee-high boots. MASHIZAN's made-in-Italy shoes are created with utmost quality in mind -- they are made in the same factory as Dior and Yves Saint Laurent, after all.
Come 30th October 2016, MASHIZAN will close Singapore Fashion Festival with his Fall/Winter 2016 and Spring/Summer 2017 collections -- following the footsteps of big-name designers the likes of Diane von Furstenberg, Thakoon Panichgul, Prabal Gurung and Victoria Beckham. That's some big (luxury) shoes to fill.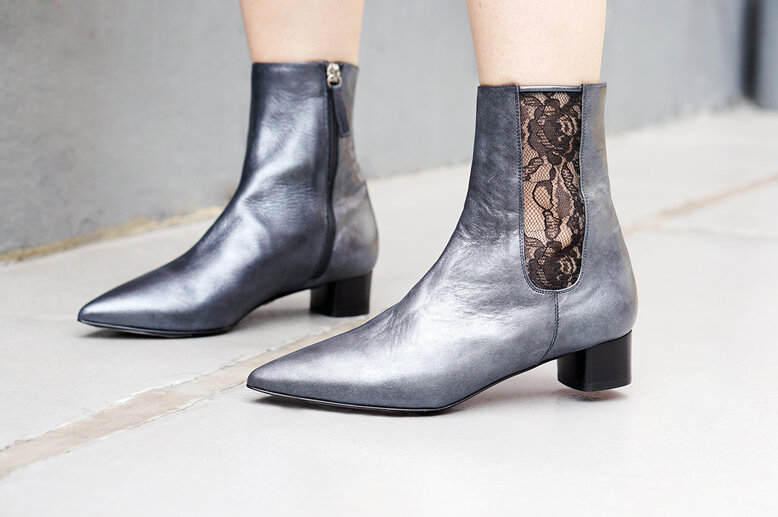 We talk to the designer about the story behind MASHIZAN collections, and what we can expect at his upcoming showcase at Singapore Fashion Week.
Your shoes are inspired by Italian '60s glamour. Why specifically so?
I've always been fascinated by the old world glamour surrounding Italian actresses. Women like Sophia Loren, Gina Lollobrigida, and Silvana Mangano. They each have a natural elegance and sophistication that's unforced and uncontrived. I've also been a big fan of Italian design and style all this while, and for me, that quiet sense of confidence seen in many Italian women is something that's mesmerising and captivating.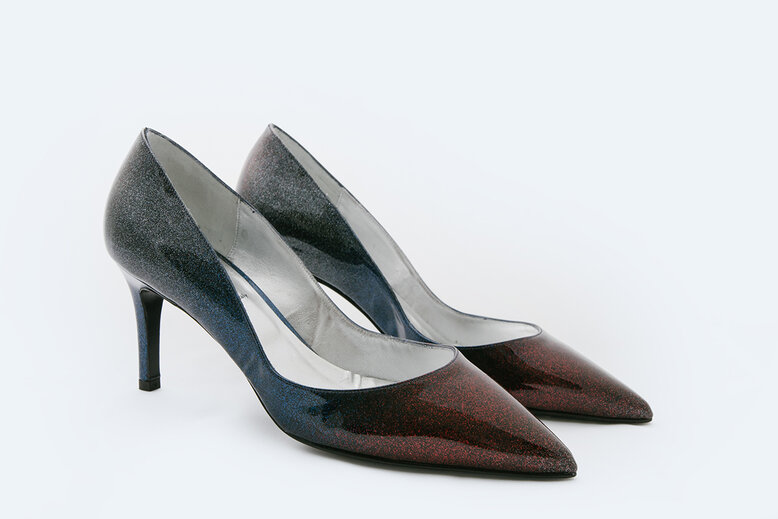 Is there a particular pair in your collections that you think every woman should own -- why?
I love the classic pump. It's simple, it's elegant, it's a must-have in every woman's wardrobe. Unique to us is our signature iridescent pumps. Under the light, it shows different hues of colours. This iridescent look is what we love and what our customers love about us. With each new collection, I try to introduce new hues of iridescent colours. I'd want women to look at a pair of shoes and know instantly that that is a pair of MASHIZANs.
What's the story behind MASHIZAN Fall/Winter 2016?
Because of my background in Television documentaries, I have travelled and been to many places around the world. I wanted to bring something different in my point of view as a designer. I've been lucky to have seen many parts of the world, and experienced beauty in its myriad forms. So I wanted every one of our collections to reflect this.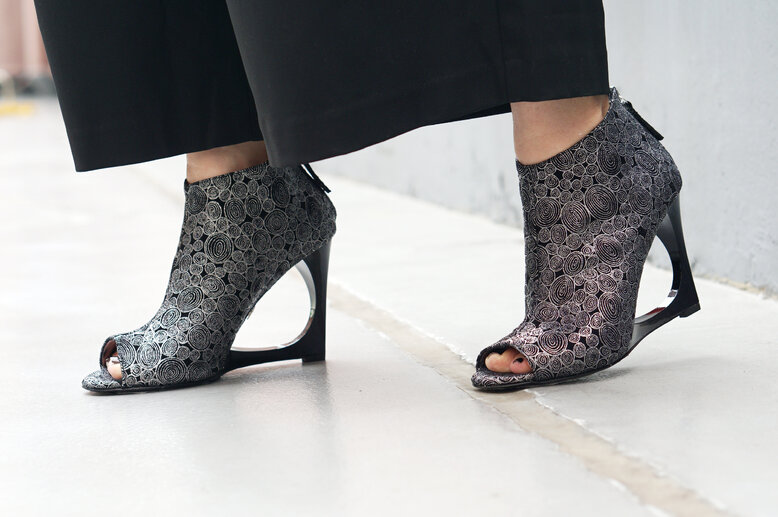 For the MASHIZAN Fall/Winter 2016 collection, it's inspired by The History Channel documentary that I produced, wrote and directed ten years ago. For that documentary, I filmed in six locations around the world -- Italy, Greece, Iceland, Indonesia, Hawaii, and Mt St Helens.
Then, I was a producer living and working out of New York City. And that exposure allowed me to see the beauty of the volcanoes, in spite of their foreboding wrath and danger. I remember walking on the silvery, crusty lava rocks of Hawaii's Mount Kilauea. With each step we took, we heard "crack, crack." Beneath the silver crust, we saw golden lava. It was nerve-racking -- I was fearful for the safety of our crew -- but I couldn't help but be entranced by the beauty of it all.
Inspired by that experience, I designed silhouettes that are strong and bold, and in the choice of materials, I played with different textures. The reds, silvers, blacks and browns take centrestage.
What about Spring/Summer 2017?
For our Spring/Summer 2017 collection, I had a different source of inspiration. In 2008, I had produced a design/architecture TV series for HGTV in the U,S., where I crisscrossed the country profiling homeowners who decided to build their homes in extreme conditions or manners. The series titled Extreme Living, saw Americans who built houses underground, made with rubber tyres compacted with earth, or even completely of steel. It was fascinating to see the definition of home and style be redefined and turned on its head.

Through these travels, I experienced what each of these homeowners saw as functional and beautiful. Their definition of comfort and style isn't necessarily for everyone, but one thing that's consistent in all of them. No matter how bizarre the exteriors are, there is always a uniform desire to make the interiors cosy and homely. The rough exteriors are always complemented by soft furnishings, ornamental embellishment and bold colours inside. So with my collection, I played with this contrast between tough boldness and delicate beauty.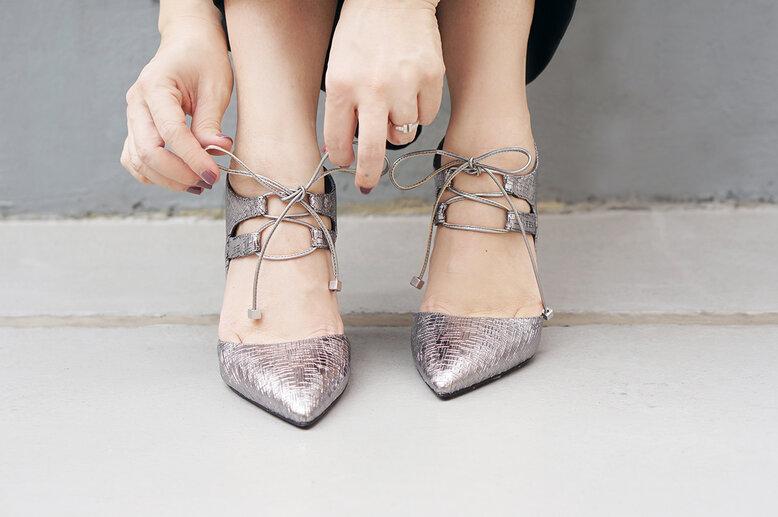 What makes a comfortable pair of shoes that is stylish and chic at the same time?
A pair of shoes that fit well, that has interesting choice material, and that has a silhouette that transcends time and trend -- those for me work best. Trends come and go, but you'd want to buy a pair that lasts longer than just one single season.
Which style personality or celebrity would you love to see don a pair of Mashizan shoes - and why?
We've been lucky in that for a new designer brand, we've been noticed by several Hollywood celebrities. La Toya Jackson, Solange Knowles, Sara Bareilles, Vivica Fox, and Jeannie Mai love our shoes and have been spotted wearing us on the red carpet. I'd love to dress Blake Lively and Jennifer Lawrence next. For me, they exude a certain quiet confidence that's just breathtaking. That's the essence of the MASHIZANwoman.
What can we expect in your closing show for Singapore Fashion Week 2016?

I was just in Iceland filming our campaign films and we'll be incorporating some of the imagery into our show. Because of my background in TV, I'm a very visual person. Soundscapes and music, for me, create the best moods. So with our closing show at Singapore Fashion Week, we'll be playing to our strengths. We're working with Swarovski Crystals to create dazzling effects on the runway and we'll have a show that merges filmic imagery with traditional catwalk.

--------------------------
MASHIZAN Fall/Winter 2016 is now available at Julie Nicole at Capitol Piazza,
and Robinsons @ The Heeren in Singapore.