Our hair is our crowning glory, so it's only natural that we want to get the best when we're looking for new haircare products to try. Ensuring they're made out of quality ingredients is always the first order of business so we know we're investing in something worth our dime. That's why we appreciate that more and more beauty brands are becoming transparent about their ingredients and processes. One such brand is Moist Diane, who, through their all-new Diane Bonheur haircare range, shows their commitment to bringing you luxurious locks with the help of natural ingredients.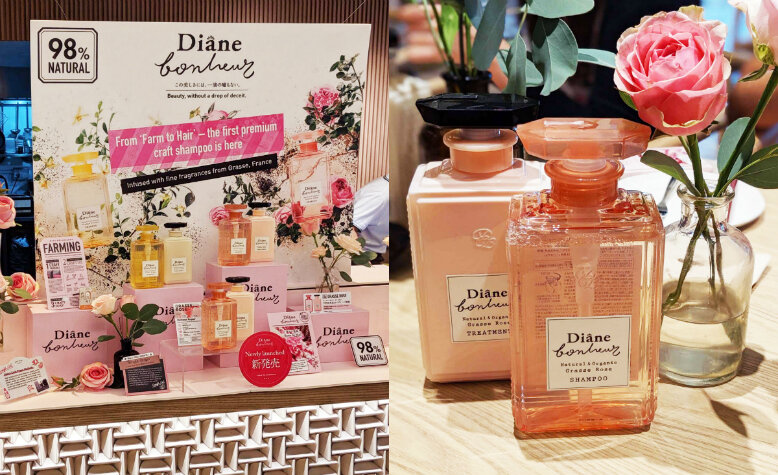 Diane Bonheur product launch held at NOKA at Funan Mall.
Last 27 August, Japan's leading haircare brand unveiled its artisanal range to take your haircare routine to the next level. The Diane Bonheur haircare range is lovingly made and formulated with over 98 per cent natural ingredients for a unique "farm-to-hair" experience. The brand worked with trusted farmers worldwide, carefully selecting everything — right from the soils and seeds down to their places of origin — to ensure you're getting nature's best in your bottle. The fragrances in the formula are all cultivated and extracted manually from Grasse, France. And because they only use cold-pressed single-origin oil, you can trace back the ingredients' journey from its origin down through its production. Intrigued? Read on and get to know which of their artisanal products perfect for your hair troubles.
Repair your hair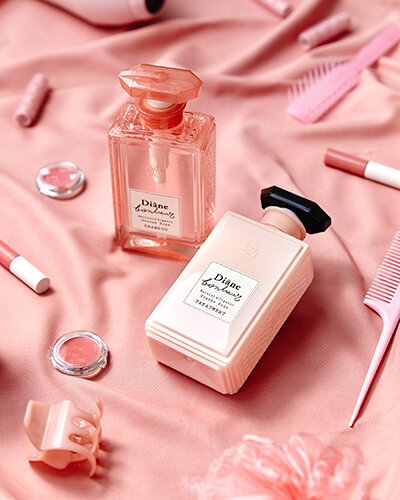 Diane Bonheur Grasse Rose shampoo and treatment, SGD22.90 each
Constant perming and hair colouring are two of the major causes of dry hair. So we say, revitalise your tresses with Diane Bonheur haircare range's Grasse Rose set. Cleanse your locks with the shampoo before nourishing with the treatment to deeply repair your hair from within. Aside from having locks that feel soft to the touch, you'll enjoy the sweet and mellow scent of a rare rose variety from Grasse called Rose de Mai.
Relax your locks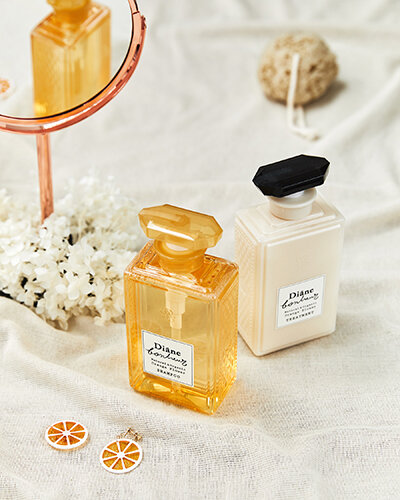 Diane Bonheur Orange Flower shampoo and treatment, SGD22.90 each
Not into hair treatment but still plagued by dry and dull hair? It might be caused by the hot climate we're living in. We can't really control the sun's heat, but thankfully the Diane Bonheur Orange Flower range is here to save our locks. With the craft shampoo and treatment set, you can tame frizziness and restore the health of your strands. Get beautifully supple hair that smells refreshingly floral thanks to the Orange Flower or Neroli oil used in its formula.
Further trace the origins of Diane Bonheur's haircare ranges in their experiential pop-ups around the Lion City this month. Catch them from 9 to 15 September at Bugis Junction and from 23 to 29 September at Orchard Central. Try out their farm-to-hair experience for a hair routine like no other.
Next, these lifting skincare products will give you instant results.