Home to historical battles, renowned musicians and the world's best whiskies, Scotland spans across 790 islands, including the Northern Isles and the Hebrides.

Seven days seemed scarcely enough to explore its myriad islands and majestic highlands. However, a little research soon led me to HAGGiS Adventures' Coast to Coast tour — perfect for a solo traveller like me, based on the itinerary and cost.

Rather than a tiring self-drive road trip or hopping on and off public transportation, I was able to sit back and enjoy a legendary local HAGGiS guide's view of Scotland. Here's what we did for the week.


Day 1: Edinburgh to Loch Ness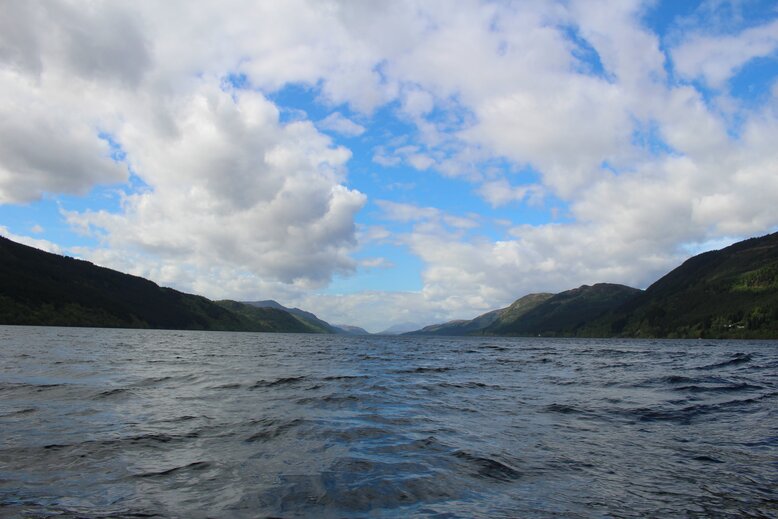 Loch Ness
Driving past the salmon-packed rivers of Perthshire from Edinburgh to the Highlands, we were treated to local stories and a very Scottish music playlist by Rich, our guide and driver. The first stop was Dunkeld Church for a quick history lesson, before heading to Tomatin Distillery to savour a wee dram and whisky tour.
Outlander
series fans and history buffs would also appreciate the walkabout around Clava Cairns and Culloden Battlefield. Later, we took a route less travelled, trekking across an unmarked field, to a picturesque lookout of the lochs around the area. Upon reaching Loch Ness, we enjoyed a lovely evening cruise, hoping to catch a glimpse of Nessie.
Day 2: Loch Ness to Orkney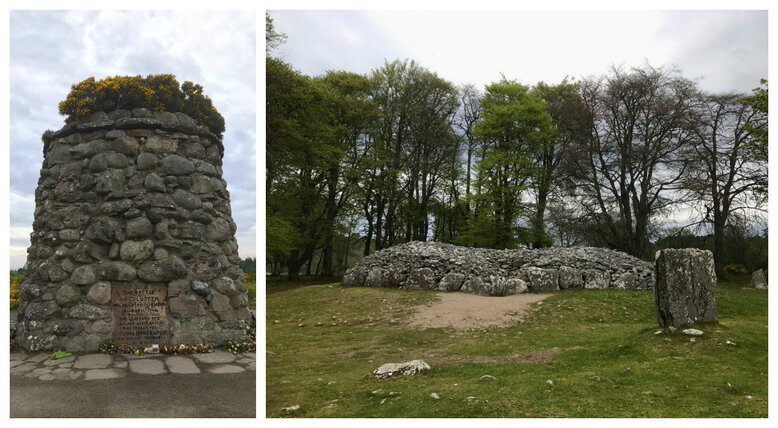 Culloden; Clava Cairns


We were joined by a group of new travellers who had just completed an Isle of Skye tour. What impressed me about this flexible travel concept is that you get to meet different people from all walks of life and nationalities, as well as mix and match tours to suit your travel needs.
We set sail via ferry for Orkney, an archipelago located in the Northern Isles of Scotland. Comprised of 70 islands, its history dates back as far as 8,500 years. Our first stop was the Tomb of the Eagles, one of the key Stone Age archaeological ruins, led by a rather unusual guide, Tate the tour dog. The entry into the tomb was also very unique; you have to get in on your back and slide out the same way.
Day 3: Orkney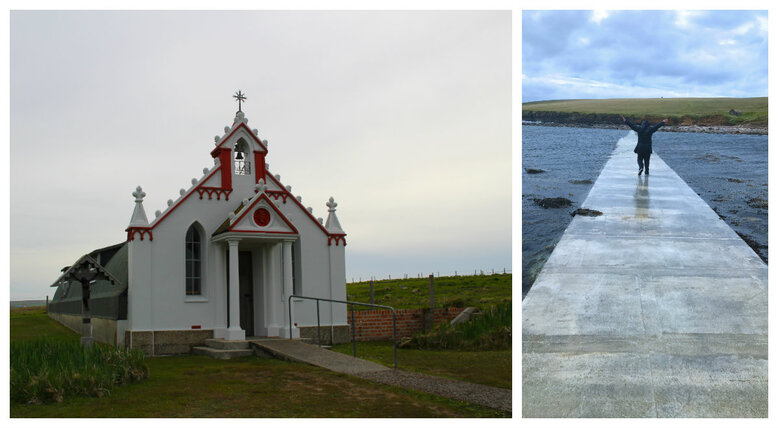 Italian chapel; Brough of Birsay
Orkney's islands were full of treasures, from the unassuming Italian Chapel with exquisite interiors, to the Ring of Brodgar, which is the third largest stone circle in the British Isles. We went back further in time to pre-historic Skara Brae, a 5,000-year-old stone-built Neolithic settlement at the Bay of Skaill. Nicknamed the "Scottish Pompei", it is older than Stonehenge and the Great Pyramids. At the Brough of Birsay, we walked on water across a rocky causeway, the route to a Viking stronghold and lighthouse. And what better way to end the day than guzzling a pint at Orkney Brewery, creator of the infamous 8.5% alcohol Skull Splitter beer.
Day 4: Orkney to Loch Ness
Whaligoe Steps
Departing Orkney, we visited John o'Groats, located at Britain's northeastern tip, which is the start or end of the longest point of the mainland. Rich, our guide, made sure that we saw a lot more than what was on the actual tour itinerary. Castle Sinclair Girnigoe at Caithness was next, with a view of gorgeous castle ruins by the water. Thereafter, we stopped by Whaligoe steps, a relatively undiscovered spot where herring women used to carry baskets of fish up 330+ steps along the cliff. We also passed Dunrobin Castle and Inverness before arriving in Loch Ness for the night.
Day 5: Loch Ness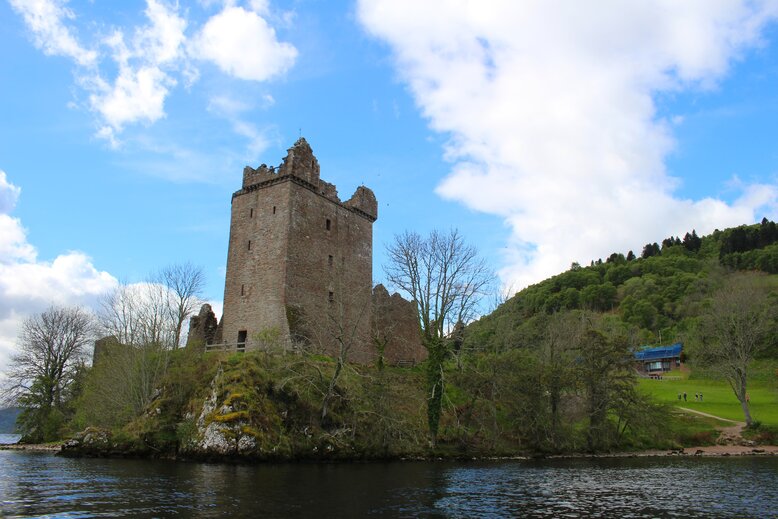 Urquhart Castle
On our free day at Fort Augustus, a beautiful historic hamlet with spectacular views of Loch Ness, we took an exhilarating rib trip via Loch Ness to Urquhart Castle, a historical centre of conflict during its 500 years as a medieval fortress. On the way back, we were entertained with local stories of Nessie sightings, with the resident skipper sharing his personal encounter.
Day 6: Loch Ness to Oban
En route to Fort William, we visited the Commando Memorial, with a majestic view of Aonach Mòr and Ben Nevis, the highest mountain in the British Isles. The highlight of the day was a ride on the scenic Jacobite steam train, also known as the 'Hogwarts Express', past the famous Glenfinnan Viaduct to Mallaig — a must-try for all
Harry Potter
fans.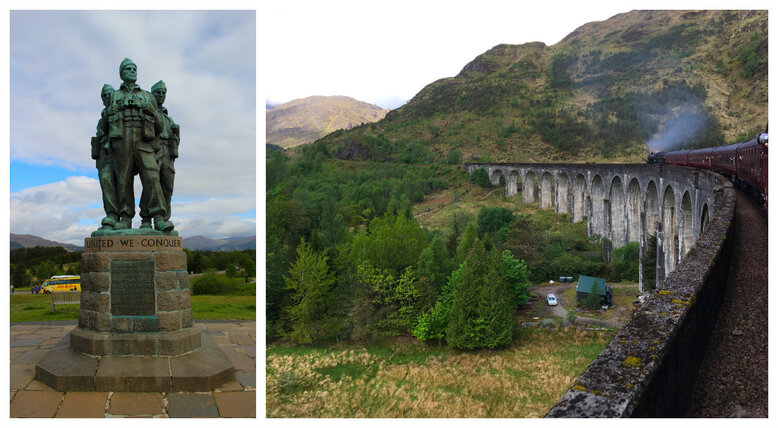 Commando Memorial; Glenfinnan Viaduct
Day 7: Oban to Edinburgh
On our way back to Edinburgh, we visited Castle Stalker, made famous in the film 'Monty Python and the Holy Grail', as well as Glencoe's towering peaks, and the William Wallace monument on Abbey Craig.
What I enjoyed most about the trip
I'm more of a 'free and easy' travel type, but this trip convinced me that tours can be just as fun, especially when you're travelling solo and in a small group. The bus was very comfortable and even came with a USB charging port and mini fridge too. (The essentials for every on-the-road Singaporean.)
Thanks to our legendary local HAGGiS guide, Rich, there was a lot we got to see, hear and uncover about Scotland, beyond the beaten path and expected itinerary. We tasted the wild – Nature in untouched form, blended with world-shaping history. We also discovered the sexy – Scottish culture at its best with insightful, meaningful local experiences.
Finally, it's the people, not just the destinations alone, that result in a great holiday. The compact and dynamic nature of the tour made it easy to make new friends. Special thanks to my fellow travellers — Rich (guide), Justin, Sarah, Daniel, Eva, Kira, Leah and Martina — for your friendship and photo contributions.
Want a HAGGiS adventure of your own? Learn more about it here.