Don't you just love food buffets? The never-ending choices and variations of cuisines make our food-loving bellies jump for joy! If a food buffet gives us goosebumps, then a clothes buffet might literally make us leap from happiness!
That's right, Clozetters! The 3rd season of
Clothes Buffet Malaysia
is only a few weeks away! On the 16th and 17th of January 2016 at Lot 10 Shopping Centre, Bukit Bintang, Kuala Lumpur, you'll be given access to more than 30,000 pieces from 9:50 AM to 9 PM.
Indulge in this one-of-a-kind shopping event that aims to bring the latest garb and garments to young female fashionistas, without burning a hole in their pockets. You'll be even more thrilled to know, that at this year's Clothes Buffet, the thousands of clothes are separated into 5 exciting categories —
Throwback
,
[email protected]
,
Girls Being Girls
,
Lazy Weekend
, and
Little Black Dress
.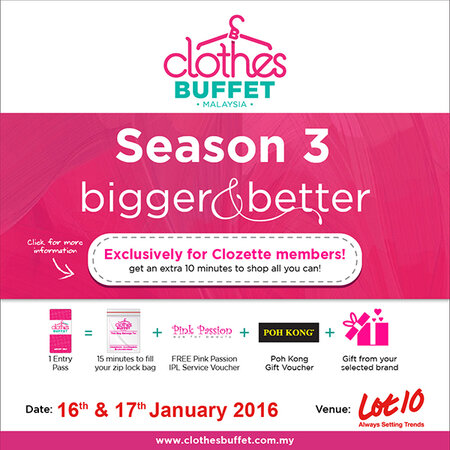 To join, shoppers have to pay a flat rate of RM150 at the venue and each will receive a 35.5cm x 23cm zip-lock bag. For 15 minutes, you can grab as many items as you can, stuff it in your zip-lock bag (and zip it properly), and it's all yours to take home!
But, Clothes Buffet has a sweet deal for all your Clozetters! Instead of being allowed inside for only 15 minutes, you get an
extra 10 minutes
to grab as many clothes as you can! So what are you waiting for? Take advantage of this unique and quick shopping trip right now!
--------------------------