You know what they say: two is better than one. That's why the
Clarins Double Serum
- the first double serum with separate oil and water phases - has proven itself to be one of the best anti-agers in the market since its debut in 1985.
Sure, its formulation has been improved constantly over the past 27 years and is a skincare classic that has withstood the test of time - exactly like how we'd like our skin to preserve youth and defy aging. Read on as we share three reasons why we think all women from age 25 and beyond should own a Clarins Double Serum in their beauty arsenal.
--------------------------
You Get Two Anti-Aging Formulas in One Bottle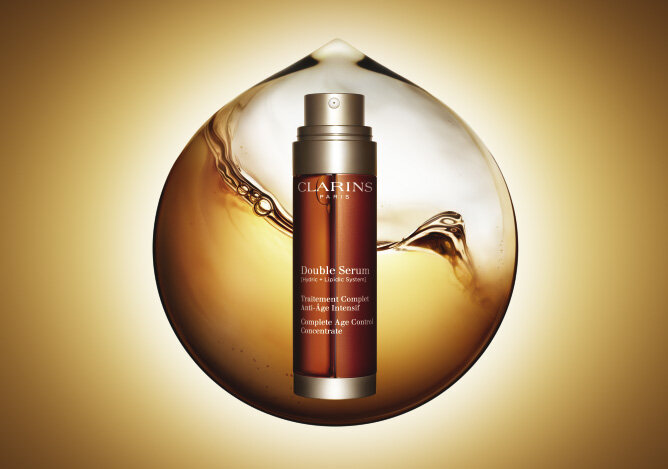 How do you successfully combine water- and oil-soluble ingredients together in one formula to achieve the best skincare solution? The answer is: you don't. The
Clarins Double Serum
's water- and oil-soluble ingredients are stored in two separate vials - equipped with a unique pump system within the bottle. Precise amounts of each formula are pumped out with each application to ensure they perform at its most optimum for our skin.
Essentially, you're getting double the anti-aging formula in one bottle - and double the anti-aging power on your skin.
--------------------------

It Contains An Astonishing 20-Strong Plant Ingredients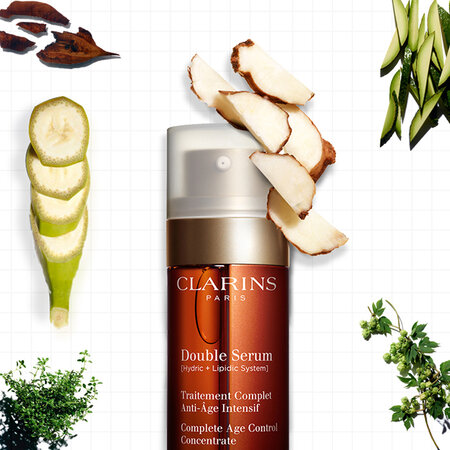 It's no secret that the heart of Clarins lies its solid portfolio of botanical ingredients. But imagine 20 plant extracts in one product - all meticulously selected for their skin boosting benefits. Then, imagine: amongst the 20-strong plant extracts the likes of Maritime Pine, Green Tea and Quinoa, is the Cangzhu extract. A Chinese medicinal herb, the Cangzhu extract stimulates G protein - a key protein of the cell membranes - to boost cell activities and enhance the efficacy of the remaining ingredients.
The result? A remarkably concentrated formula that rejuvenates skin cells to target your skin's five vital functions for younger-looking skin: hydration, nutrition, oxygenation, protection, and regeneration. What exactly does that mean? A noticeably younger-looking visage with firm suppleness, smoothed wrinkles, minimised pores, and visible radiance.
--------------------------
Indulge In A Sensorial Experience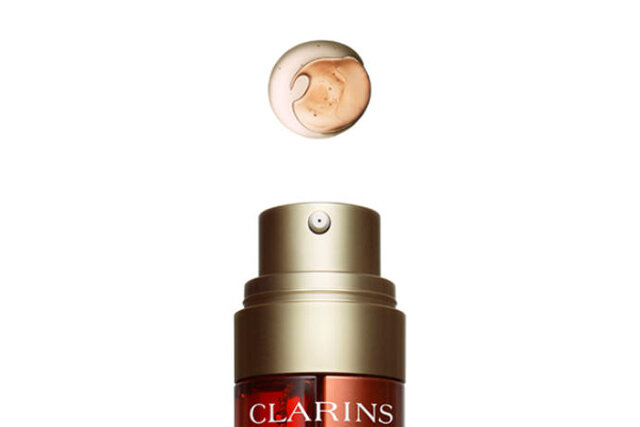 Because of its separate water- and oil-soluble formulas that only blend together upon application, the
Double Serum
dispenses a smooth, gel-like fluid texture that feels slightly different from your regular serum. It goes on like facial oil without the greasiness, and absorbs quickly into the skin without any trace of oily residue.
With regards to compatibility with your skincare regimen, the Double Serum absorbs quickly and has been proven to boost the efficacy of your subsequent creams to ensure that your skin is ready for the next skincare steps. Its refreshing blend of fruity and floral notes (created by a Japanese master perfumer) makes you feel like you're indulging in a pampering session at the Clarins Skin Spa - except you're in the comfort of your own home. When it comes to an all-rounded sensorial skincare experience, the
Clarins Double Serum
definitely takes home the gold.
The Clarins Double Serum retails at SGD $121 for 30ml.
--------------------------
Want to give the Clarins Double Serum a try?
Get your free 7-day trial supply

here

.