Dr. PAWPAW multipurpose soothing balms have gained holy-grail status because of the plethora of ways you can use it. Think: chapped lips, dry cuticles and hair, and sunburns — all these can get quickly nourished and hydrated. The balms supposedly heal most skin irritations because of its main ingredient: fermented PawPaw. The hero ingredient boasts of natural healing qualities and is said to be one of nature's finest remedies.
For the fans of the OG PAWPAW balm who'd like to have some colour on their faces, Dr. PAWPAW also has tinted versions that add colour to your cheeks and lips while delivering the same soothing benefits. I recently got my hands on the Rich Mocha variant so I decided to see if the it will be a worthwhile purchase.
First Impressions and Packaging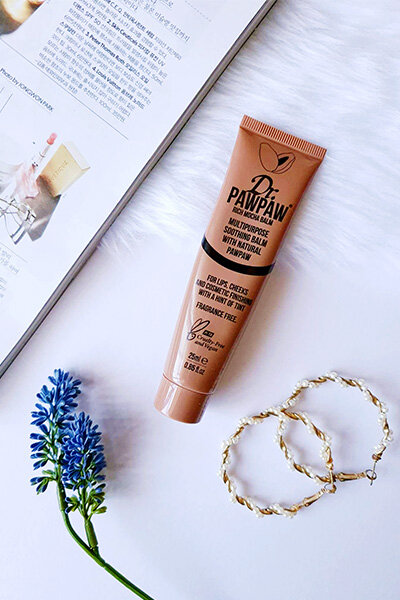 Having never seen one in person before, I was pleasantly surprised with the size of the Dr. PAWPAW tinted balm. It has 25ml per tube, which is more than enough for my needs. Other tinted variants of the cult-fave — there are currently a total of four available in the Philippines via The Beauty Bar — provide a swash of colour that you can apply on your lips, cheeks, and other areas. The colour of the packaging almost perfectly reflects the tint of the balm inside. I chose Rich Mocha since I was initially planning on trying it as a bronzer and an everyday lip balm.
It's housed in a plastic material that's thick enough and doesn't feel like it would explode inside your purse. It's also soft enough that I can comfortably squeeze out the product without struggling.
Usage and Application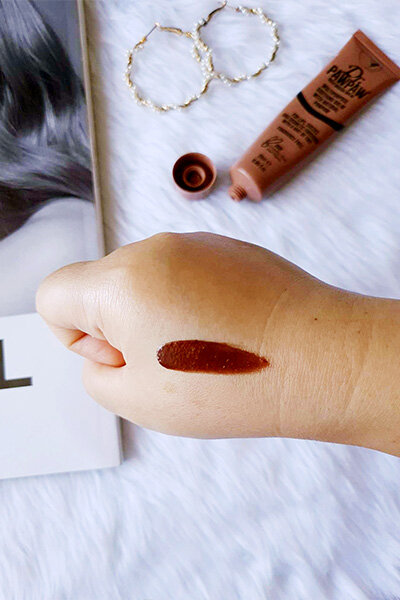 Now let's talk about its performance. Aside from the tint, this doesn't differ much from the original formula. It has a mousse-gel hybrid texture and a lot of pigment. When swatched, it leaves a considerable amount of hue that still stood out with my light tanned skin. However, the oils — a mix of olive, sunflower seed, and soybean — tend to separate inside the tube. Shaking it well before opening can help. Otherwise, I'd blend it out on the back of my hand to dab away some of the excess oil first before applying.
When I first used the Dr. PAWPAW tinted balm, it had a slightly off-putting scent. It eventually faded away, but the first whiff left a lasting impression. The balm isn't weightless by any means, but it's a good compromise for how moisturising it feels on the lips. It didn't feel tacky at all. In fact, it felt like I was wearing a lip mask. My lips became soft and plump while also looking the tiniest bit smoother. It did what I expected the soothing balm to do.
However, I found it difficult to use as a cheek tint. While very hydrating, my oily-combination skin and the oils in the balm didn't mesh well. It looked greasy. When used as a bronzer/contour, it took a while to blend and made my skin look muddy. The brighter shades (Peach Pink, Outrageous Orange and Hot Pink) are better choices if you're planning to use it on your lips and cheeks. You can also set it with translucent powder to combat the shine. It could also potentially work well if your face gets sunburnt or irritated since it will soothe and still leave some flattering colour behind. You might also like it if you have very dry skin.
Final Thoughts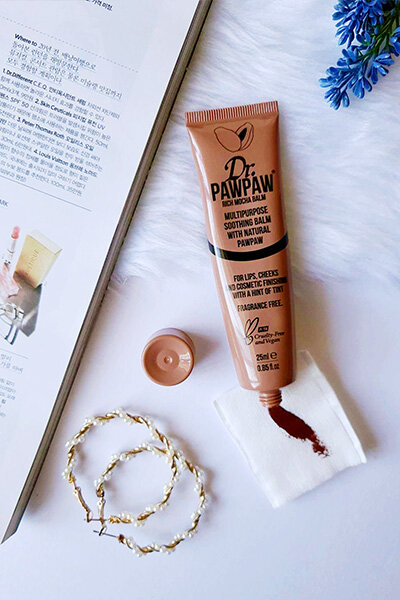 Despite its multi-purpose use, I prefer using the Dr. PAWPAW tinted balm on the lips on a daily basis. While it does give a nice tint to the skin, there are other options that are more suited to create that desired look. I would prefer to just use a powder blush or bronzer.
After testing it out, I could see why the original is so popular. The moisturising benefit is certainly the best aspect of these balms. As a makeup lover, I liked applying a thin layer on my lips for a few minutes and then wipe it off before adding a dash of ultra-matte lipstick. It's also pretty affordable at PHP595/~USD11.80 for a full-sized tube. All in all, I liked this product as a balm. The tint, while a nice change, might be better with a variant other than the mocha brown. I'd recommend it for anyone who deals with dry and chapped lips that regular lip balms can't fix.
*The product was sent as a press gift. The views and opinion of the reviewer are independent and purely editorial.

Speaking of matte lippies, we reviewed the Peripera Ink Airy Velvet Sticks.