In the world of skincare, clean beauty products are now the buzziest topic. Fans of the movement claim that these items are better because they do not contain any toxic ingredients (most are vegan and plant-based) and are made with consideration for the environment. But do they really fare better than more affordable drugstore counterparts?
One of the notable clean beauty brands that entered the international scene recently is Dr. Roebuck's. It's a brand born in Australia in 2010. The story goes that sisters and co-founders Kim and Zoe suffered from eczema when they were younger and their parents, who happened to be doctors, formulated special skincare recipes. Instead of adding more ingredients to existing formulas in the market, what Kim and Zoe's parents did was removed unnecessary and harmful ones. As a result, we can now enjoy these clean Dr. Roebuck's skincare products that promise a no-fuss yet effective skincare routine.
Sounds promising, right? We thought so, too, and that's why we gave them a try. Ahead, our review on Dr. Roebuck's two bestselling items: the Kibosh Weightless Foaming Cleanser and No Worries Hydrating Face Moisturizer.

"I got into skincare at a young age, but it wasn't just until two years ago that I took into consideration the quality of the cleanser I'm using. For the most part, I just used whatever or sometimes just bath soap (yikes!). But that all changed when I learned that using body soap is actually harsh on the facial skin because it strips away moisture (not dirt or gunk as I thought) and damages the skin's natural barriers. After that realisation, I started becoming more thoughtful about the cleanser I'm using and searched for those with gentle ingredients.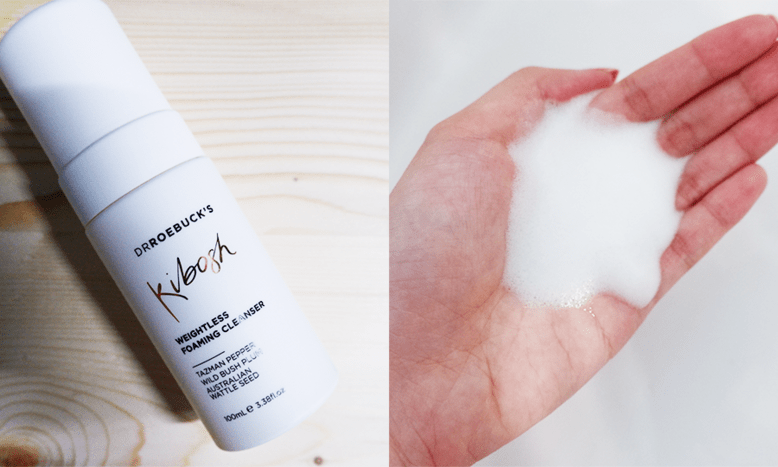 I do have my favourites now, as seen in my previous cleanser review. But I must say that Dr. Roebuck's Weightless Foaming Cleanser is now added on my all-time fave list. It's not like any other cleanser that I've tried. One pump gives you a not-so-rich foam and once applied on the skin, it melts away. At first, I thought that this was a bad thing and that it doesn't really clean my skin. However, after using it for a while, I'm happy to report that it does cleanse effectively — no unexpected acne, no leftover oil. It truly is weightless and effective.
Additionally, I like how the packaging is sleek and has a high chance of being recycled (a PET, white bottle can be easily recycled). It's something I would definitely splurge on from time to time!

"Moisturisers are particularly essential to my skincare routine as skipping a day definitely takes a toll on my dry spots (and I have a lot). So when I was asked to try Dr. Roebuck's No Worries Hydrating Face Moisturiser, I got pretty excited to see how it fares against my current favourites. It's infused with Hyaluronic Acid, Macadamia Oil, Rosehip Oil and Vitamin E, and it promises to help soften, brighten, and replenish the skin by keeping it hydrated and nourished the entire day.
But before I dive into the actual experience of using it, I'd like to commend its very sleek packaging. Looking sleek and clean in a matte-white pump bottle with simple black and gold lettering to indicate the product name, it definitely has a nice luxurious feel to it. As for the actual content, the product has a smooth cream-gel texture with a faint but pleasant scent, probably rooting from the oils in its concoction.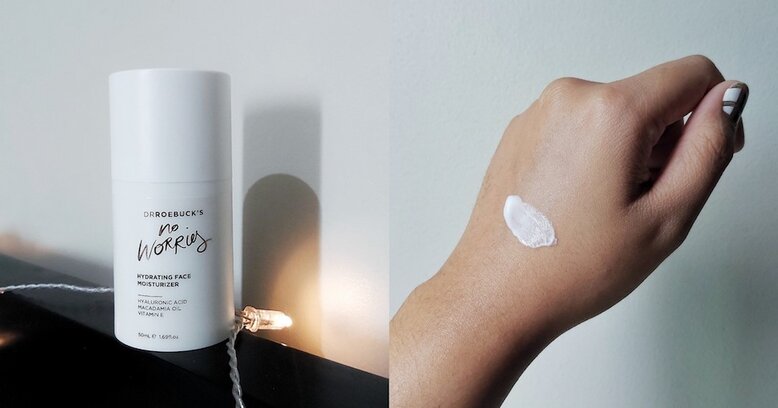 Application-wise, it's really easy to spread out. As was claimed in the packaging, it feels very lightweight, leaving the skin with a soft and satiny texture. With that said, I've used it both by itself and under makeup and I loved how it didn't cause my base to look clumpy or cakey as some moisturisers do. As for the long-term experience, while I didn't notice any significant or mindblowing change in my skin after using this, I'd say it performed as it promised and didn't give my sensitive skin any horrific after-effects and that's good enough for me. 'No worries' indeed."
Read more beauty reviews here.