One way to rediscover our own strengths is by looking through someone else's perspective. In putting ourselves in somebody else's shoes, we see how beautiful and blessed we are, how we take some of the things in our lives for granted, and how everyone has their own battles to face. This gives us an understanding of life in general. And this Breast Cancer Awareness month, we aim to celebrate the survivor in all of us.
So to introduce the first part of our
#LetsTalkPink
series, we talked to
Theresa Deapera
and
Deng Bathan
-- two women who are currently ongoing treatment for breast cancer.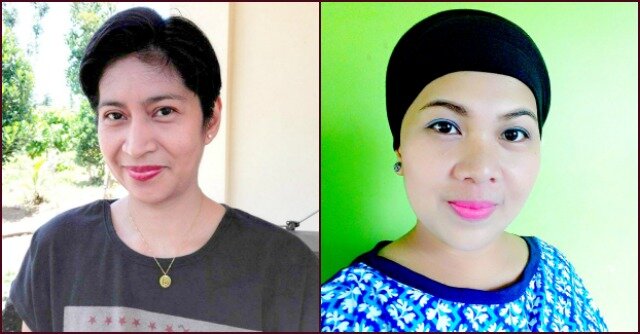 Deng (left) is 40 years old and has finished 2 out 5 operations for her Stage 3A cancer. Meanwhile, Theresa (right) is currently 37 years old and has been undergoing treatment for Stage 2b breast cancer for a year.
With their fair share of struggles and moments of despair, keep scrolling to learn more about their story of finding the beauty in having hope and the importance of self-love.

Who is Theresa/Deng before breast cancer?
Theresa:
Before I was diagnosed, my husband and I just separated and I was dreaming for a new life for me and my two kids. I didn't have a job back then because being a wife and a mother is my life.

Deng:
I'm married, have a six year old kid, and I worked as an in-house sales associate in a forwarding company. Life was just simple and happy.
--------------------------
Can you share with us what crossed your mind when you found out that you had breast cancer?
Theresa:
I was devastated. As I said, I was just starting to build my life again without my husband and then I now had to deal with this situation. I felt so helpless and alone. I thought about my kids, especially.
Deng:
The first thing that came into my mind was 'how long do I have left' and 'when am I going to die'? Because that's what 'cancer' in general meant to me at the time. I cried and cried when I found out that I was already in Stage 3. And I was worried about our finances because there's chemo and I thought, 'how am I going to work now and help my husband?' Most of all, I was worried about the future of my 6 year old.
What was the most surprising thing that struck you the most when you were diagnosed?
Theresa:
I used to love sweets, fatty foods, and junk foods but I didn't know that would be a cause. It was a small part of my lifestyle but I didn't expect that it would lead to something this worse. I also wasn't the type who gets sick easily so I thought I was safe.
Deng:
No one in our family had history of breast cancer so it really came as a shock.
--------------------------
How hard was it to cope with the situation and how did you overcome that difficulty?
Theresa:
There were times when I kept on wondering why this happened to me. Like, 'why now?' But my mom and my kids helped me accept the situation. They showed me that I have to fight not just for what's left of my family but for the dreams that I had to rebuild. And that's why I decided that I have to keep moving forward.
Deng:
I was crying so much and I felt so lost. I really didn't know what to do. It was my husband who told me that I should be strong. He told me over and over that 'we will fight this'. My side of the family and my in-laws were also behind me the entire time and that's when I realised that they're right. It's not over yet.
How did this experience change you as a person and as a woman?
Theresa:
I used to set aside myself and focus more on my family, which is definitely not a bad thing. But it even came to a point when I completely forgot to love and take care of myself. I figured that I didn't want my family and my kids to see me weak and struggling. I want to be stronger now more than ever. I want to prioritise my dreams so that I could be a better mom to my kids.
Deng:
I realised that maybe I was put into this situation because I needed to better appreciate my life and the life of everyone around me. It made me more optimistic and much more closer to my faith. I don't want to just be someone with breast cancer. I want to inspire people who are also going through the same thing. If I can do it, they can too.
--------------------------
With that said, do you think that it is important for women to openly talk about breast cancer? And if so, why?
Theresa:
Definitely! Whether or not you have breast cancer, it's important to know about it because it affects so many lives, not just yours. It's important to know why this happens so that it could be prevented and people should be made aware that there is a cure and that they should never give up.
Deng:
Yes, of course. I felt stings and pain on my breast a year before I actually went to the doctor to get checked and that's why I was in stage 3 when I was diagnosed. One of the biggest mistakes ever! I was so scared when I found out because I thought that I was going to die. But women must know that it is curable. That there is still hope. That you should never take your health for granted. Women must talk about it because it's not something you should be ashamed about. Even husbands and families need to be informed and educated so that they would know how to support someone in their family diagnosed with breast cancer.
Last but not the least, what is your message to every woman who will read about your story this Breast Cancer Awareness Month?
Theresa:
Don't be afraid and take care of yourself, whether or not you have breast cancer. Do it for your family, your loved ones, but most importantly, yourself. Trust that you can endure anything.
Deng:
Never give up on fighting. There are foundations who are willing to support breast cancer patients and survivors where you can also meet inspirations and new friends. Keep life busy and fruitful. There are many things in life to live for.
--------------------------

Any stories of hope and self-love to share? Let's talk it out in the comments below!
Plus, don't forget to keep your eyes peeled for the next part of our #LetsTalkPink series here on ClozetteINSIDER.