In a casual fashion scene where basic and monochrome trends rule, one stylish girl is standing out with her love for vibrant colours, florals, and prints. That girl is none other than our Featured Fashionista for this month, Vanessa, also known as Vanessaxlim on Clozette. Who knew a few OOTDs can convert a tomboyish girl to an all-out fashionista?
Let's get to know more about her style and fashion story in this exclusive interview!
--------------------------

How did you get into fashion and blogging?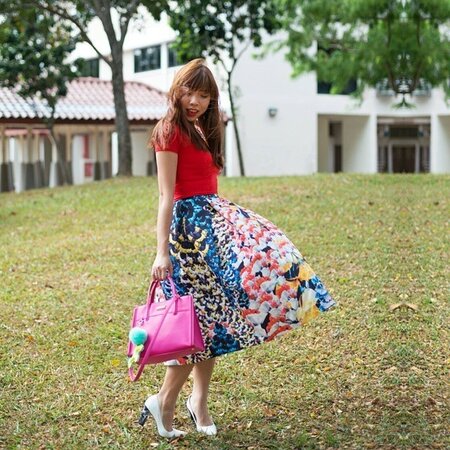 It's quite a funny story actually but I will try to keep it short. When I first started dating, my boyfriend was trying to get me to be less tomboyish. Think super short hair, no makeup, and a really, really dated closet. So he introduced me to blogshopping and taking OOTDs. And there was really no turning back from there! So now when he complains about taking the visuals for my Clozette, Instagram, or Dayre I remind him that it was his fault! Fashion wise, I think I've always enjoyed it because I come from an art and fashion background in school. It was only natural that it helped my style develop.
Can you describe your style and who your fashion inspirations are?
Recently I am quite into the Japanese look, pairing high socks with my shoes. But if I had to describe my distinct style, I think it would be girly-yet-edgy, because 95% of the time you would see me in prints. Whether it be floral, stripes, mixing different patterns...I am always game! As for my fashion inspirations, I look towards both local bloggers like Christabel Chua, Andrea Chong, and Rachel Lim and overseas bloggers such as Laura Comolli, Camilla, and Hilary Rose.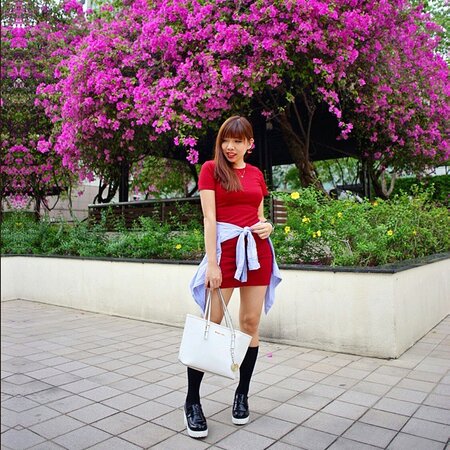 What are your top 3 must-buy closet items for the month of July?

With the insane Singapore weather, I think July is the time for fun, flirty outfits. Printed tank tops, cute shorts, and a good pair of sunnies will do the trick.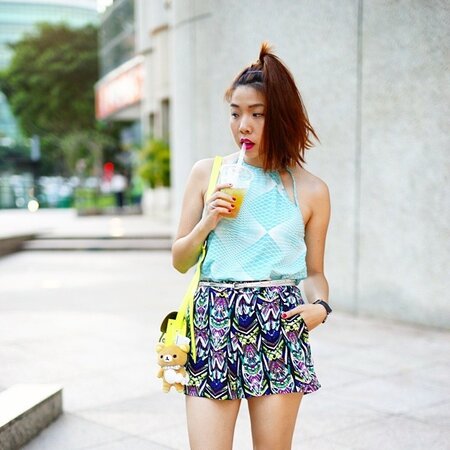 How do you make your outfits look fun and colourful for the season?

Always have a bright lippie to make your look pop! Also, having a colourful accessory can definitely bring that summer fun to any outfit.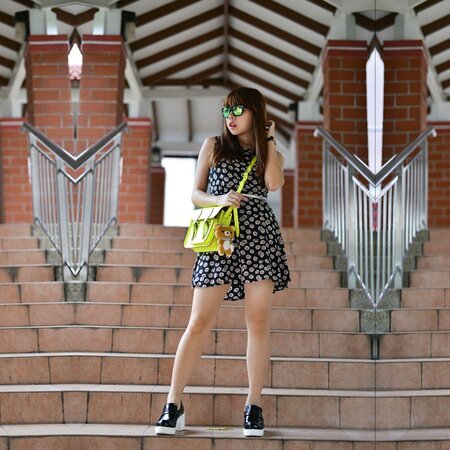 What is your go-to outfit for a day in school?
I swear by dresses for school--just wear it and you're ready to go, especially if you're running late. If I had more time, I usually like to go for a casual top and cute skirt. And definitely flats, because comfortable footwear for a long school day is a must!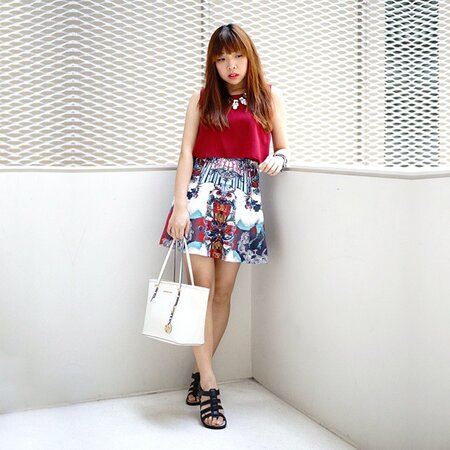 Which one was your favourite look? Let us know in the comments below!