"It's not about makeup," said
Dr. Teo Wan Lin
when asked about Dr.TWL Dermaceuticals' cosmeceutical makeup arm, the
Pi π-Custom Cosmeceutical Makeup Lab
. It is a contradictory statement, considering that we're talking about makeup and their latest
LipSerum Stick
, but the Founder and Medical Director of TWL Specialist Skin & Laser Centre has good reasons for it. Essentially, the brand is advocating for a "make your own lipstick but make it ultra-healthy" notion and we're all for it. After all, it is no longer just about having skin-loving ingredients in skincare products — consumers have become more discerning about the ingredients used in our makeup products too.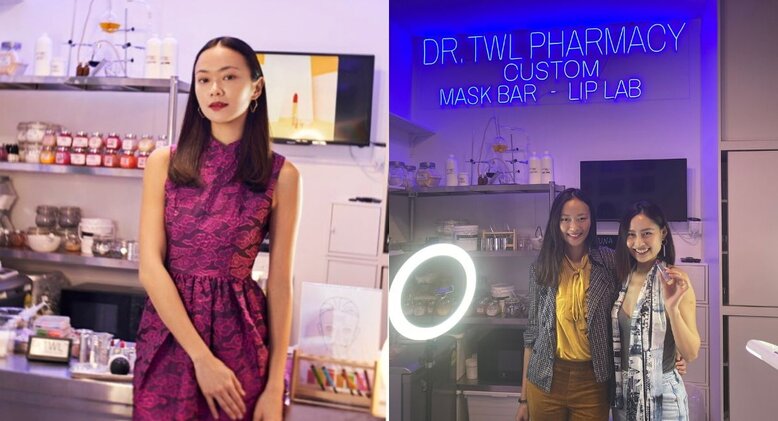 (Left) Dr. Teo Wan Lin wearing a LipSerum Stick; (Right) Ed. Becks with Dr. Teo at the Custom Lip Lab
You'll be blown away by Dr. Teo's passion for creating science-backed products, from dresses and earrings to beauty sponges and lipsticks. But today, we talk custom lips. Developed by a dermatologist, chemist and a pharmaceutical engineer, the LipSerum Stick is a testimony of how "a lipstick can bridge the concept of skincare and makeup combined", shared Dr. Teo.
We know skincare in makeup is not exactly something new. But it's the ingredients here that set the LipSerum Stick apart from the rest. Formulated with a blend of cosmeceutical anti-ageing active ingredients, this lipstick delivers colour without missing a beat on the ultimate lip care. It prevents lip discolouration, wrinkles and loss of volume associated with UV-damage and ageing. Purified Salmon Roe DNA Extract, which works to stimulate collagen growth, is the star ingredient here. It is a food-derived antioxidant, so you know it's safe for your lips and absolutely safe for consumption.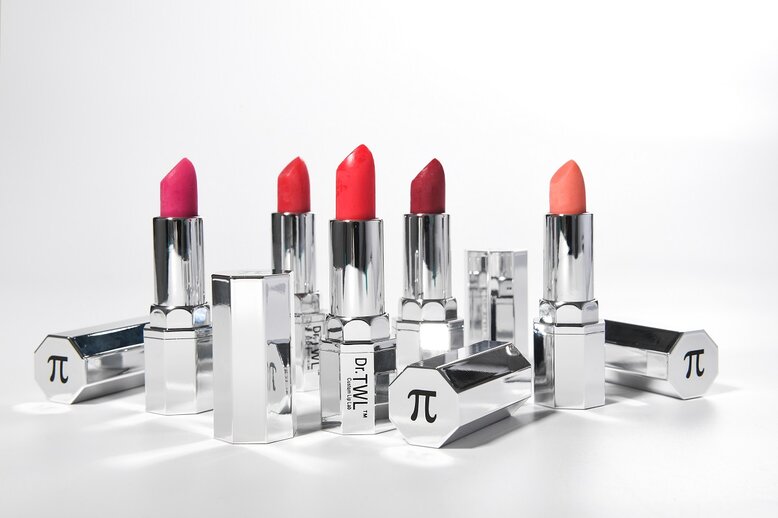 Dr.TWL LipSerum Sticks

In fact, do you know that the average woman consumes six tonnes of lipstick in her lifetime? The LipSerum Stick contains 100 per cent natural, edible ingredients and features the research team's microcrystal encapsulation technology to allow the lipstick to be preservative-free. Now, you get to have your lipstick and eat it too.
Here's where the fun begins: the Dr. TWL Custom Lip Lab. We bask in the freedom to choose, so imagine our excitement when we got to customise our own lippie shade — as well as flavour and finish (raspberry flavour and a matte finish, anybody?) — at the lip lab. We began by placing a device on various points on the face for a skin tone and hydration analysis. After understanding our lip style and colour preference, a virtual mirror was used to allow us to try on some premixed shades on real-time. Tester shades were then taken out to try before we gave comments about achieving our desired colour.

Left: Trying out shades on the virtual mirror app; Right: Removing the lipstick from the mould

From mixing the powdered pigments and heating the beaker in a microwave to pouring the heated liquid and refrigerating the bullet mould to wait for the final product to set, it all feels very much like we're participating in a little trial-and-error type of science experiment. You get to be part of the process of creating your very own lipstick that is uniquely yours. Finally, your LipSerum Stick is housed in a UV-protective packaging that prevents the clinically active ingredients to degrade and lose their effects. How's that for a skincare-oriented makeup product?
If you look closely, you'll notice something a little bit different about the LipSerum Stick from your conventional lipsticks. It has a slightly rough texture — like a lip scrub — because of its natural microcrystal ingredient that releases the Salmon Roe extract. It remains as a solid stick at room temperature, but the formula reacts to your body temperature as it glides on your lips and dissolves for a moisturising serum effect while its encapsulation technology releases the 100 per cent mineral colour pigments. So heads up: try not to put your LipSerum Stick in your pocket or the car. It is chemical preservative-free, after all.
LipSerum Stick, SGD96.30

Apply gently from the bullet or dab on for a sheer, natural look. Or if you prefer a more intense coverage, layer on for a dramatic entrance. Your shade, your call.
The LipSerum Stick retails at SGD96.30 via bespoke appointment, with full customisation of colours, shimmer effects and flavours. The LipSerum Stick for 7-Days in a 1G Tin: RTW Shade retails at SGD21.40. Book your bespoke appointment here.