We believe that a good makeup look comes with a good base. That's why a quality skincare routine is as important as makeup that stays on until we want it off. After a long, stressful day of hopping from one meeting to another, and commuting from one event to another, I'll be honest: it's hard to keep a fresh face on.
But here's the thing — it's always more challenging when you don't have good skincare to back your beauty look up.
So, how do you relax and feel good about yourself at the end of the day? It's all about observing a couple of self-loving habits that work to de-stress your mind and body for a new day ahead. Ask yourself this question: "What do I enjoy doing?" Then simply do what you love to do! Besides a good workout that releases "feel-good" endorphins, I unwind with a good book in hand and replenish my body with plenty of toxin-clearing H2O.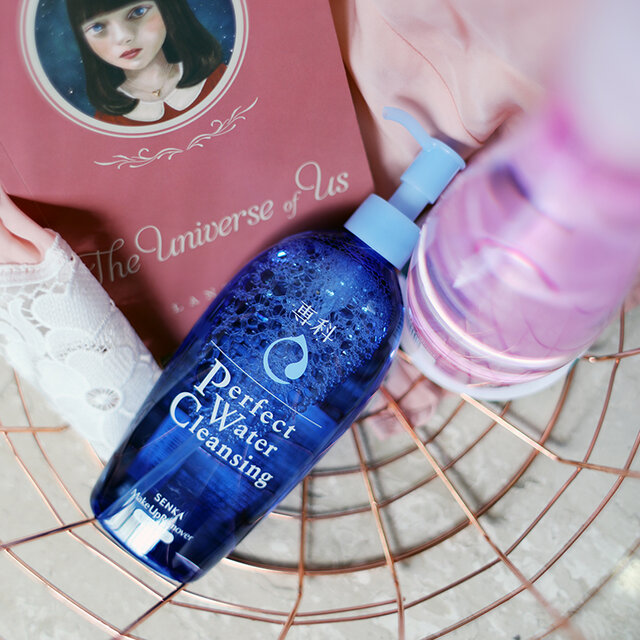 On top of that, I also make sure that my nighttime beauty routine is never a chore for me. It's almost liberating, really, to have my makeup off after a lengthy day without feeling any less confident than when I have it on. That's where my
Senka Perfect Water Cleansing Makeup Remover
comes in — because it does more than just remove makeup.
The Japanese beauty brand practices "nomitsu" (which means short, but rich and intensive care in Japanese), and advocates single-step products with multiple benefits. The oil-free, dermatologist-tested and colorant-free Perfect Water Cleansing contains Natural Silk Essence Complex and Double Hyaluronic Acids that rejuvenates and nourishes the skin with essential nutrients.
Not only is its refreshing watery base gentle to the skin, it also thoroughly cleanses away makeup, and swiftly removes dirt and oil while reducing shine and promoting brighter skin in the long run. Silky smooth to the touch, it neither leaves an overly drying nor sticky feel. Its delicate floral scent is also not overpowering, making the Perfect Water Cleansing a pampering first step to my skincare routine.
To top it off, there's no need for rinse-off — extra bonus when it's this hassle-free, don't you agree?
Want to #FeelGoodWithSenka? Senka products are available in Watsons, Guardian, Aeon Wellness, Sasa and Aeon in Malaysia.
#FeelGoodWithNoMakeUp with Senka now! Stand to win a Senka Perfect Cleansing Set by joining the contest here.