It was revealed last year that Drake and Zendaya were joining forces for a new series. The show, titled Euphoria, was set to be a teen drama, with Drake and his manager, Future the Prince, serving as executive producers, and Zendaya as the main character. The show was picked up by HBO, which hosted other groundbreaking series like Game of Thrones. Euphoria already premiered in Asia last Monday, 17 June. But in case you missed it or need more information before deciding whether the show is worth catching or not, here are some facts that can help you.
It's a remake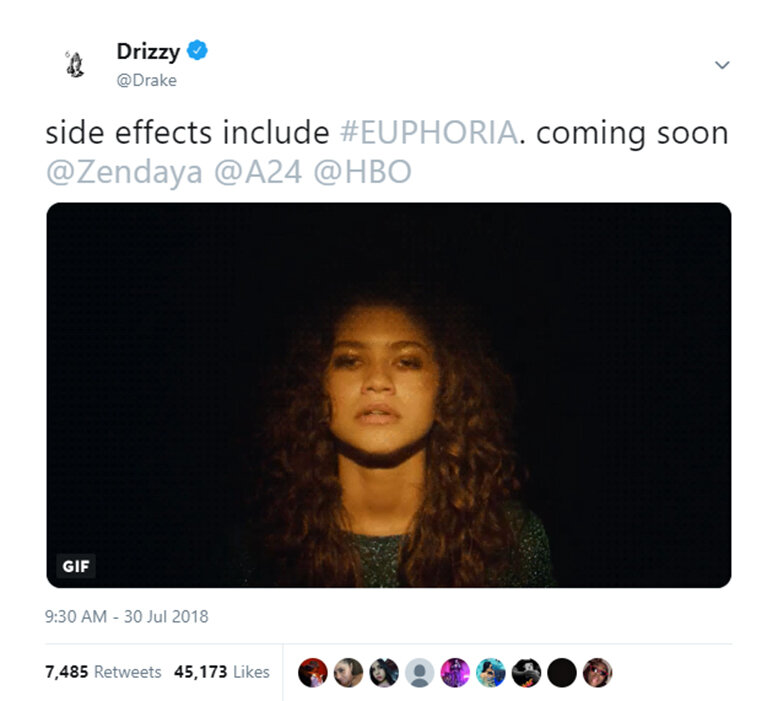 Written by Sam Levinson, the new HBO show is actually based on an Israeli mini-series of the same name that ran back in 2012. Euphoria revolves around the lives of high school students making sense of love and friendship in a world full of drugs and trauma. It's HBO's first series entirely about teenagers, following the wave of other teen shows like Riverdale and 13 Reasons Why from other networks.
A diverse cast stars in the show
Euphoria follows Zendaya as Rue Bennet, a drug addict returning to high school after getting out of rehab. Playing her younger sister is Storm Reid, who is fittingly close and looks similar to Zendaya in real life.
Rue struggles with a strained relationship with her childhood best friend, Lexi (Maude Apatow). Instead, she spends more and more time with her pink-haired friend Jules, played by Hunter Schafer. Being a drama set in high school, the show makes use of familiar stereotypes. Still, the young cast manages to breathe new life into these overused tropes.
The storyline is completely dark
It's quite unsurprising given that this has become the usual tone most teenage shows take. But Euphoria attempts to handle it differently by adding a touch of melancholy to the story. The teenagers the show revolves around were born after the tragic 9/11 incident. It gives us a glimpse of the anxious environment these Gen-Z kids grew up in. The partying and everything you'd see in teen shows are shown with complexity, confusion, and awkwardness — which are often present during teenage years.
It's definitely not for the faint of heart
If you didn't like Game of Thrones because of its graphic scenes, then turn back now. Euphoria may be a teen series, but HBO doesn't plan on holding back with this. The producers are intent on showing a gritty, realistic look at the lives of teenagers. Aside from the sexual scenes present, the show deals with very serious issues that might be triggering to some that even Zendaya herself posted a warning about it on her Instagram.
Euphoria might be overwhelming at first glance, especially with its artistically pleasing neon cinematography. But once you get past that, you get a real, sympathetic look at teenage life, which we all relate to. Catch up on the riveting life of Rue on HBO every Monday at 11 PM.
(Cover photo from: @euphoria)