(cover photo from Aldora_Muses)
What started as a small pharmacy within New York's Lower East Side way back in 1851,
Kiehl's
has since carved a unique niche in the skincare market, becoming one of the most trusted skincare brands in the market today due to a reputation forged from a conscious effort to always ensure that each product wholly carries with it a history steeped in quality, attention, and personal care.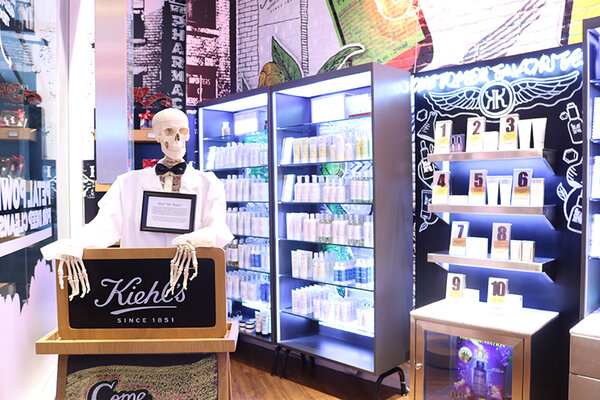 From its earliest days, Kiehl's has always ensured that each customer who steps into its branch will be fully educated on the proper usage of their products, tailoring a skincare experience that thoroughly understands each customer's unique skincare needs, wants, and concerns.

So during the recent
Kiehl's Happy Hour
in The Philippines, we got chatting with one of their skincare experts at their branch at
Greenbelt 5
and learned a few interesting things about our skin that surprised us.
Here are a few things we learned!
--------------------------

It's easy to determine your skin type at home
Knowing your skin type is key to getting started with creating a skincare regimen. So if you're only starting to get into skincare, do this easy-to-do-at-home test. Wash your face with a basic cleanser and pat it dry. Then, stand in front of the mirror and look at your skin closely. Does it look and feel rough, or does it feel normal or slightly oily? Does your face feel tight and taut, or does it feel comfortable when you smile? Are your pores small or large?
Dry skin is mostly characterized by a prolonged tight and taut feeling after washing your face. Oily skin feels fresh and moist after washing but gets oily quickly through the day. Oily skin is also sometimes characterized by the presence of large pores.
Just because you have large pores, doesn't mean you have oily skin
Now here's another thing to consider. Just because you have large pores doesn't automatically mean you have oily skin. Large pores can be brought about by a number of things, such as genetics or simply due to your skincare habit of tugging at your face.
There is a skin test you can request for at Kiehl's
If you're not into the whole guessing game of trying to figure out your skin type, then there's a skin test you can do at any Kiehl's branch. The skin test is in two parts and administered by the skincare specialists. The first is their
Skin Barrier Test
which checks the sebum level of the skin; and the second is their
Moisture Monitoring Test
which tests the moisture level underneath the surface skin.
Living in our region, you can have dry skin but still feel oily
Just because you feel yourself getting oily through the day doesn't mean you're an oily-skinned girl. There are a number of different reasons why you may look oily, such as the humidity level of the environment, the accumulation of sweat and grime through the day, or the most common reason: you're using the wrong skincare regimen, such as products that take away the natural oils on your face causing your skin to want to produce more oil to hydrate itself.
There is no such thing as too much skincare
If you love piling on your skincare at night and wondering if it's a bit too much, don't worry. Your skin can never have too much skincare. However, it has to be the right kind of skincare--products that address your skin's concerns and is tailored to your skin type. By creating a skincare regimen that is targeted to your skin type and concerns, you prevent skin irritation and breakouts that may occur from using the wrong products.
There's a whole skincare line for oily-skinned girls
One of the biggest frustrations of oily-skinned girls is finding the right products that mattify their skin while still keeping it moisturized without feeling heavy. This is where
Kiehl's Ultra Facial Oil-Free Line
comes in. It's an oil-free line that keeps you shine free without stripping your skin of its natural oils. For an added step, supplement it with
Kiehl's Micro-Blur Skin Perfector
. This mattifies the skin and blurs pores and fine lines for a smoother complexion.
Dry skin girls should aim for hydration and re-texurization
There are two skincare basics to caring for dry skin. The first is to ensure that your skin is kept hydrated through the day with a skincare line that doesn't have a thick, greasy texture so your skin feels fresh and comfortable through the day. For dry skin girls, Kiehl's has its
Kiehl's Ultra Facial Line
to keep your skin moisturised without the heaviness of thick creams.
The second step to caring for dry skin is to re-texurize your skin with a skincare product that is able to refine your skin such as
Kiehl's Powerful Strength Line Reducing Concentrate
. It keeps the skin smooth and free from wrinkles and signs of dehydration common in dry skin.
A 5-minute skincare regimen is better than nothing at all
When your life gets too busy for skincare, keep this adage in mind: a 5-minute routine is better than none at all. So no matter how busy life may get, don't forget to set aside skincare-time in your every day routine. But if you are really at a rush in the morning and don't have time for a full skincare routine, at the very least make time for SPF.
Their "Powerful Duo" is truly an amazing combination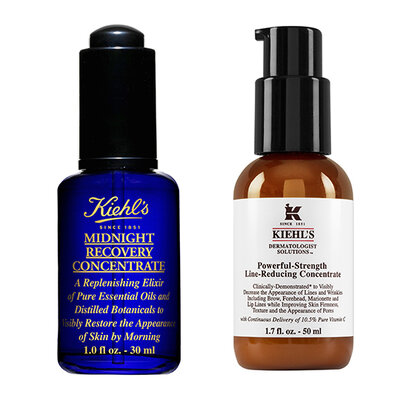 The combination of Kiehl's
Midnight Recovery Concentrate
and its
Powerful Strength Line Reducing Concentrate
is regarded as their '
Powerful Duo
' in combating skin concerns--particularly when it comes to strengthening an anti-ageing routine. When used together, they help to re-texturize the skin while helping it recover from the day's stressors--such as the environment, pollution, life stress, and ageing. Use the Powerful Strength Line Reducing Concentrate during the daytime along with your skincare routine; and follow it up at night with the Midnight Recovery Concentrate.
The most common skin concern among women in the region is...
Surprisingly, the most common skin concern encountered by Kiehl's skincare specialists is rooted in the customer using the wrong products for her skin type. Many come in for skin consultations in hopes of knowing how to better care for their oily skin, but in reality they actually have dry skin and have just been using the wrong products their whole life. So, to prevent this skincare mishap, it's important to get a skin consultation to better know your skin type and the products that you can use to correct your skin concerns.
--------------------------

Want to learn more about your skin? Visit any of Kiehl's branches and request for a skin consultation.
For Clozetters in The Philippines, get p
ersonalised skin consultations, complimentary samples, and more when you
drop by their Coney Island Caravan happening in The Philippines this weekend (12th-13th September)!