There are a lot of eye creams for dark circles from drugstore and high end brands that you can try, but do they really work? Dermatologists recommend using eye care as a means of preventing common woes such as sagging skin, puffiness, and fine lines that naturally occur in this sensitive area. Quicker, effective ways to solve these issues, especially pigmentation, involve dermatological means like lasers, microneedling, and fillers.
However, if you feel that you're not quite ready to delve into that beauty realm, there are some eye creams you can buy to help gradually diminish your dark circles. Read on for some fast facts you need to know while shopping for the one to add to your routine.
Dark circles have different causes
If you want to brighten your pigmented undereyes, you need to determine the underlying causes. Yes, it's more than likely to be a combination of several factors. One of the possible reasons why you have dark circles is you constantly rub your eyes. Rubbing or scratching around your eyes is very common among those with allergies, making them more prone to discolouration. A study suggests that the constant friction causes the thin skin to darken due to post-inflammatory hyperpigmentation and create that panda eye effect.
Dark circles also occur naturally with the loss of fat in the eye area. The sagging, thin skin creates the appearance of deep-set eyes and allows the blue-red tint of your blood vessels to appear starker.
It can also be due to genetics. Some people have a bone structure that creates a hallowed circle around their eyes. Some may have naturally darker skin around their eyes. It can be more pronounced in fairer skin, but those with medium and deeper skin tones can also have this slight uneven skin tone.
Other factors such as stress, lack of sleep, and an unhealthy lifestyle can all contribute to dehydrated skin and eventual skin discolouration too.
Choose the right ingredients
As with any type of skincare, you have to pick the product with the specific ingredient meant to solve your skin woe. With dark circles, ingredients such as retinol and vitamin C can help with improving texture and brightening. Do take note that high concentrations of these ingredients can be irritating, so having an eye cream that contains them in lower concentrations will be gentler and better for this delicate area. It's also better to be cautious and use these products sparingly.
You can also look for caffeine-infused eye creams since caffeine helps reduce redness by constricting blood vessels.
But if the dark circles are caused by loss of fat, leading to thinner skin to expose the small veins in your undereyes, then ingredients such as peptides and collagen can help replenish the lost firmness. Hyaluronic acid can also help plump and revitalise the skin.
Some recommendations
Now that you know what to look for, here are some eye creams — from drugstore to high end brands — you can use so you can finally say goodbye to dark circles.
Drugstore: Olay Regenerist Retinol24 Night Eye Cream
Retinol is one of the heavy-hitting skincare ingredients that can help retexturise your complexion. When partnered with hydrating niacinamide, it can firm up the delicate eye area and reduce the appearance of fine lines and panda eyes caused by pigmentation.
High end: Dr. Dennis Gross B³Adaptive SuperFoods™ Stress SOS Eye Cream™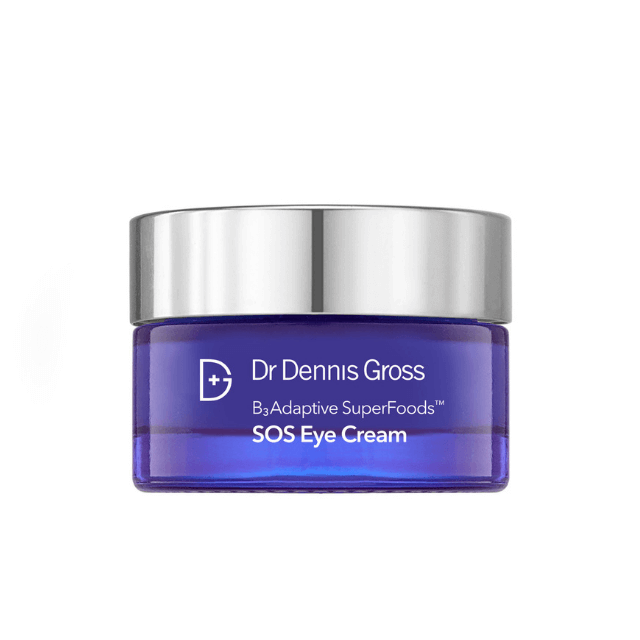 This eye cream depuffs and brightens the eye area with the power of Arabica coffee, an antioxidant-rich skincare ingredient with notorious soothing properties. It also has niacinamide to help retain moisture, repair fine lines, and reduce redness. It also claims to be hypoallergenic and non-comedogenic, so people of all skin types can give it a try.
Drugstore: Dr. Wu Advanced Hydrating Eye Cream
Its main ingredient is called 5th generation HyaluComplex, powered by hyaluronic acid, which attracts, retains and creates hydration and moisture all through skin layers. When layered underneath a moisturiser, this eye cream boosts hydration to plump up the skin and achieve a more youthful appearance.
High end: Frank Body Brightening C Eye Serum
Vitamin C is a known antioxidant, which can help with pigmentation. This eye serum has a creamy texture and contains 6% vitamin C and Kakadum plum extract to brighten the delicate eye area. It also has 6% caffeine to help depuff your eyes, while hydrolyzed hyaluronic acid is there to help increase hydration.
Drugstore: EAU THERMALE AVENE Physiolift Eye
Another good drugstore option is this eye cream, which has thermal spring water to help soothe, soften, and calm the skin. Its skin-brightening factor comes from dextra sulfate, which helps improve moisture retention and increase blood flow. This multi-acting ingredient decreases the appearance of sagging skin that causes dark undereyes.
Which of these will you be picking up? Remember, aside from these eye creams, the best way to solve dark circles is getting enough beauty sleep. So get as much of it as you can too.
(Cover photo from: Anna Shvets via Pexels)