Fashion is often seen as superficial and shallow, but that prejudice could not be further from the truth. Fashion, like any form of art, is an expression of the artist's deepest emotions and desires. The clothes are canvasses of hard work and creativity. And once worn by the public, fashion embodies inspiration from everyday life.
To inspire and serve — this is what fashion designers JC Buendia, Ito Curata, Cary Santiago, Vania Romoff, Mia Arcenas and Rosenthal Tee hope to achieve by showcasing their designs this Sunday (October 8) at the ICanServe Foundation's Fashion Can Serve fashion show.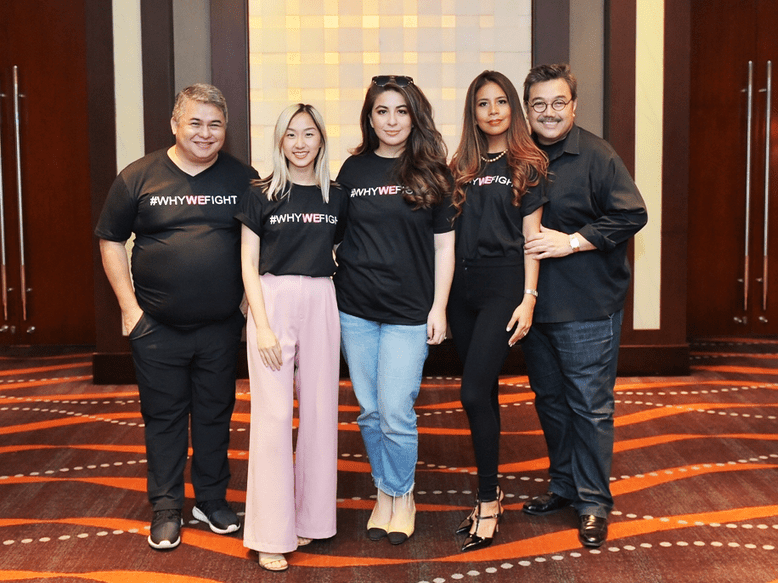 (From left to right — JC Buendia, Rosenthal Tee, Vania Romoff, Mia Arcenas and Ito Curata)


The one-of-a-kind fashion show will be held at the Raffles Makati Hotel where breast cancer survivors and supporters will gather to raise support for ICanServe Foundation and its advocacy of awareness and early detection of breast cancer. This year's theme is called Why We Fight. It sends a powerful message that diagnosis does not mean a life sentence. "Our theme emphasises the reason why persons diagnosed with breast cancer choose to fight: They do this for their spouses, children, and grandchildren," says ICanServe Foundation President Tang Singson.
Finding Inspiration Close To Home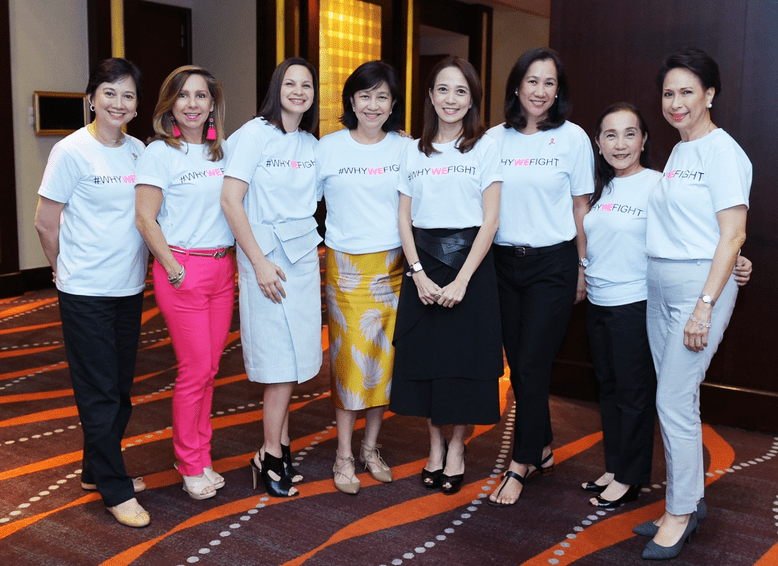 ( From left to right — ICanServe Foundation Team: Fundraising Committee Head Bettina Osmena, Fundraising Committee Member Sandy Lamb Moran, Founder Crisann Celdran, Chairwoman Libet Virata, Founder Kara Alikpala, Fundraising Committee Member Camille Samson, President Tang Singson, and Fundraising Committee Member Sabrina Panlilio)
The Philippines has the record of the highest incidence of breast cancer in Southeast Asia. Even the designers themselves have someone close to them battle with breast cancer. Cebuano style visionary Cary Santiago shares, "I am joining this show since cancer survivors are so close to my heart. I have a sister who is a cancer survivor. It gives me great joy lending my time and dresses to this worthy cause."
Rosenthal Tee also shared her personal experience: "The reason I joined Fashion Can Serve this year is [because] my main assistant is actually a survivor of breast cancer. We only found out she had breast cancer late last year; it was already Stage 3. Luckily we were able to find her the help to do chemotherapy and have the breast removed, and now she's recuperating well so far. It hits so close to home because she's someone I encounter every day and she's like family."
Collections That Celebrate Strength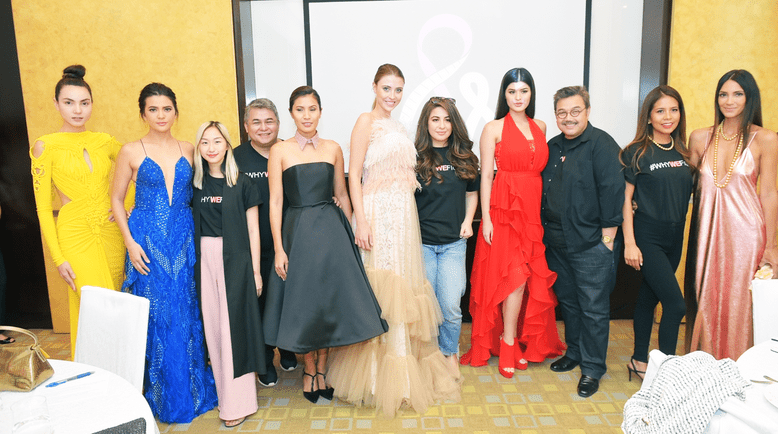 (From left to right — Jasmine Maierhofer wearing Cary Santiago, Rosenthal Tee with Katarina Rodriguez, JC Buendia with Lia Andres Ramos-Moss, Vania Romoff with Amanda Florentino, Ito Curata with Mariel De Leon, and Mia Arcenas with Fatima Rabago)

The designs that will be showcased in the upcoming fashion show are inspired by the courageous and triumphant journeys of breast cancer survivors. Each designer will show their own interpretations and aesthetic.
For JC Buendia, he aspires to cheer with his designs. "I want to convey happiness in my collection because I've learned over the years of making clothes for breast cancer survivors that the secret to battling cancer involves inviting positive vibes and being just happy," he said. In contrast, Santiago's collection this year will feature classic designs and muted colours as "a celebration of a woman's fluidity and femininity."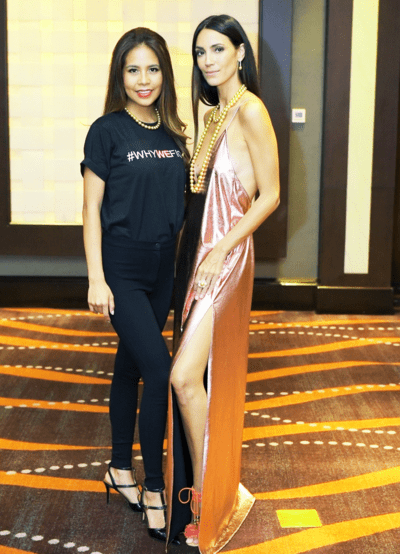 Mia Arcenas with Fatima Rabago
Mia Arcenas' collection is about strength and femininity. "I want [my collection for the show to embody a brave woman and] the fact that she's strong and she can take care of herself, even with a disease like breast cancer." Meanwhile, Romoff's signature feminine silhouettes and romantic designs will again be seen in this collection. "I wish for my clothes to convey strength seen through a woman's beautiful figure," she shared.
Young designer Rosenthal Tee also shared that she'll draw inspiration from different cultures. "I'm going to play with Eastern Asian influences," she revealed. Finally, renowned designer Ito Curata said he wishes that the fashion show will be a success. "I hope the audience will have an open mind and appreciate the works of all designers since we all have distinct aesthetics. I know it will be a good show," he said.
Beyond The Beautiful Clothes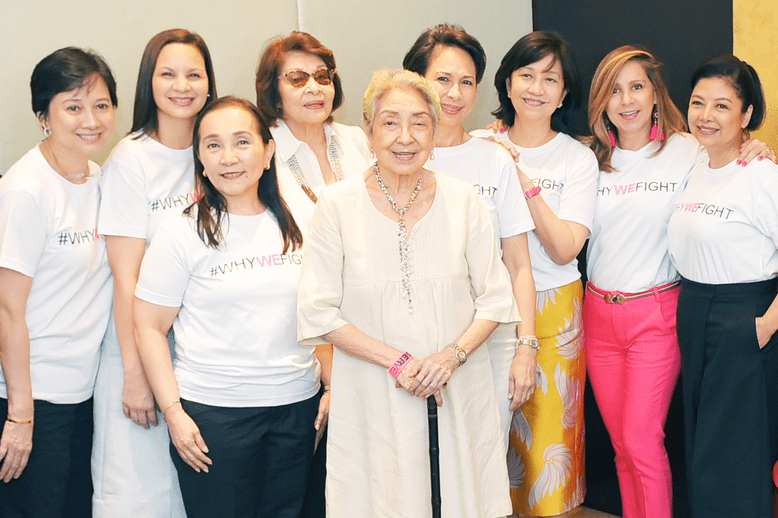 (From left to right — ICanServe Foundation's Fundraising Committee Head Bettina Osmena, Founder Crisann Celdran, and President Tang Singson with survivors Mila Camus and Techie Velasquez together with ICanServe Foundation's Fundraising Committee Member Sabrina Panlilio, Chairwoman Libet Virata, Fundraising Committee Member Sandy Lamb Moran, and longtime supporter WynWyn Ong)
This year's muses will include a mother and her young child, and grandmothers and their grandchildren. This is to demonstrate the reason why breast cancer patients fight — for themselves and for their loved ones.
For this year, notable names will also grace the runway, including Margie Moran Floirendo, Gloria Diaz, Solenn Heusaff, Jasmine Curtis-Smith, Katarina Rodriguez, Tootsy Angara, WynnWynn Ong, Techie Velasquez, Mila Camus, Sandy Moran, Sabrina Panlilio, and co-founder Crisann Celdran.