It's no secret that throwback trends are all the rage since the beginning of this decade. From midi skirts and pastel palettes of the '50s to the neon colours and high-waisted jeans of the '80s, any fashionista would notice that these days, almost everything new on the runway looks a bit old. For the most part, it's actually cool to see awesome trends get their day in the sun once again. But some regrettable fashion choices are best left in the past. Ahead, the fashion trends we hope never make a comeback in our wardrobe.
Visible thongs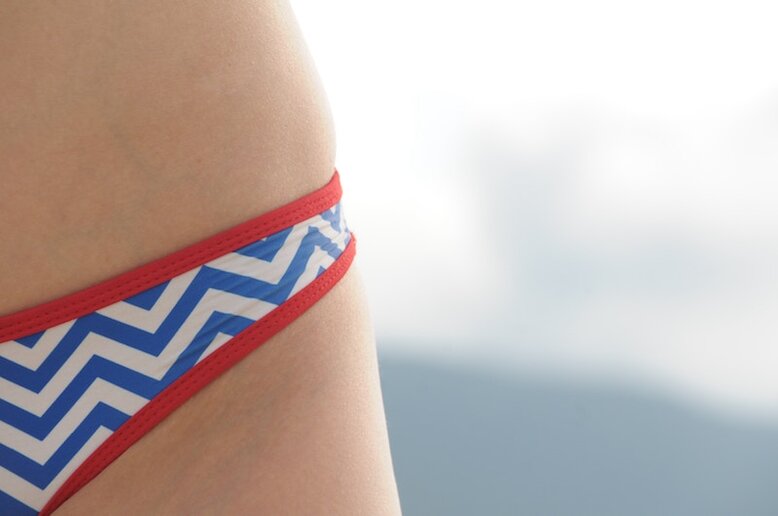 In a way, we can understand why we thought this was a good idea. Low-rise jeans were super popular back then (thanks, Paris Hilton!) and this means you have to wear cute undies since they will be visible anyway. Plus, when your favourite celebrities are rocking this style, then you're bound to also try to rock it — even if it's in vain. Over time, we realised it was not the classiest way to dress. So we really hope this one never makes a comeback. Although, this makes us think, "Are we gonna regret showcasing our pretty bralettes in the future?"
Low-rise jeans
Shawty got low, low indeed. Along with the visible thong trend came the rise of the low-rise jeans. We don't really know which one came first but they sure did reinforce one another. It was the fashion combo that we regretted as soon as it faded from vogue. Why? For starters, it just looked painfully awkward. The crotch section is positioned in the weirdest way possible; it's unflattering unless you have rock hard abs and just the simple act of doing a bend and snap becomes impossible. Fair warning: this trend is in danger of making a comeback. Let's all remember why it shouldn't.
Try-hard emo look
Now, we're gonna hit it where it hurts. Your emo look wasn't awesome nor is it "da bomb." It was the epitome of an emotional, newly minted teenager trying too hard to look cool. Inspired by Avril Lavinge and Gerard Way, we popped on our not-so-stylish version of their ensembles complete with studded belts and denim skirts. For good measure, we also threw in neckties over black, non-collared tees. Add on to that the massive eyeliner and cheekbone-length bangs and what you get is a cringe-worthy look that will haunt you for many years to come.
The bullet bra
We have a tendency to romanticise the past and that includes overlooking bad fashion choices people made back in the day. Vintage fashion also had its lows! The biggest one of them, in our humble opinion, is the bullet bra from the fabulous '50s. It's a bra with cups that are comically pointed outwards to overemphasise the shape of a woman's breast. By modern standards, it's not at all comfortable or pleasing to look at. But maybe it was a product influenced by the 1947 Dior New Look or it could be inspired by the shape of the space shuttles from the space race era. We're not really sure, but we're definitely glad this one didn't become a staple.
The traditional corset
It would be hard to think of a more dangerous fashion trend than the traditional corset. We're not talking about the modern ones we see today but the ones worn by women in past centuries to shape the body into an unnatural silhouette featuring a very slim waist. Not only did they constrict the breathing but also compressed organs leading to various internal issues. Yes, they were pretty and stylish but they're also basically a torture device. We say, never again.
Next, learn how to rock animal prints in 2019.