Rihanna continues to break down barriers with her recent campaign for Fenty Fashion. As she dropped her first-ever collection online, fans were quick to notice how the singer continues the fight for body-positivity and inclusivity. On the cover of the Fenty's fashion jewellery section, you'd see Sudanese model Aweng Mayen Chuol with her facial scars untouched by Photoshop. It's another huge step for the acceptance of unedited beauty, a revolutionary movement in a world where flawlessly perfect looks are perceived as beautiful.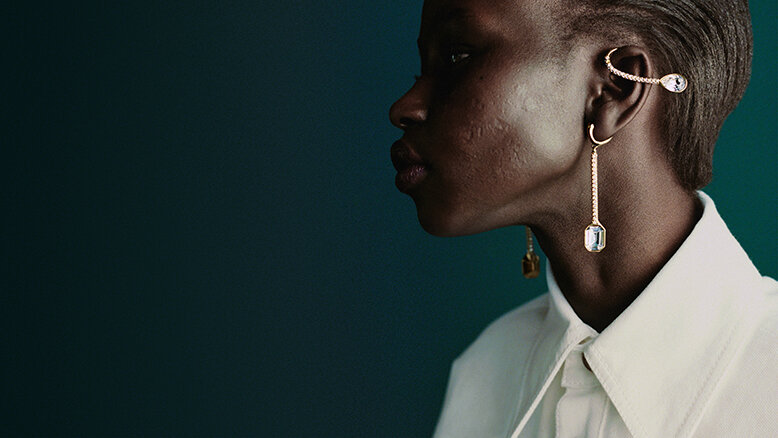 Towards unedited beauty
Besides Fenty, other fashion and beauty brands have already attempted to normalise what's real. Back in 2014, lingerie brand Aerie made the commitment to feature only unretouched photos. Aside from that, they featured the most inclusive line-up of models and ambassadors. #AerieREAL casted women of all sizes and colour, as well as those with various medical conditions and different abilities. Other than that, there's Gucci, which, just this last May, became the first major luxury brand to do an unedited beauty campaign. Their '80s-themed lipstick campaign featuring close-ups of crooked teeth made imperfections a part of beauty. These game-changing moves were applauded because they inspired empowerment in diversity.
Photoshopping standards
Still, most models and celebrities usually featured in fashion and beauty campaigns fit the conventional idea of beauty — but that doesn't mean they're already safe from digital retouches. Most of the time, their photos are still heavily edited to push their perfection to be ridiculously unattainable. Seeing this almost every day creates unrealistic beauty standards for all — so much so that even these celebrities feel compelled to edit photos they upload on their personal Instagram accounts. And for the people whose feeds are filled with them? Well, they're forced to yearn for this unattainable beauty too. We're used to seeing this inhuman perfection that we become unsettled when we see real bodies instead.
Inclusivity rules
Everyone can agree that edited beauty puts so much pressure on everyone. The unattainable body standards they impose breeds insecurity in all. It seems as if you're not beautiful if you aren't tall and slim with smooth, light skin. This toxic cycle is exactly why unedited beauty initiatives like Fenty's are a huge deal for us. Everyone is born different, so beauty shouldn't look the same as well. Normalisation of real bodies is important so we could be more accepting towards ourselves.
With big brands like Rihanna's Fenty, Gucci, and Aerie paving the way for unedited beauty, hopefully other brands will follow suit. Imperfections exist in all — we have no other choice but to embrace them. We're keeping our fingers crossed that soon, a model with untouched scars is no longer news, but the norm.

(Cover photo from: fenty.com)