In the Philippines, we call the month of August Buwan ng Wika or the Month of Language, as a way to appreciate our rich culture and heritage. Aside from commemorating the numerous languages spoken in the country, we've all spent our school days celebrating the month by feasting on local delicacies and wearing traditional Filipino clothes for a day. But these festivities remain only in our schools, and as adults, it's rare that such events are observed. We forget that our heritage can be celebrated in simple ways every day, and even beyond the month of August. We say instead of wearing elaborate and stuffy traditional wear, opt to switch up your daily look by incorporating pieces from Filipino fashion brands.
Nowadays, tons of local brands are popping up, offering one-of-a-kind sartorial choices to complete your ensemble. Even better is that a lot of these Filipino fashion brands are now finding interesting ways to incorporate our unique culture with modern designs. Brands like Talasalitaan PH, Stride Collective, and Linea Etnika are just some of those that do this wonderfully. Read on to discover how these homegrown brands proudly champion our heritage.
Talasalitaan PH
A sad fact is that because of centuries of colonisation and globalisation, not much attention is given to the native languages in the country. Theatre enthusiasts Berna Sastrillo and Pat Dacanay hopes to do something about that with Talasalitaan PH. This clothing brand that just launched last March offers something unique by incorporating language into fashion pieces to create awareness and hopefully spark discussion about Filipino culture. As fans of brands like Artwork and Tee Culture that offer clothes with funny puns and interesting phrases, the two thought there's no better way to draw attention to the languages than by having them on a good statement tee.
Talasalitaan PH's designs are simple, making them versatile basics that can perfectly complement any outfit. Berna and Pat usually come up with phrases that resonate to young and adult Filipinos, write them in different Filipino languages or native scripts, and have them printed on the tees. So far, their first two collections have featured seven languages from Luzon, Visayas, and Mindanao, along with the native Baybayin script. However, there's a long way to go as the two hope to feature all 130 languages in the Philippines and other native scripts that are still being used by indigenous groups in the country.
Since the language spoken by Pat and Berna are limited, their product development process is quite research-heavy. They consult with language experts to ensure the accuracy of the translations of the phrases they want to print. Embarking on Talasalitaan PH has been a tough yet exciting journey for the two, and they can't wait to expand their t-shirt line into other clothing pieces like totes, jackets, and so on in the future.
Stride Collective
Ask any Filipino where to find locally made high-quality shoes and they'll all point you to Marikina, the shoe capital of the Philippines. But if you're looking for a pair that's completely unique, then Stride Collective's shoes are what you should check out. Stride Collective isn't just a brand, it's a community of 18 shoe-entrepreneurs helping and supporting one another. You'd think it would be counter-productive to collaborate with your competitors, but Stride makes it work with their distinctly flavoured designs — all proudly locally made in Marikina.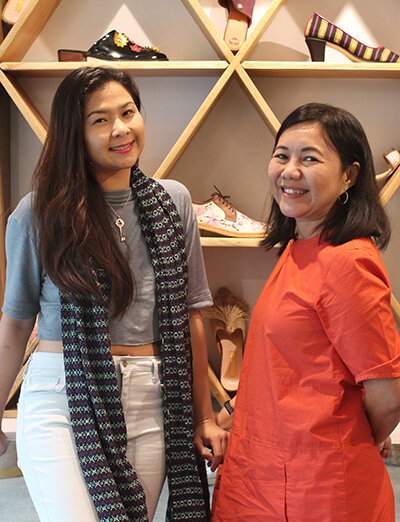 Tal De Guzman of Risqué and Yen Reyes of Artisach, co-founding members of Stride Collective, an up-and-coming Filipino fashion brand.
It all started with Tal De Guzman's Risqué Manufacturing Designs, which manufactured pairs for other entrepreneurs starting their shoe business. She wanted to create a formal community with a number of brand owners she worked with, and thus, Stride Collective was born. Though all of their pairs are manufactured by dedicated shoemakers of Risqué Manufacturing, the pairs designed by each brand reflects their owners' distinct tastes. Yen Reyes of Artisach, for one, makes art wearable by combining her love for painting and leather crafting in the pairs she designs. Other Stride brands like Risqué, Hola Lili, Design & Style, Habi Footwear, and more make use of native textiles in the footwear they design. They also have brands like INNÉ that try to incorporate local materials like abaca and rattan into modern designs.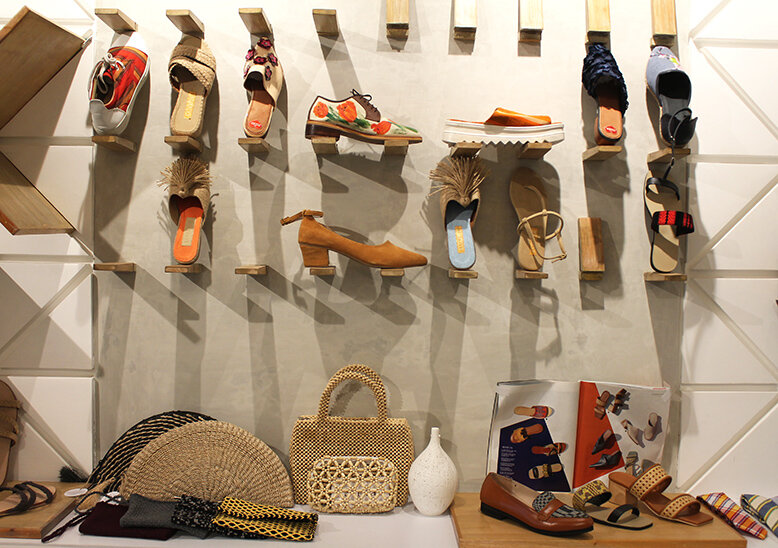 A display of products in Stride Collective's Marikina concept store
Stride Collective pushes the boundaries to create something refreshingly distinct from pairs you'd get from the malls. All of this is done ethically. Brands that use local weaves consult the communities where they source their textiles from, making sure that it isn't disrespectful to use these for footwear. They've formed a collaborative relationship with the shoemakers that craft their designs, constantly learning from their inputs on manufacturing along the way. While some brands in the community produce bags and accessories once in a while, for now, Stride Collective as a whole plans to focus on footwear. And through their newly opened concept store in Marikina, they will hopefully help in driving tourism in the city by offering footwear that people can discover only there.
Linea Etnika
Last but not least, Linea Etnika attempts to bring awareness to indigenous culture by incorporating their weaves into chic, modern wear. Classic and sleek silhouettes are made distinctly Filipino by the weaving in of colourful textiles in their designs. Like two of the aforementioned Filipino fashion brands, this clothing brand was born out of friendship and camaraderie. Joy Belmonte and Looie Lobregat first crossed paths through the Congressional Spouses Foundation, Inc. (CSFI) as they represented their Congressmen fathers in the organisation. The two immediately bonded, and while shopping for souvenirs in a cultural immersion trip organised by CSFI, the idea of starting Linea Etnika sparked.
The two weren't experts in fashion — Joy has a background in teaching archaeology and is now working in public office, while Looie has had a career in banking before choosing to be a homemaker. But because they have always been invited to formal events requiring Filipiniana (traditional Filipino clothing), the two were inspired to make a fashion brand that makes dressing up for these events a breeze.
But more than creating fashionable clothes, the duo wanted to create a brand that could help local communities. Initially, they focused on weaves from Mindanao, particularly the Yakan and Tausug weaves from Zamboanga, Looie's hometown. But recently, they've started experimenting with other textiles from the Visayas region. Aside from these indigenous communities, Linea Etnika enlisted the help of communities in Payatas, Quezon City to sew their packaging.

Because weaving the textiles they use for their clothing takes time, Linea Etnika only produces pieces in limited quantity. Still, they gladly accept made-to-order requests in case the piece the customer wants is sold out. But these are all just a start for Linea Etnika. Having only been established in 2016, the brand hopes to help more communities and create a future for weaving traditions through their versatile clothing.
Next, shop guilt-free from these sustainable Filipino fashion brands.