One fascinating thing about friendship is that it can bud in the simplest of ways. And for us women, it's usually having to bond over things that we are strongly passionate about, like makeup and beauty. A testament to this would be beauty influencers Leanne, Romana and Fanny, whose bond over all things beauty sprung into an amazing friendship that is both fun and empowering.
We hung out with these ladies at Marriot Tang Plaza Hotel and got chatting about their beauty-centric, both literally and figuratively, camaraderie.
Friendship in bloom
Crazy, precious, treasure — these three words are what Leanne, Romana and Fanny used to describe their friendship in one word. And with such lovely words to describe their relationship, we dig deep into the origins of their trio. It all started from Instagram for these three, and it all bloomed from giving 'hearts' to each other on the image sharing platform.
Soon, it was setting up to meet when on travels to Singapore or Kuala Lumpur, and the virtual friends became real-life BFFs, talking about beauty and life in general.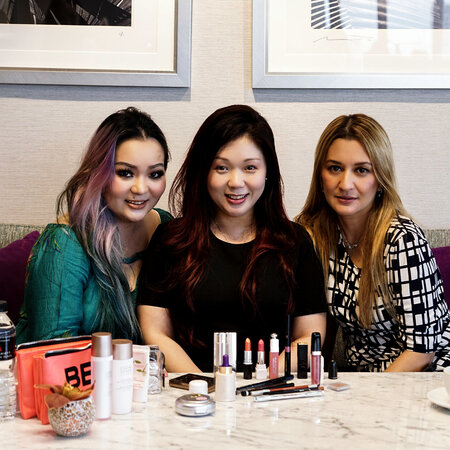 On being together through thick and thin
When asked about what they go to each other for, Leanne shared that she goes to Fanny for support and courage. She said she also goes to Romana for support [also because she is greatly] empathetic.
Romana, meanwhile, shared that their friendship goes beyond Instagram and even if they live in different countries, they can count on each other. "They have been with me during happy moments, as well as difficult times. [They are always there to] give me encouragement, advice, and support in being a mum, a wife, [in] my business, and any other obstacles life throws at me. They are honest, blunt, and give me constructive criticism, which I value."
On a lighter note, Fanny said the two can also be trusted when it comes to beauty recommendations. "Leanne's and Romana's Instagram have a lot of information about so many skincare and makeup brands. I don't have [too much] access to makeup and skincare [products] I want back home so I learn it mostly from them. Aside from that, we have a group chat where we share anything about starting from 'nothing' to 'something' in our lives."
But with all the things they love about each other, we're also curious if they would change anything about anyone in the group. For Fanny, everything's fine the way it is. She shared, "I would change nothing. I love how Leanne and Romana are."
Meanwhile, Leanne said, "For Romana, [I love her girly ways, but I do wish she overcomes] the way she allows others to take advantage of her [over and over] again. For Fanny, [I love her] confidence. I wish her even more success as her talent deserves more recognition."
For Romana, it's all love for her two friends. She gushed, "Leanne is kind. You seldom meet genuinely kind people via social media and Leanne really is! [As for Fanny], she's honest. Her honesty and confidence inspire me to be more assertive. I'm still working on that. The only thing I would love to change is for all of us to live in the same country."
Their most cherished moments
When asked about their favourite friendship moments, all of them had heartwarming answers. Bordering from the most random and mundane experiences, it's easy to tell that friendship, a true one, does not rely on the most extravagant of gestures.
Leanne said hers was "when we had Nasi Ayam (Malay Chicken Rice) together." Romana then followed with, "When she flew to Kuala Lumpur for my 50th birthday. I still can't believe she did that! With Fanny, it was when we were in Singapore for an event and we were roommates. We had a blast! She was there when I lost my first Instagram account — I woke her up at 5 AM to tell her. Looking back, it was just so funny."

For Fanny, it also meant going through rough and tough times together. "When we meet [in real life], of course. That's very rare but it'll always be a precious moment in my life [every time it happens]." She added, "[Also], when my dad was sick in KL, Romana was around for me. When my Caleb was sick and I travelled to SG after midnight, Leanne and [her] hubby were there for me. I really appreciate how they are there for me, for good and bad times."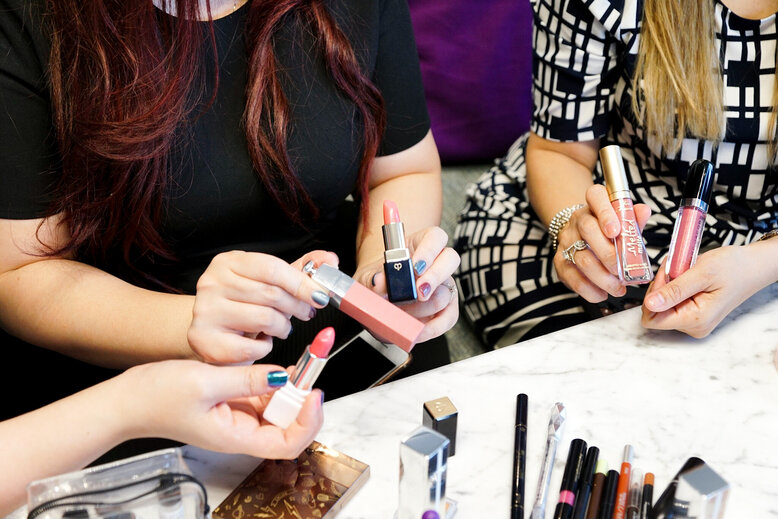 Beauty talk through and through

Lastly, we can't talk to these ladies without bringing up their love for all things beauty. So to wrap things up, we asked them what type of beauty product they associate with each other.
Leanne was the first to answer, saying, "Fanny would be a multi-coloured eyeshadow palette as she's reliable in all kinds of situations and is the epitome of colours in her style and way of life. As for Romana, I say Guerlain Meteorites as she brightens the day and brings endless joy to people."
Romana said, "Leanne would definitely be a luxurious skincare serum. Serums make your skincare absorb and perform better and sometimes, Leanne comes up with the best ideas and words of wisdom that somehow make me see things clearly and enables me to handle situations better. Fanny is like a classic red lipstick. You can face the world with a red lipstick and she is a confident, strong and a straight-forward woman. She reminds me to always be brave, assertive, positive yet mindful of others."
As for Fanny, she said, "Leanne is a serum. Somehow it reminds me of her charming personality, encouraging words, and [how she] handles situations calmly. She showers everybody who surrounds her with positive energy and I learn a lot from her. As for Romana, she is a makeup brush. I collect makeup brushes and Romana is as beautiful as they are. They may look fragile on the outside, but inside that petite body and beautiful face, there's a powerful personality that will shock everybody. You don't show your makeup brush to everybody, but we know we can't do makeup without it."

Want more inspiring friendship stories? Check out these friends who took their relationship from friendship to business partners.