Form and function. Two once mutually exclusive worlds are now becoming increasingly blurred -- thanks to brands that are constantly striving to redefine sartorial rules. But when it comes to leading an active lifestyle, we get it: it's not easy trying to strike a balance between keeping active and maintaining your personal style.
What if we tell you that you can now own a fitness gear that looks exactly like a fashion accessory? Something that you can actually wear straight from the treadmill to the sidewalk, from the swimming pool to that beach party? It's hard to believe, but with the
Fitbit Flex 2
, keeping active in style is no longer an issue.
The Fitbit Flex 2 is more than just a fitness tracker. It not only features an all-day activity tracking, SmartTrack, and auto sleep tracking functions, it also sends you call and text notifications to keep you alert. The Flex 2 even doubles up as your fancy workout buddy by sending you reminders to stay active throughout the day.
On the aesthetics front? It boasts the slimmest wristband yet, and is available in three interchangeable accessories: bands, bangles, and pendants (yes, pendants!). To help us prove that point, we talk to two style and fitness trailblazers -- one classy with an edge, the other sporty chic -- about keeping active in style.
--------------------------
How do you stay active amidst your busy schedule?
"I walk around a lot because of my work -- in-between my modelling photo shoots and real estate job appointments -- and I always try to squeeze in a workout every now and then. Ideally I'd like to workout five times a week. But because of my current hectic schedule, I squeeze in a workout three times a week. When I commute, wherever possible, I walk instead of say, take a bus, to stay active throughout the day."
Share your best tip on balancing style and fitness.
"It's all down to the right pieces and the right fabric materials. You'd want something that is breathable but still look good. Simply dress according to your style and mood, and where you're going that day."
--------------------------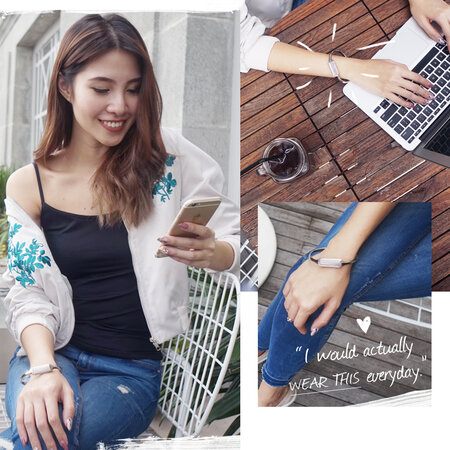 What do you like about the Fitbit Flex 2?
"I am definitely not a girly or sweet kind of girl. I like feminine pieces that are classy with a bit of edge to them. The Fitbit Flex 2 is very classy, especially the metallic ones! It doesn't look like a fitness accessory at all. I would actually wear this everyday.
It also helps with staying active and I especially like the all-day activity tracking function that tracks my steps, distance and more. The reminders to move makes me feel so good. I'm like: "Yes! I walked 10,000 steps today!"
--------------------------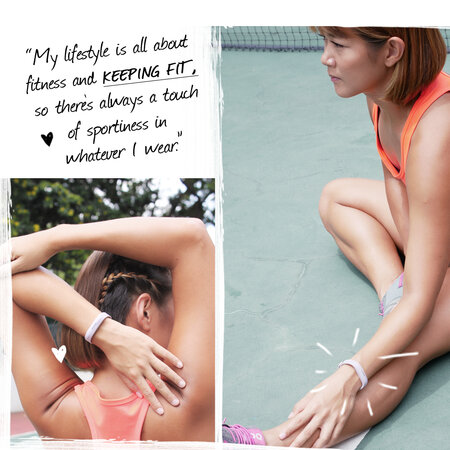 Describe your personal style. What is your signature look and what makes the finishing touch?
"I'd say sporty chic. My lifestyle is all about fitness and keeping fit, so there's always a touch of sportiness in whatever I wear, like a pair of sneakers. I feel that the finishing touch has to come from within. It's about the confidence that you carry with your look."
What is your take on staying active while staying fashionable?
"Somehow I feel that making an effort to look good will make you feel more confident. If you put on a nicely fitted tank top and you go outside and run, you'll feel like, "Woah! I feel good." There is a significant element of fashion when it comes to fitness.
But of course, it's comfort first and foremost. It has to be something that we feel comfortable in. But shopping for sportswear for me is just like shopping for any other clothes. You want to look good and feel confident in it. Looking good and feeling confident makes you happier, and somehow it leads to an easier workout."
--------------------------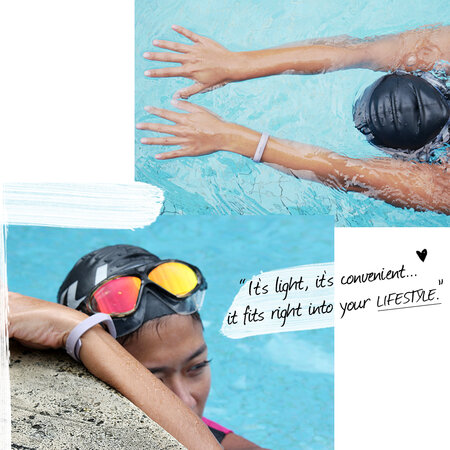 What do you like about the Fitbit Flex 2?
"It's light, it's convenient, and most importantly it fits right into your lifestyle without clashing with your fashion sense. The Flex 2 is designed to suit our lifestyle. In the past when I wore the older sports watches, I used to take them off when I want to go out because it didn't match [my outfits]. They looked too sporty and when you pair them with a dress, they looked so "off".
For Flex 2, you can wear it with your dresses -- no problems at all. I think what Fitbit has done is to make it become a fitness and fashion combined accessory, so you can wear it at all times. If you don't tell people that it's a fitness tracker, they might not even know!"
--------------------------
Find out more about Fitbit Flex 2 here!