This May, we're talking travel! In our Jet-setter Beauty series, we ask goddesses in the sky a.k.a flight attendants to spill their best-kept beauty secrets.
It's always been a mystery how flight attendants maintain their perfect looks, especially when they have to work thousands of feet in the air. All those long hours spent in the skies must have such damaging effects on their skin. All the other frequent flyers out there, whether they travel for work or leisure, must share their problems. That's why we've talked flight attendant Cleo Kim to learn how she keeps her dry skin moisturised despite it all. Read on as she spills the deets of her skincare routine.
Cleo Kim on her job as an F.A.
What is it like working as a flight attendant?
"It's honestly a good job; you get to see the world and you get to enjoy different experiences like having cakes in Paris this week, riding horses in South Africa the next and partying in Los Angeles on another. But there are also some negative aspects, such as sleep deprivation, jet lag, and pimple breakouts. The worst for me is when I miss a wonderful occasion with my friends and family due to being away. Well, you know, there's always the good and the bad; we just have to find a way to find the balance and have a positive mindset."
How important is it for you to have flawless skin and on-fleek makeup on the job?
"It's actually required to have your skin clear and makeup on tip-top shape in my line of work. It definitely shows a sense of professionalism if you look your best. Besides, I always feel more confident when my skin and makeup is on point."
Is there a standard beauty look all cabin crew must follow?
"Yes, we actually have a grooming guide and colour charts to adhere to. Unfortunately, we can't just go for any look we desire because we need to strictly follow the makeup scheme and styles set for everyone. We have to wear heavy makeup to keep looking fresh, and are even recommended to wear it heavier during night flights as compared to the day flights. For our hair, we are also given hairstyles that best suits our features. It could be a chignon, a French twist, or a bob hairstyle. In my opinion, our hairstyles are key factors in making us look classic and approachable."
How she battles dry skin
What's your skin type? Do you encounter any specific problems with your skin? How do you solve them?
"I definitely have dry skin, and dryness is also a common problem for most people working in planes. To solve that, during summer, I use a light moisturiser. Meanwhile, in winter, I use a stronger one. I've also recently been going to bed with the Kora Organics Noni Glow Sleeping Mask. It feels so amazing when I look at my skin when I wake up the next day."
What do you do if you have a jam-packed flying schedule and you started breaking out?
"Well, my breakouts usually happen during that time of the month. It's so frustrating because most of the time, they pop up on my chin. I try my best not to touch them, but I do try soothing them with calming serums and acne creams."
During long flights, do you do shifts and get rest breaks? Have you ever had to do your skincare and makeup routine in the air? How was it?

"We do have rest breaks, and we definitely need it. Still, during long flights, my makeup usually stays in place all throughout. Sometimes, however, my lipstick and hairspray need touching up."
In what ways does constant flying affect your beauty habits?
"Before, I had never worn so many face masks. Now, because of my dry skin, I try my best to do a face mask after each flight — be it sheet masks, overnight masks, gel masks, and so on. I tend to switch around depending on my skin's needs. But NueShape Bio Cells Repair Mask is my main go-to mask."
How does your beauty routine differ when you travel and when you're at home?

"I have two different skin care bags: one for flying and one for home. The products I use at home are usually lighter on the skin. There, I do a four-step routine, which is composed of a cleanser, a toner, a serum and a moisturiser. But when I'm overseas, my skin always feels extra dehydrated. That's why I tend to focus more on moisture. I also make it a point to do the basics and then add one or two types of masks afterwards."
Have you experienced any issues with your tresses since you started flying constantly? How did you deal with it?
"Well, it's definitely a lot dryer because we use a lot of hair products such as gel and a whole lot of hairspray. And I also deal with some hair loss and thinning of hair due to all these chemicals. I do go for more hair treatments monthly and I'd highly recommend K-Gloss from Salon Vim! It's a miracle for the hair."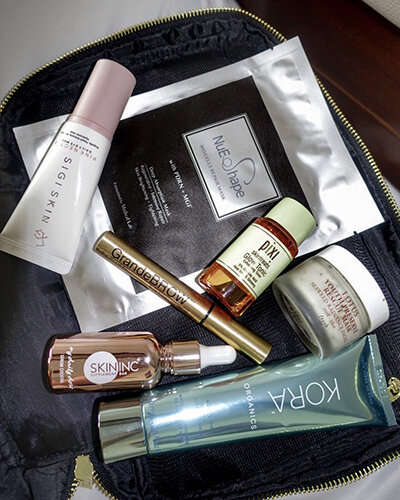 Can you walk us through the beauty products you love bringing along with you when you fly and when you're not flying?
"At home, these are my must-haves: PIXI Glow Mud Cleanser, PIXI Glow Milky Toner, Skin Inc. My Daily Dose Serum, Aesop Facial Hydrating Cream, and Bernard Cassiere Honey Mask. When I travel, I use: PIXI Glow Tonic Toner, Kora Noni Glow Sleeping Mask, Fresh Lotus Youth Rescue Mask, NUESHAPE Bio Cells Repair Mask, Anessa Perfect UV Sunscreen. I make sure to bring all those along no matter what."
Do you have any personal beauty tips you can share to all jet-setters out there?
"You have to wear sunblock because the UV Rays on the plane play a big part in harming your skin. Also, remember to wear a mask after your flight. Your dry skin will definitely need the moisture."
When not flying and discovering new places, Cleo Kim helps other ladies get the glittery fab hair of their dreams through GlitAF. Follow more of her adventures around the globe through her Instagram.
(Cover photo from: @cleokim)