This May, we're talking travel! In our Jet-setter Beauty series, we ask goddesses in the sky a.k.a flight attendants to spill their best-kept beauty secrets.
We admire flight attendants for always looking picture-perfect from take-off to landing. But while they make it seem so effortless, a lot of work actually goes into their beauty prep. We interviewed flight attendant Riley David to try and unpack her beauty secrets. From her mini skincare regimen between breaks to her makeup kit essentials, here's what she has to say about navigating the jet-set life with her best face forward.
On life as an F.A.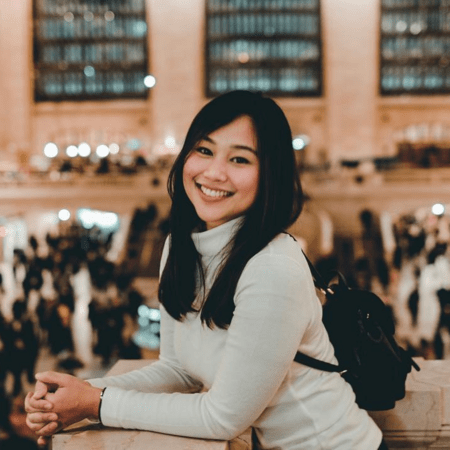 What is it like working as a flight attendant?
"It is a physically and emotionally challenging job. We have constant jet lag and lack of sleep, (although not required) we assist in lifting bags and moving heavy trolleys and we perform numerous tasks most of the flying public aren't aware of. We also handle passengers, who are most of the time stressed out, due to the hassle of airport procedures and flight delays, which are beyond our control. It really does require us to have a lot of patience, self-control and understanding. At times it can also be very lonely; we also often miss out on holidays and celebrating milestones with our families because we're always travelling.
Still, I can confidently say that I have the best job ever. I've been flying for three years and everything is still magical: the beauty prep, wearing the uniform, seeing the crew I'm going to be flying with, the "walk" at the airport, and meeting people from different walks of life in-flight. I also think the best thing about this job is the days off. During those days I get to rest and sleep soundly."
How important is it for you to have flawless skin and on-fleek makeup on the job?
"I remember one purser (an officer in our line of work) telling us in of our flights, 'Grooming is as important as safety.' We're required to always look professional and made-up and we take it seriously. If we don't follow grooming standards and most especially, take care of our skin, we can be removed from the flight, or worse, suspended. It's that intense."
Is there a standard beauty look all cabin crew must follow?
"Yes, we do have standards for hair and makeup. We're all required to have that 'one look.' For makeup, recommended shades for eyebrows are dark brown and grey-brown, never black. The shades that are allowed for the eye shadow are pink, grey, and neutrals. Dark smoky eyes aren't allowed. Black or brown eyeliner are the only ones allowed, metallic or glittery eyeliner is prohibited. For lipstick, we are asked to use bright red only. Also, we are not allowed to wear false eyelashes or extensions."


How she's adjusted her beauty regimen to life above ground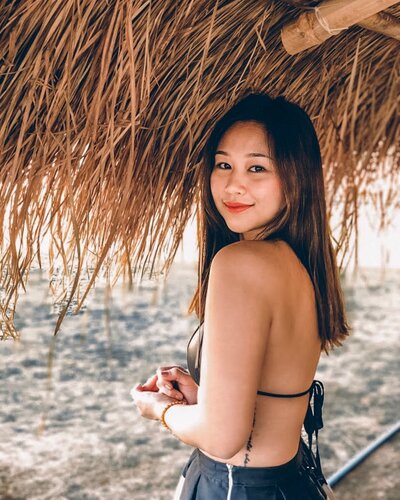 What's your skin type? Do you encounter any specific problems with your skin? How do you solve them?

"I have really dry skin and the humidity and pressure in the aircraft make it worse. I make sure I drink lots of water. I also use facial spray in-flight just to keep my face feel hydrated and, of course, hand lotion."
What do you do if you have a jam-packed flying schedule and you started breaking out?
"I handle skin breakouts by making sure I get enough sleep and by removing my makeup completely after every flight. As much as I can, I try to visit my dermatologist to have my skin checked and treated, and I don't wear much makeup when I'm not flying just to let my skin breathe. Also, I try to clean my makeup brushes every now and then."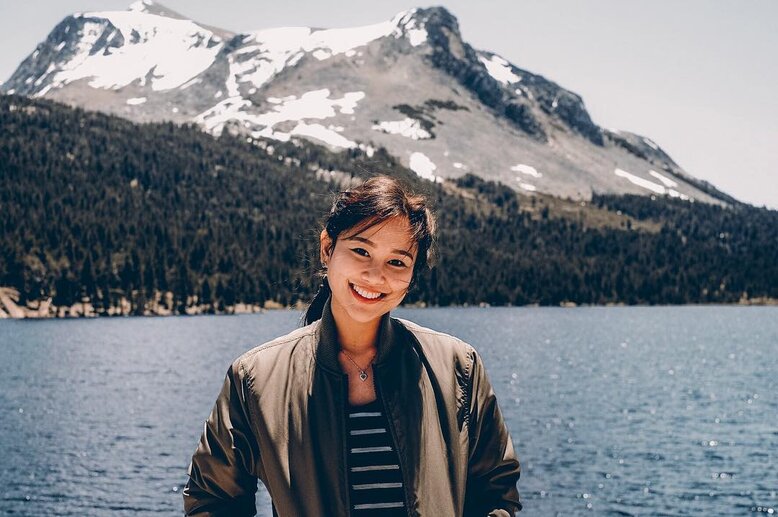 During long flights, do you do shifts and get rest breaks? Have you ever had to do your skincare and makeup routine in the air? How was it?
"We do have breaks in long flights; we call it 'crew rest'. It varies from three to five hours depending on the flying time. It may be time-consuming but I remove my makeup and apply moisturiser before going to my bunk."
In what ways does constant flying affect your beauty habits?
"It's somehow made me more aware (in a good way) on how I look — that I must always look nice and presentable. I am now also more particular and careful with the products that I use because we can't risk having pimples."
How does your beauty routine differ when you travel and when you're at home?
"I actually have two sets of beauty products: one in my room and one in my luggage. The ones I use when I travel are more basic. They are usually for moisturising the skin. The ones I have at home are more intensive (such as anti-ageing, moisturising and whitening products)."
Have you experienced any issues with your tresses since you started flying constantly? How did you deal with it?
"Yes, I experience more hair fall when I started flying. I use anti-hair fall shampoo and I don't know if it helps but I make sure I get my hair trimmed regularly and I try not to tie it as much."
Can you walk us through the beauty products you love bringing along with you when you fly and when you're not flying?
"In my travel make up bag kit I have: Nature Republic Provence Air Skin Fit One Day Lasting Foundation, Shu Uemura The Light Bulb Fluid Foundation, Nature Republic Cream Concealer, Ettusais BB Mineral Compact, K-Palette Lasting Two-Way Eyebrow Liquid, L'Oreal Brow Stylist Prep and Shape Pro Kit, Urban Decay Naked Palette, Shu Uemura Eye Lash Curler, Maybelline Hyper Curl Mascara, Maybelline Hypersharp Wing Eyeliner, Happy Skin On-the-Go Blush, and Sephora's 'Always Red' Cream Lip Stain Liquid."
"My makeup kit at home consists of Estee Lauder Double Wear Foundation, Nature Republic Cream Concealer, Laura Mercier Loose Setting Powder, K-Palette Lasting Two-Way Eyebrow Liquid, L'Oreal Brow Stylist Prep and Shape Pro Kit, Urban Decay Naked Heat Palette, Shu Uemura Eye Lash Curler, L'Oreal Double Extend Beauty Tubes Lengthening Mascara, Maybelline Hypersharp Wing Eyeliner, NARS Paloma Contour Blush, Tarte Paaarty Blush and Too Faced Melted Matte Liquified Lipstick in the shade Lady Balls."
Do you have any personal beauty tips you can share to all jet-setters out there?
"Try to drink water as much as you can and exercise. Also, never take sleep for granted. When you feel good inside, everything else will follow."
Follow Riley David as she documents her trips all over the world on her Instagram.
(Cover photo from: @mahiligngumiti)