The Foreo Luna Mini 2 has caught the attention of beauty and skincare lovers worldwide. For a beauty enthusiast, I'm quite the sceptic. When a product gets a lot of buzz, my first reaction is "wow," followed immediately by "this must be a gimmick" — until of course, I get to actually try it and prove that it's either a wonderful product that I misjudged or something I shouldn't have wasted time and skin space on.

Today is one of the days where I tell you if something that first came across to me as gimmicky proved me wrong or not. When I got the Foreo Luna Mini 2 in the mail, I had mixed emotions. Of course, I was excited. I've read so many good reviews about the brand and the product. But I was also sceptical (as you would have already expected). First, because I wasn't completely sold on the idea that I needed more than my hands to clean my face thoroughly. Second, because I wasn't sure whether the performance of the gadget — assuming it would perform well — warrants its price. There was only one way to find out, and so I gave it a whirl.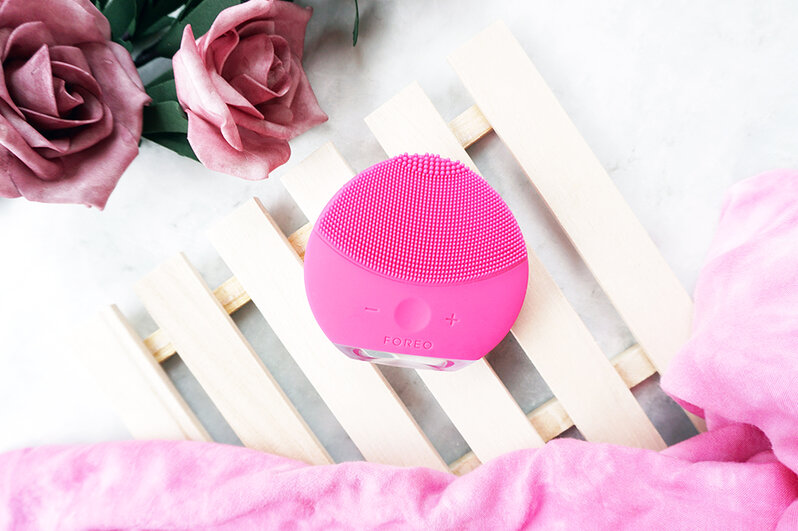 The Foreo Luna Mini 2 is a smaller version of the Foreo Luna 2.
Here's how it went.
Packaging, size, and colour
The Foreo Luna Mini 2 is shaped like a shell. It's small, as the "mini" in its name suggests. I was sent the one in fuchsia, which is quite eye-catching. Just like the other iterations of the product line, the Luna Mini 2 is made of silicone, which is easy to clean and store. Unlike brushes, silicone is also said to be less prone to harbouring bacteria.
It has "bristles" that vary in size according to different zones. The zone with finer bristles is for general cleansing. The one situated right on top of it is for precision cleansing, and the one at the back, which has thicker bristles, is for deep cleansing. The gadget works with T-Sonic pulsations that are said to help in unclogging pores and removing dirt and oil from the skin.
Usage and claims
You use the gadget the same way you would your hands. After turning it on, you can choose the intensity of the pulsations. Place it in the area you want to clean and gently rub your skin using circular motions for 15 seconds. The gadget will pause to tell you to move to a different area. After a minute or so, you're done with cleansing. Using the gadget twice a day is said to be good for deeply cleansing the face and can result in softer and smoother skin.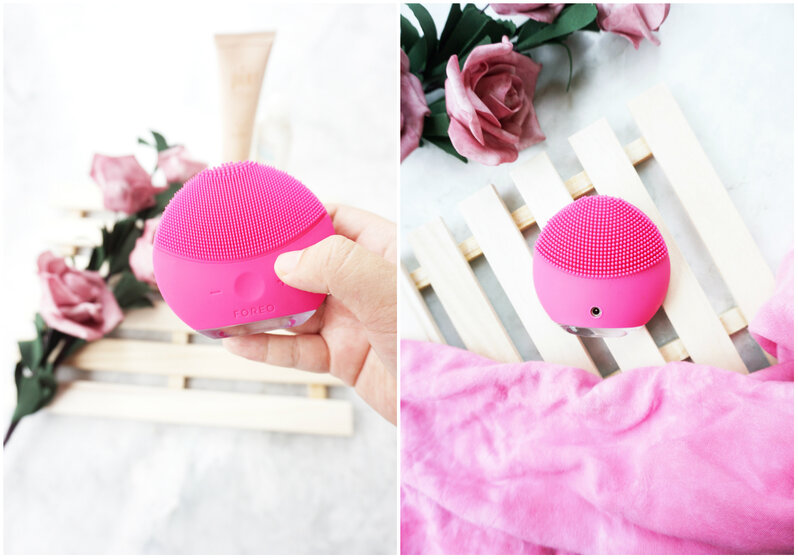 (Left: The front of the product showing the precise and general cleansing zones; Right: The back portion, which has the deep cleansing zone)
Result
I've been using the Foreo Luna Mini 2 for a month now, and here's what I can say about the experience. Biases aside, this gadget works surprisingly well. I have to be honest and tell you that I didn't want to like it. But I did, and I've been using it constantly since I first tried it. Right after my first use, I felt my face softer and smoother. That was not enough to draw a conclusion, of course, so I had to test it longer. A few days after I started using it, my husband and a colleague mentioned that my skin looked glowing.
Although I can't vouch for its effectivity in terms of keeping the skin clear and free of blemish, I can say that after a month's use, my face is softer and more supple than it used to be. I also observed that my toner and moisturiser are more easily absorbed by my skin now. My visible pores are not as visible anymore either.
As someone who doesn't believe hypes right away, I can say that this changed my mind about cleansing gadgets in general. Contrary to my previous belief that my hands are the best tools for anything beauty-related (cleansing, slathering and applying), gadgets and tools really make a difference.
Would I implore you to buy one right away, though? It depends. Do you have the budget for it? (The Foreo Luna Mini 2 retails for around PHP7300.) Go ahead and give it a try. It's a worthy investment considering it'll last you a pretty long time with proper use and care. However, if you don't have the money for this kind of tool, there are alternatives in the market, although I can't guarantee that they would work similarly. And as always, do consider that what may work for others may not work for you.
Learn more about Foreo cleansing gadgets here.