When we think of hair removal, it's usually one of these three removal methods: shaving, waxing, or IPL (Intense Pulsed Light). But did you know that there is an alternative method that is gentler and kinder to our skin? It's called sugaring, and yes – you can eat it.
"I lived in the US for about three and a half years. I used to go for a Brazilian wax every month, but I hated waxing. I hated the heat and it was painful," said
Jasmine Yong
, founder of
Sugar(ed)
. "Seattle is a very eco-friendly city, so sugaring is pretty popular there. I had the most painless Brazilian I ever felt [through sugaring]. Having it a lot less painful sold me. Plus, it's all-natural."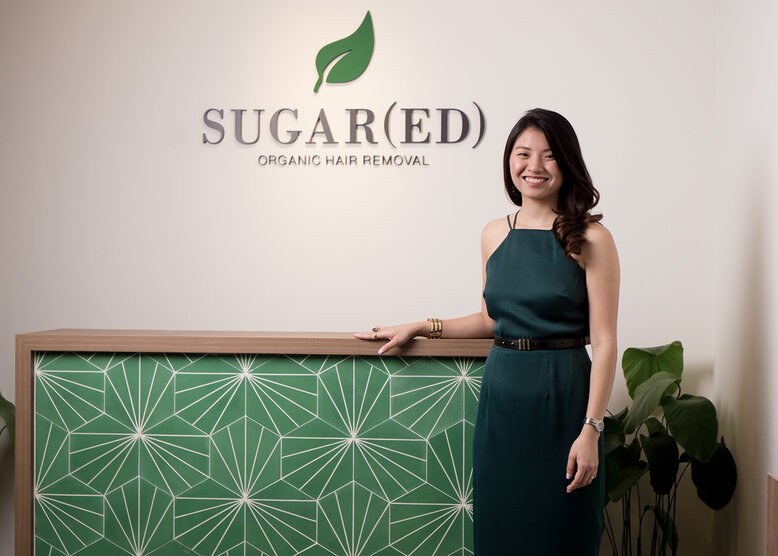 Jasmine Yong, Founder of Sugar(ed)
Sugaring isn't new. In fact, this hair removal technique dates back to 1900 BC, when it was a form of beauty indulgence for young Egyptians. 100% natural and water-soluble sugar paste is applied to the skin at room temperature and removed in the natural direction of hair growth. The result? Reduced breakage, lesser ingrown hair, and of course, no more scalding risks from waxing.
Today, sugaring is still very popular in Russia and Eastern Europe, and with Sugar(ed) being the first – and currently, the only – body-sugaring studio in Singapore, we say it's time we beauty aficionados get schooled before it starts gaining traction around here. If you've never heard of sugaring before, we booked an appointment with Yong and got the lowdown on this hair removal technique for you!
--------------------------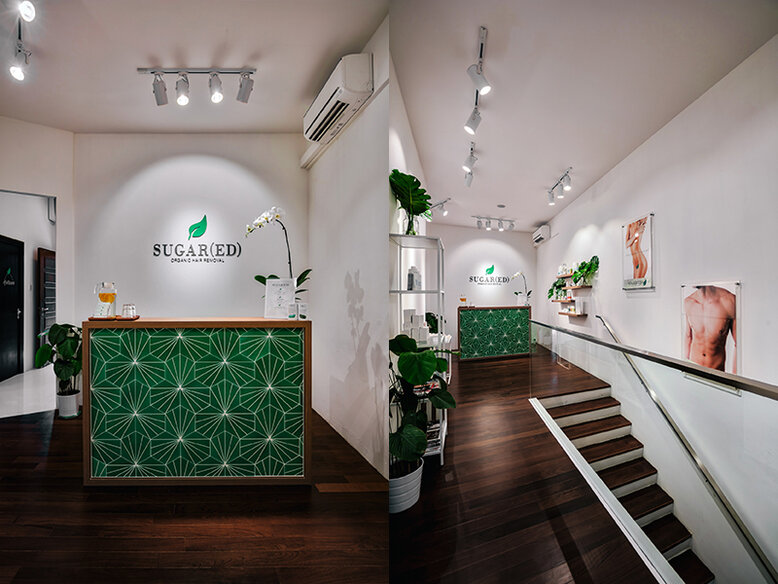 Sugar(ed) flagship store
Sugaring is all-natural, chemical-free & eco-friendly
"[100% natural] sugar is water-soluble. It doesn't leave any carbon footprints. It's eco-friendly. Even if it gets onto your hair or any part of the room, I can [simply] wipe it off with water," said Yong.
Being 100% natural and chemical-free also means that people with sensitive skin or skin irritation can benefit from sugaring too. "Sugaring is a lot more sanitary. [The] sugar paste is made of sugar, water and lemon. When there is high concentration of sugar, bacteria don't breed. People used to use sugar to heal wounds because it has anti-bacterial properties."
Sugaring is said to be gentler and less painful than waxing
Because sugar grips onto hair effectively rather than adhering to the skin like wax, sugaring ensures as little discomfort as possible during the removal process. The sugar paste is also used at room temperature, so you don't have to worry about getting burnt. "We have a lot of converts. People who wax actually think that sugaring is a lot less harsh to the skin."
--------------------------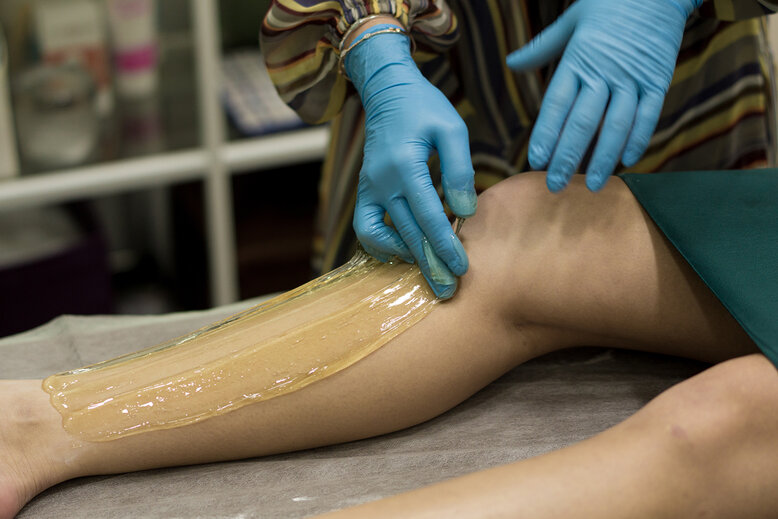 Sugarist molding the sugar paste
There are different types of sugar paste
Fun fact: they are all edible and taste like Ding Ding Candy, a type of Chinese traditional hard maltose candy.
"There are five types of sugar paste. [At Sugar(ed),] we only use three: soft, medium, and hard. The hard one is more for very humid environments. For hard sugar, we use it for smaller areas like the underarms. For legs, we use LK (Lina Kennedy), which is the softest. When you do legs, you want to go fast.
The consistency of the sugar changes when the room temperature, your body temperature and your sugarist's body temperature. Sugaring is quite tedious. It's not like waxing when you wait for the wax to dry before removing. We really massage it to the skin, let it seep into the follicle, and we remove it. There is a technique to it."
--------------------------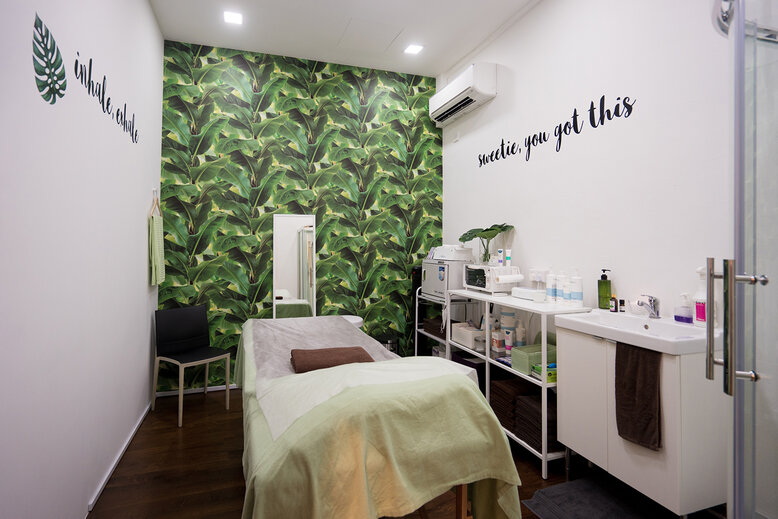 Fully equipped Sugaring treatment rooms at Sugar(ed)
Sugaring can lead to permanency
"To reach permanency, you need to do sugaring regularly. We generally recommend you to do sugaring every four to five weeks.
Your hair grows in three different stages. Not all your hair is going to grow at the same time. When your hair is growing, your hair is still attached to a blood vessel that's feeding it. When you detach it from the blood vessel, you cut off its oxygen supply. When you do that, the follicle wall depletes. Hopefully it closes, and no hair will grow out later."
In addition, as hair is removed in the direction of growth (unlike waxing, which removes hair in the opposite direction), the possibility of ingrown hair is also lessened.
--------------------------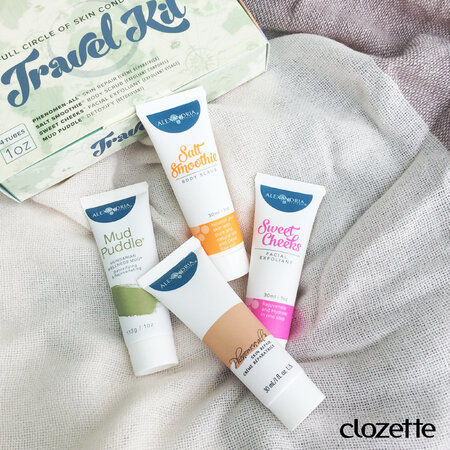 Alexandria Professional Full Circle Travel Kit retailing exclusively at Sugar(ed)
A little skin conditioning goes a long way
No matter how good a procedure is, it's still important to take care of your skin. Sugar(ed) recommends a full circle of skin conditioning: sugaring, exfoliating, detoxing (by using a mud to purge out any ingrown hair), and moisturising. "We recommend customers not to do vigorous exercise for 24 hours post-sugaring."
--------------------------
Sugar(ed) is located at 733, Bukit Timah Road, Second Avenue Junction, #02-02, Singapore 269748.