This year, my resolution is to get hydrated, luminous skin from inside out. And I plan on achieving this with the help of Laneige's Collagen Drink. I attended the preview of their latest product launch recently – held at an intimate event that had guests create personalised body scrubs and learn more about the benefits of collagen supplements.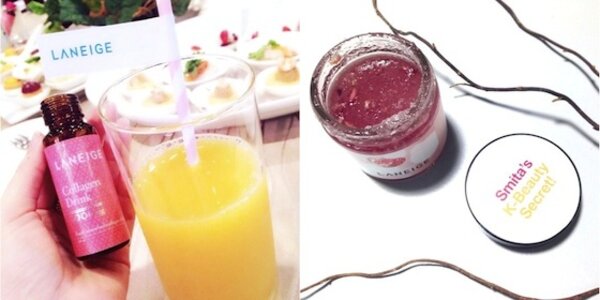 At this event, I learnt that collagen – the foundation of great skin – starts to decline after the age of 25. Keeping this in mind, Laneige formulated their Collagen Drink with collagen from the scales of tilapia fish, which is easily absorbed by the body thanks to its low molecular weight. In addition the drink also includes elastin, sourced from the aortic bulb of the bonito fish, along with red orange and pomegranate extract that give it its delicious fruity flavour.
Each Collagen Drink bottle contains 5,000mg(5g) of collagen peptide to replace the exact amount of collagen lost from the body daily as well as vitamin C, and is free from any artificial colouring, preservatives and sugar making it extremely low in calories. Drinking one bottle a day for eight weeks promises healthy skin that is better able to fight off free radicals and is firm, bouncy, luminous. Now excuse me as I go take a swig of my new beauty elixir.