It all started with Olivier Baussan's small truck and vast knowledge of plants that lead to his experiment with Rosemary essential oils. He sold this product to local markets in Provence and then moved on to offering soap, fragrance, and shea butter creations. By 1981, L'Occitane opens its first ever store and factory in Volx Provence, and the rest is as they say, "history".
Today, L'Occitane doesn't stop with upgrading their range of skincare products. Despite being a hailed as French brand, L'Occitane has managed to create a skincare program specifically for Asian skin. This new Illuminating program called Reine Blanche is tested, developed, and hailed as a breakthrough whitening technology for using the pure & powerful white flowers: Reine des Prés
Reine des Prés, also known as Meadowsweet, is the heart of the all-new Reine Blanche Collection. The flower's petals are initially creamy in tone and gradually becomes whiter as they are exposed to the light. It has Salicylic Acid, known for its mild exfoliating action, that helps refine skin's texture and encourage renewal. Thus it suits the delicate skin of Asian women very well.

Let's examine this collection closer and see how it produces creamy, milky-white complexion that poets and painters of history have raved about.
--------------------------

Its Mild Formula Boosts Skin Moisture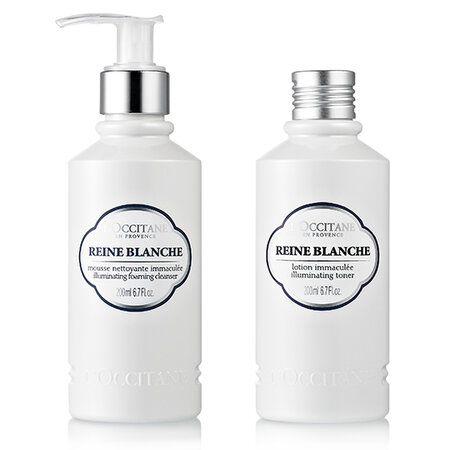 Illuminating Foaming Cleanser 200ml at RM145 & Illuminating Toner 200ml at RM118

This luxurious 5-piece collection, presented in clean, white apothecary-style jars with a lustrous finish, starts with its
Illuminating Foaming Cleanser
followed by its
Illuminating Toner
.
The soft as silk liquid cleanser transforms into a foam that cleanses skin of impurities, excess sebum and makeup--helping skin regain its natural translucency. The ultra-mild, alcohol-free formula of the toner gently preps skin--leaving it fresh and smooth. Together, it brightens and unifies the complexion, and helps to instantly infuse skin with moisture.
It Restores Skin's Inner Light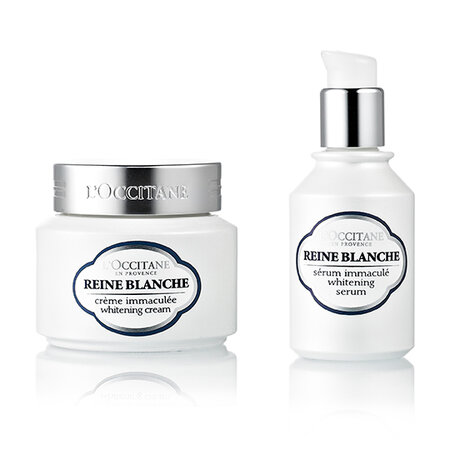 Whitening Serum 30ml RM272 & Whitening Cream 50ml RM258
With White Mulberry, Salicylic acid, and Vitamin C together, skin will enjoy the brightening, exfoliating, and illuminating benefits of the product. The Whitening Serum and Cream reduces the appearance of uneven skin tone such as dark spots, for a fairer complexion that better captures and reflects light.
It Protects and Keeps Skin Luminous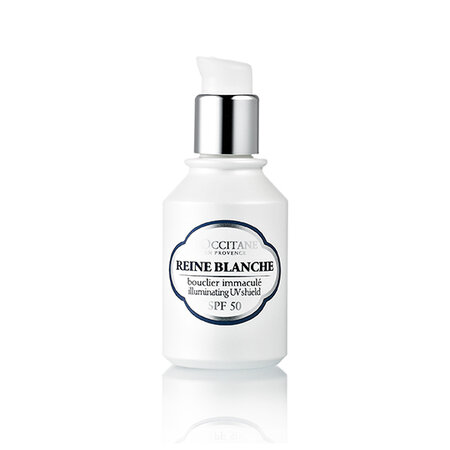 Illuminating UV Shield SPF50 30ml RM178

For protection and flawless luminosity is this lightweight Illuminating UV Shield-- a sunscreen that shields your skin from everyday external factors, especially UV rays that harms and damages the skin. With Reine des Prés, your skin will recover its natural translucency resulting in an immaculate radiance.
The Reine Blanche collection replaces the existing Immortelle Brightening collection and is now available at all L'Occitane outlets in Malaysia.
Are you ready for more illuminating skin? Let us know in the comments below!