Beauty brand SK-II and award winning designer Hatta Dolmat has come up with an exquisite collaboration for an exclusive Malaysia-only release called the 'SK-II & Hatta Dolmat Couture Hantaran.' It is designed for future brides as she begins the countdown to probably one of the most important milestones in her life: her wedding.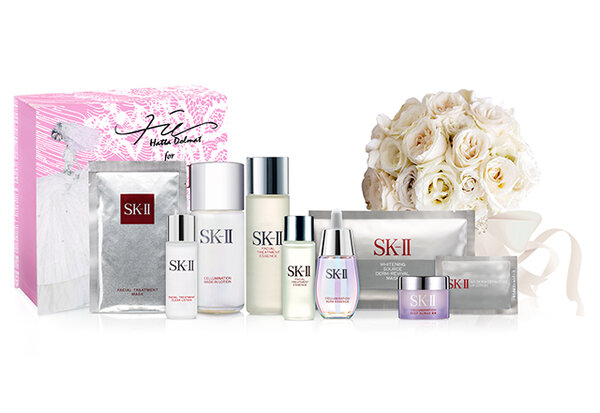 The exclusive Hantaran Set comprises products from SK-II's award winning Cellumination Range to pamper and transform a woman's skin to be radiant and crystal clear with an irresistible glow. Intricately designed by Hatta himself, the limited edition coffret features his timeless bridal gown design and exquisite French lace accents that is prominent in his 2015 bridal couture collection.
The SK-II & Hatta Dolmat Couture Hantaran Set comprises the brand's iconic Facial Treatment Essence, Facial Treatment Clear Lotion, Cellumination Mask-in-Lotion, Cellumination Aura Essence, Cellumination Deep Surge EX, Whitening Source DermDefinition UV Lotion, Facial Treatment Mask, and Whitening Source Derm-Revival Mask.
So if you're looking for something that marries wedding couture with quality skincare, then this range is definitely for you.