Once again, Adidas, the brand with the three-stripes unites with one of the planet's brightest rising stars: muse, actress, style icon and musician – Rita Ora.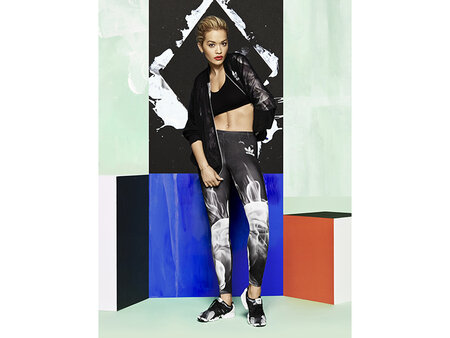 This new collaboration is directly influenced by Rita's passions and creative inspirations--alive with fresh thought and at the forefront of the season's trends. Each item brings Rita's own personal style and passion to the core as custom prints and bright colourways sit shoulder to shoulder with on trend fabrics and cuts.
Dragon Print

Echoing her own unstoppable nature, the dragon in Asian culture is Rita's first inspiration--a symbol of power and energy conveyed in fire reds and flame yellows. Timeless basketball styles inspire the silhouettes of this dynamic, powerful pack, while creating a bridge between Western style and Eastern culture. Rita also takes classics such as the Superstar sneaker, and plays with bold graphics against reimagined shapes for a collection that is daring and vibrant.
White Smoke

Elegant, mysterious and inspiring, the delicate tendrils of smoke given off by fragrant incense influence the billowing graphic of the Smoke collection. The mood is quietly confident, opulent and edgy. Drifting organza overlays float over sleek tricot, on voluminous relaxed fits, enveloped by clouds of soft French terry as a bold yet graceful all over graphic infers rhythmic stimulation across high performance and street ready design.

The Rita Ora x Adidas Originals collection is now available at the following adidas Originals Concept Stores in Malaysia: Adidas Originals Midvalley (Ground Floor), Adidas Originals Pavilion (Level 4), and Adidas Originals KLCC (Level 3)