Five years ago, Hailee Steinfeld was an up-and-coming actress slowly working her way through Hollywood. Fast forward to today and she's a rising superstar. She first appeared in several movies such as Coen Brothers' adaptation of True Grit, Shakespeare adaptations, and even a few sci-fi movies. In 2015, she became the coolest Bella in Pitch Perfect 2 and even played a part in Taylor Swift's Bad Blood music video.
Looking to carve a name for herself as a multi-talented artist, her latest achievement is her new single "Love Myself" which recently broke the charts and became Pop Radio's most requested song. She has indisputably became a Hollywood darling and her ascent as one of the young-hollywood IT girls has definitely given her an effortlessly cool sense of style.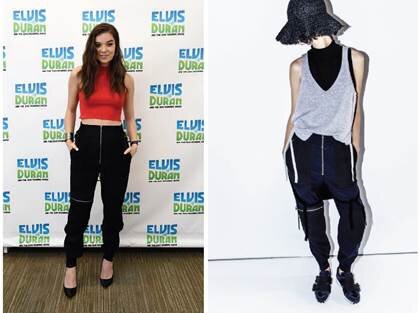 (source: Getty Images, used courtesy of Club21)
During her visit to the Elvis Duran Z100 Morning Show in New York City to promote her new single, we spotted her wearing this black utility trouser with patch details from Resort 2016 by 3.1 Phillip Lim. She paired it with a simple crop top and statement pumps for a casual-chic look.
Want to get this look? We've put together 4 tops you can match with this pair of iconic pants from Phillip Lim; because according to Hailee herself, "Gonna love myself no I don't need anybody else!"