(Cover photo from: @tompecheux)

The Victoria's Secret Fashion Show is always a treat to watch as each of their models struts down the runway wearing the craziest and most eye-catching lingerie sets and costumes. But we all know that the real fun, for any beauty junkie, happens backstage where they get their hair and makeup done.
This year, as always, the Angels' hair and beauty looks did not disappoint – even if they have diverted a little bit from their signature eyes from the previous years. The main star of 2016's beauty look was the eyeliner, and each of your favourite model was given her own mini wings to match their mesmeric eyes and iconic angel wings.
To help you get in on the Victoria's Secret craze, we dissected the hair and makeup they wore to give you a how-to guide to copping the most coveted look of the season.
--------------------------
Hair: Bouncy and Shiny Curls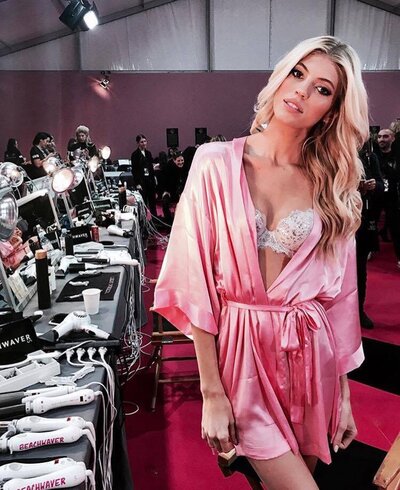 (Photo from: @devwindsor)
With the 2015 show all about blown-out, woke-up-like-this hair; 2016 dialled up on the glam in the City of Lights (and Love): Paris.
To get the Angels' shiny and bouncy curls, first take a heat protectant and massage it into your locks – you wouldn't want to fry your hair, right? Next, using a one-inch or one and a half-inch curling wand, take small sections of your hair and start curling them in different directions. Once it's cool to the touch, spruce up your curls to loosen them up a bit, then apply a little bit of hair oil to give it that healthy shine and movement.