The key to long, thick, beautiful, and healthy lashes and brows is a sound makeup regimen. But natural factors such as age, habits, and other health conditions could lead to the thinning of our brows and the falling of our lashes.
Thankfully,
LashEM
, a luxury range of lash and brow products that has recently launched in the Philippines, is all about makeup that lengthens lashes and thickens brows.
The formulations of all their products are composed of expert hair technology and a mixture of nature-derived products that aim to fortify the growth and beauty of hairs in the lashes and brows:
Sympeptide
lengthens, thickens and strengthens the hair, plant-derived ingredients block off free radical damage on hairs, natural flower distillate makes the lashes appear more lush, and LashEM's patented technology,
QuSome
, seals ingredients together so the skin's nutrient absorption is improved, causing optimal results. In just 4- 6 weeks, see your lashes reach new heights and your brows get thicker than ever.
Read on to find out more about their products that'll make all your lash and brow dreams come true!
--------------------------
All Eyes on You Eyelash and Brow Enhancing Serum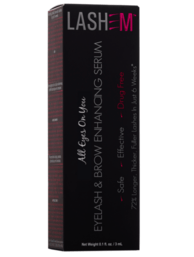 The star product that lengthens lashes and thickens brows, this serum contains amino acids to condition hair strands for a thicker and fuller finish (Php3,599.75/3mL).
Double Trouble Volumizing and Lengthening Mascara

Lengthen and volumize your lashes with this anti-smudge and water-resistant formula. Infused with the lash serum and plant-derived waxes, this mascara is sure to give your lashes a glossy shine (Php1,029.75/4.2mL).
Colour Strokes Liquid Eyeliner With Lash Enhancing Serum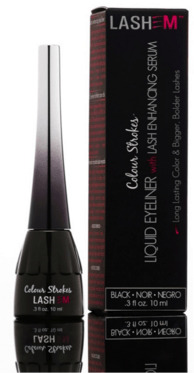 Defines eyes with its pigmented formula, its moisture complex moisturizes hair and is infused with the lash serum for bigger and bolder lashes (P1,029.75/10mL).
Extensions in a Bottle Fiber Lash Extensions Mascara

This mascara magnifies your lashes and mimics the effect of lash extensions. Infused with the lash serum, peptides,
Lash Extension Base Coat
and
Extreme Nylon Lash Fibers
, this long-lasting, anti-smudge mascara results to long, volumized, and well- shaped lashes (Php1,539.75/6mL).
Colour Strokes Brow Tint and Lift

Get those eyebrows on fleek with this brow tint that fills in sparse brows and sculpts brow hair. Infused with the lash serum to condition and nourish hair strands, this is formulated to be long- lasting and anti-smudge (Php1,029.75/8mL).
3 in 1 Eye Bright Lifts + Firms + Brightens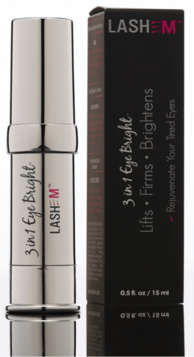 Get the full effect of lush lashes and on point brows with healthy and bright-looking eyes. Say goodbye to dark circles, puffiness, redness, and fine lines with this triple action eye cream (Php2,059.75/15mL).

Picture Perfect Instant Wrinkle Reducer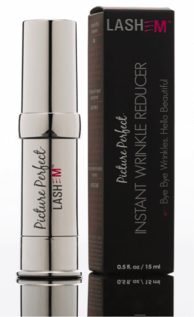 Contains
Camellia Japonica Seed Extract (Tsubaki)
and
Hyaluronic Acid
to hydrate, smooth, and fill in nasolabial folds and marionette lines, this is formulated to promote collagen formation and skin radiance that lifts, firms, and tightens the under eye area (Php2,059.75/15mL).
--------------------------
LashEM is exclusively sold at the SM Beauty Store in SM Makati, Philippines.