This pandemic has really changed our perspective on a lot of things. For some, it meant discovering new hobbies and embracing their green thumb. For others, they turned to introspection and sought to reinvent themselves . But if one thing remains certain during this uncertain times, it is that love conquers all. And hey, we're not just being cheesy!

From couples who have shared how they dealt with time apart during the self-isolation period to brides choosing to postpone their weddings in the time of COVID-19, we now turn our attention to couples who have decided to celebrate their unions against the odds. Below, their stories of why they chose to get married despite the limitations posed by the pandemic.


How the pandemic has affected wedding preparations
For
Mary Grace
and
Marco
, who have been together for five years, holding their wedding on 14 March 2020 — just a day prior to Luzon, Philippines being put under strict community quarantine — was definitely one to remember. Planning their big day for one year and three months only to meet an impending lockdown when they were so close to the finish line was a truly unique experience.
Alas, the lockdown was not the only hurdle they had to overcome. The Taal Volcano eruption, which was in close proximity to their wedding venue, also affected their wedding prep. Their priest informed them a day before the ceremony that he would not be able to officiate the event and they ended up looking for another one at the last minute. Buying sanitising alcohol and liquid soap were also added to their list of last-minute buys prior to the event. Circumstance after circumstance narrowed their guest list and postponing the wedding crossed their minds. Still, they decided to make the most of it and proceeded.
Debbie and Richard, on the other hand, held their wedding on 28 March 2020 in the midst of Singapore's level orange Disease Outbreak Response System Condition (DORSCON) warning from the government, which was announced on 7 February. The two, who have been together for three months, decided to tie the knot without very strict planning. This in turn allowed them to be more flexible in their preparations.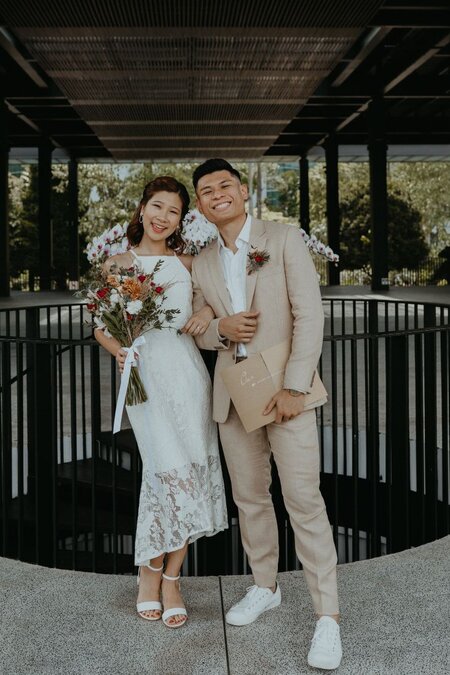 But plot twist — an entertainment ban was imposed just four days prior to their chosen date, which led to some of their biggest challenges: having to trim down their already slim guest list of 44 people, the postponement advice from their wedding venue, and of course, tackling countless questions from relatives and friends on how the event will push through.

Amanda and Lorenzo are the latest couple to seal the deal, with their wedding held just on 14 July 2020, where most of the Philippines' main districts are still under general community quarantine. The couple was meant to get hitched with a three-day celebration on the tropical island of Balesin on 14 June to mark their seventh anniversary.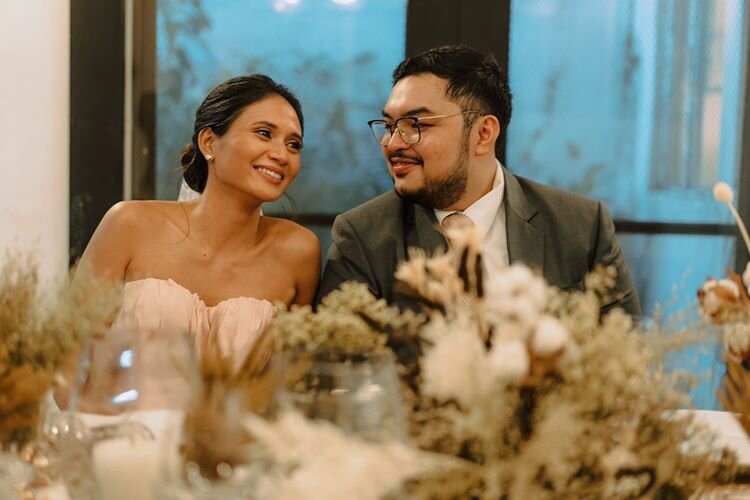 The pandemic had them scratching off their plans, which took a year to make, completely, giving them only 10 days of prep to finally push through with the union. The 50 per cent downpayment that went to the venue and their original suppliers, as well as Amanda's Michael Leyva designer gown (which was also put on hold given the production restrictions), has been reserved indefinitely for a celebration to be set once everything settles down.


Celebrating love amidst the virus
While their guest lists were narrowed down to a select few, important people such as their parents, close relatives and a handful of best friends still managed to witness their big day. They all had to follow strict guidelines imposed in each country on how gatherings should be held.
Mary Grace and Marco still managed to hold an intimate gathering despite a 60 per cent dropout rate.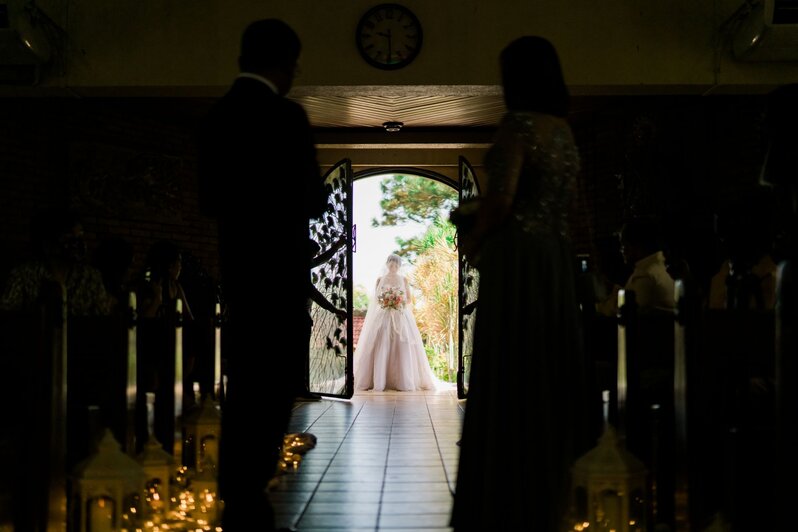 For Debbie and Richard, guests came to the reception in three batches of 10 as permitted by the venue — "Chinese restaurant style" as Debbie called it — which allowed them to share the moment with their guests in a scaled-down, but still special, manner. In fact, the couple shared that this setup helped increase the warmth and bonding factor of the occasion, considering that they were able to chat with their guests more intimately, which may have been difficult in a typical wedding celebration. They also made a
vlog
detailing their wedding day for anyone curious to find out!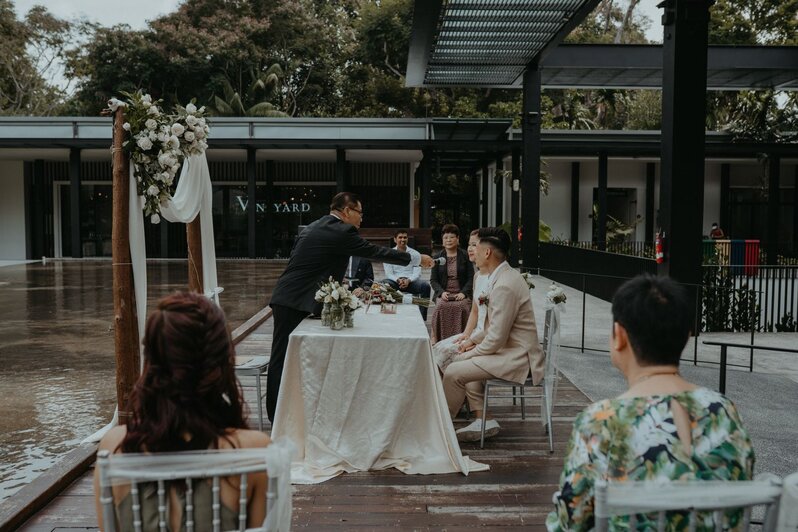 For Amanda and Lorenzo, on-the-day wedding prep was filled with extra precautions, with their suppliers and technical team (makeup artist, videographer and photographer) clad in PPEs pre-event. These staff also took rapid tests a couple of days before handling the small ceremony to ease the mind of the couple and guests. They had a total of 15 people in attendance, with the ceremony broadcasted on Zoom for the rest of their remote guests. They also chose to donate monetary wedding gifts to a charity.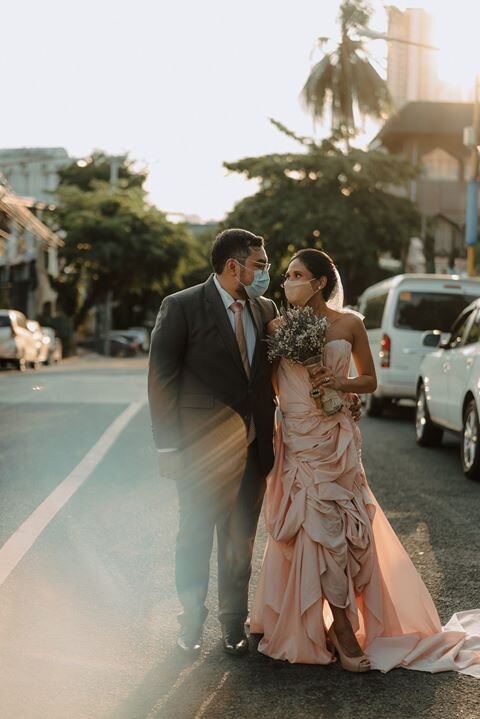 Love conquers the pandemic
Despite all its risks, we asked: why was it so important to push through with these unions?
All the couples agreed that given all the negativity 2020 has brought on so far, their choice reinforced the positive importance of love and marriage.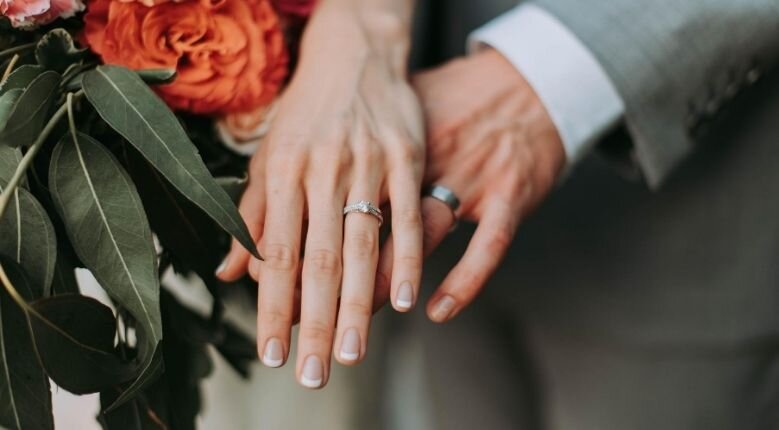 For Mary Grace and Marco, it was proof that they can conquer the odds together, whether things go as planned or not. It is a day they will always cherish and an interesting narrative to share with their future kids and grandkids.
For Debbie and Richard, it is a testament that even "COVID-19 couldn't stop God's plans." Just as how God helped write their love story and allowed for them to meet and be together, God also found a way to make the Christian couple's celebration truly one to remember. "I mean, who plans a wedding in three days?" Debbie said.

"After years of planning, we finally walked down the aisle to become one and be united for the rest of our lives," said Amanda. "We can't wait to build our family and start having children. Despite the challenges we faced, we wish to continue to strengthen our love no matter what comes our way. Yes, we took a risk but we also took so many precautions to keep everyone safe and healthy. From the bottom of my heart, I am grateful for everyone who came and helped us with our big day."
How the wedding vendors are coping
For events coordinator
Abby
(who handled Mary Grace and Marco's wedding), 90 per cent of their wedding clients postponed their reservations for the rest of the year. The pandemic almost had them hitting rock bottom, as opposed to their usual packed schedule during summer to mid-year, which is dubbed as the annual wedding season.
Amid all the challenges, however, she said, "The biggest hurdle for me as a wedding coordinator is probably the emotional attachment I develop with the couples; I always feel their emotions leading up to their big day. Since we play a huge role on their big day, we're always used to having back up plans. But since this situation really pulled a lot of uncertainties, it felt really new and it was hard to handle. Still, being able to help out with weddings before the pandemic, my biggest realisation is we are all humans and we hurt the same, we love the same, we survive the same."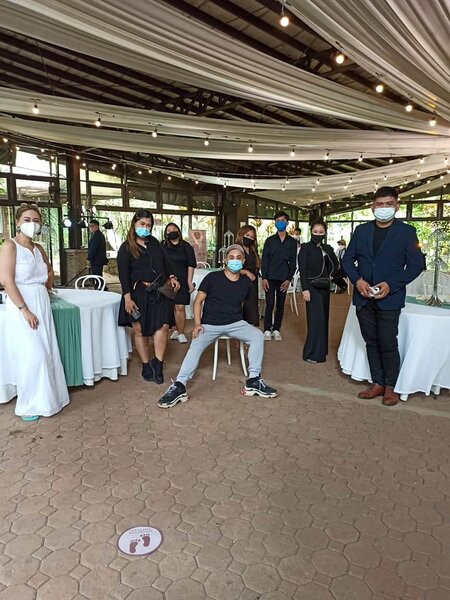 Wedding photographer
Jexter
is on the same page as Abby, saying that most of his clients either cancelled or postponed, making it a difficult year for those in the wedding preparations industry. He said that the craziest ordeal is making sure that they don't pen down rescheduled weddings on the same date by accident.
His most memorable experience is a grand Chinese wedding he took part in earlier this year, where the guest list significantly decreased as some guests were flying in from Wuhan, China. His team wore surgical masks, but some of the guests did not, so fear was definitely lurking at the back of his head during the wedding.
"Despite all that, it was still a lovely wedding. You can see the couple and the happiness they had after the celebration. As a photographer, you have to document it in a way beyond the elegance of the formal setting but rather with the pandemic as a part of the couple's story. It was a story that should be felt in the photos and it was amazing to see that despite the situation, love was felt. Truly, love is immune [to the situation]."
The future of weddings in the new normal
The wedding industry is just one of the many others deeply affected by COVID-19. "The word 'future' is what I'm banking on," said Abby. "I'm still hoping we can go back to the same wedding events we've had before the pandemic. I'd like to believe that what's happening right now is just temporary. But in the meantime, having to adapt to the new normal — which meant hygiene and government guidelines being the top priority — will be our concern."
"This situation has affected my career but on the flip side, I was able to adjust and adapt to the current trend," shared Jexter. "I started offering services for soon-to-weds who plan to have an intimate wedding. I believe that the wedding planning business will resume to its norm sooner than we think. But this current wedding celebration trend will be part of the norm. Right now, we just have to go with the flow."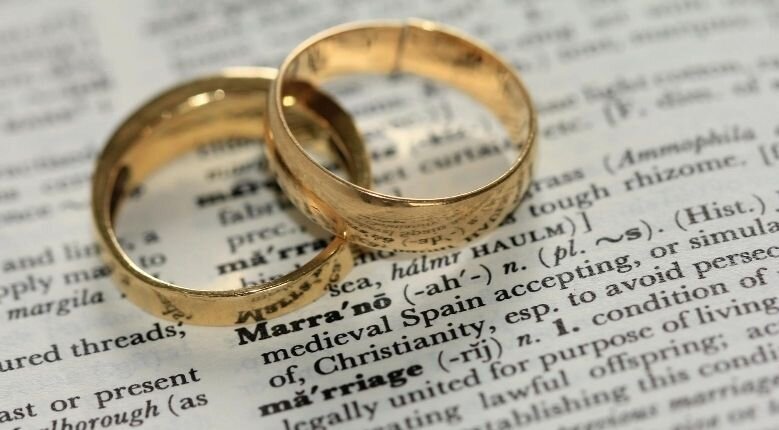 We can all agree that we still have a long way to go before everything goes back to normal or transcends to a new kind of normal. Both Abby and Jexter remain optimistic. After all, this is an industry that operates with love at its core.
Speaking of the new normal, three people share what it's like to go back to the office during the pandemic here.