When it comes to determining the latest 'it' trends, we often turn to celebrities. From hairstyles to makeup to clothes, they make for very reliable (though at times, questionable) sources of inspiration. But apart from the basics, they're also a great source of ideas when it comes to dressing up our nails. Some of the recent 'tips that caught our attention — and envy — are Dua Lipa's bedazzled nails during the Met Gala, Marc Jacobs' Peanuts-inspired manis, and of course, Bella Hadid making 'cool' Frenchies a hit once again. But it looks like Bella's sister and fellow model-slash-influencer Gigi Hadid is the one truly winning the top 'tips arena with some fun fruity nail art.
With the help of her go-to celebrity manicurist, Mei Kawajiri (who is also responsible for the nail magnificence mentioned above), Gigi's nails transformed into a tropical fruit salad, with apples, kiwis, watermelons and more, adding some playful flair to her usually glammed up 'tips. And yes, those are handpainted!

People were quick to praise the adorable mani on Kawajiri's Instagram, some even tagging other celebrities and influencers like Kim and Kourtney Kardashian to get on with the trend. Many also commented on how much they want to try out the look but found it intimidating considering that the teeny tiny fruits were intricately drawn on by Kawajiri herself.

But fret not! If you're in with the crowd who wants to sport this fruity nail art à la Gigi Hadid, here are some other ways to score this mani sorted based on the difficulty level.
Easy: nail wraps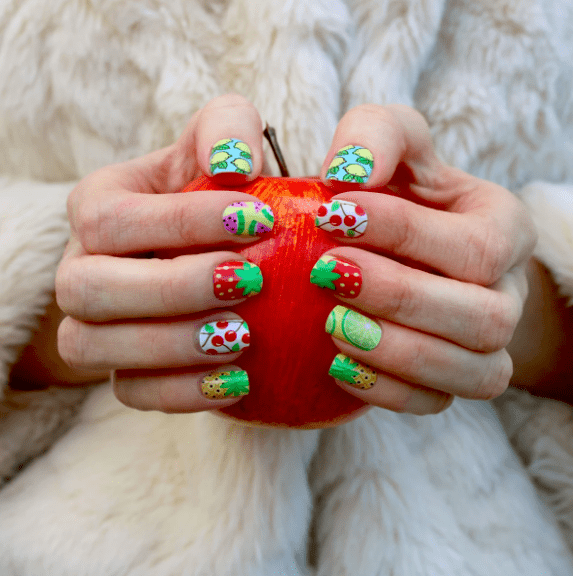 (Photo from: iscreamnails.com)
We recently dished how easy nail wraps can be if you're in for a quick mani and it's no different for this trend. Just lookout for a fruity nail art design that you want, stick it on and file the excess, swipe on some base coat and you're good to go!
Medium: Gel nails + fruit stick-ons
If you're looking for something a bit more long-lasting, up the ante by trying on gel-polished nails decorated with fruit stick-ons. Whether you want to use gels that need lamps or not, this proves to be another viable option to get some cute fruity nails without exerting too much effort. The gel also serves as a great adhesive for the stick-ons, giving off a nice layered look to your final result. The only thing you'll really have to invest in is time as gels take a bit more time to dry than regular polish.
Hard: Drawn-on with regular polish
If you want to channel your inner Mei Kawajiri but feel like tiny fruits are still not up your alley, these bigger fruit designs are the thing for you. The designs are a bit easier to play around with as they allow more space to move around in, but it can still be quite tricky as it requires a lot of drawing skills to get it right. If you feel like you're up to the challenge, embrace the artist in you and give this a whirl.
Expert: Acrylic + fruit stick-ons
Have a couple of bills to spare or are truly into the craft of nail art? Then venturing into acrylics will be no biggie for you. A more tedious process than just regular or gel polishes, acrylics take a lot of shaping, buffing, and tweaking to get right. But once you get past the initial stage of building your foundation, adding the colours and the fruity stick-ons will come as a breeze.
You can also play around with a lot of illusions with acrylics, such as incorporating the stick-ons into glossy, glass-like bases or elegant matte finishes. The only kicker with this one is the time and effort that comes with decorating each nail, but the result will be no doubt fun!
(Cover photo from: iscreamnails.com)
Next, find out what your fave nail colour says about your personality!