As every seasoned traveller knows, planning for your trip takes a huge chunk of your time and effort. Carefully researching for and mapping out your itinerary is especially more important if you have limited resources like time and money to work around with. Considering all that, it's so tempting to just avail pre-planned travel packages from different travel agencies. But for those who want to have a bit more freedom to navigate, a DIY trip is always the best option. Luckily, putting together your whole itinerary just got a whole lot easier.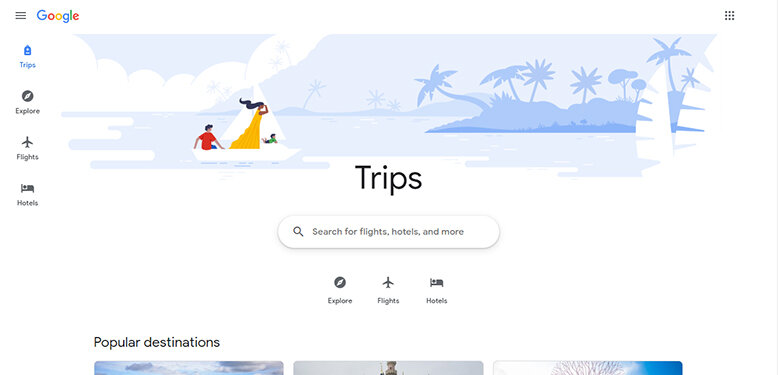 A screenshot of Google Travel on desktop
Google, the world's largest search engine, has just rolled out new features under its Google Travel umbrella. In the past decade, we saw the launch of Google Flights and Google Hotels — features that help travellers compare their transportation and accommodations easily. If you can recall, they even created a Google Trips app back in 2016, but it was shut down last year. Instead, Google worked in the past few months to improve Google Travel, making travel planning more efficient for its users.
So what can you do with Google Travel's recently rolled out features? Ahead, we list down how you can make the most out of the site that's both accessible via mobile and desktop.
Know the best time to visit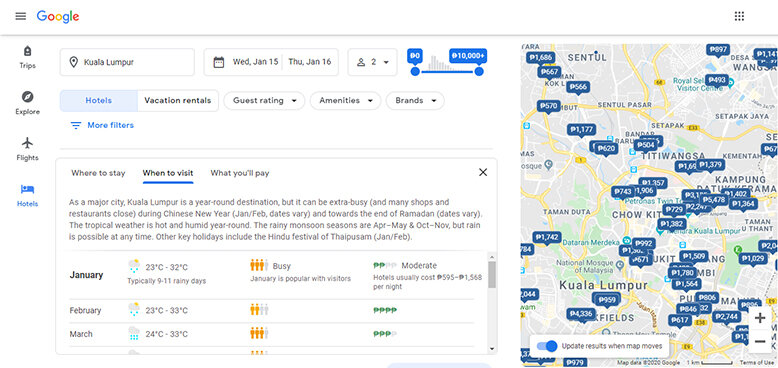 A screenshot of the site showing monthly traveller stats
Not sure when to travel this year? Those with flexible travel dates can finally set a date for their vacay now that Google Travel's new features offers insights on the best time to visit. You can check out the "When to visit" tab under Hotels and Explore section that gives you an overview of the weather, tourist density, and prices in the following months. It briefly notes the local holidays you may or may not want to avoid when planning your trip. The "What you'll pay" tab that you'll find when you search for hotels also helps by letting you know of the average hotel prices per month, in case you might want to change your dates based on your budget.
Find the place for you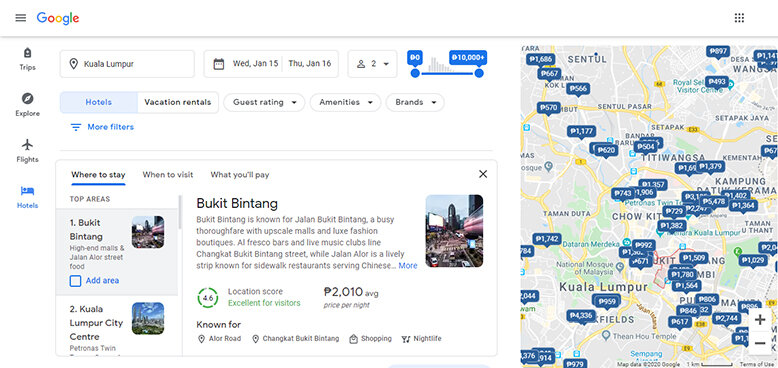 Google Travel's new features now show you top neighbourhoods in your destination
The best part of travelling is exploring all the different neighbourhoods of your destination, experiencing the different vibes and experiences each has to offer. But narrowing down the place that best fits your interests can be difficult. Often, it requires you to thoroughly read through blogs and other websites to get a gist of what they each offer. But Google Travel's new features make it all easier for you with their "Where to Stay" tab in the Hotels section. Know the top areas of your destination as well as the activities you can expect to do in each of them.
See personalised results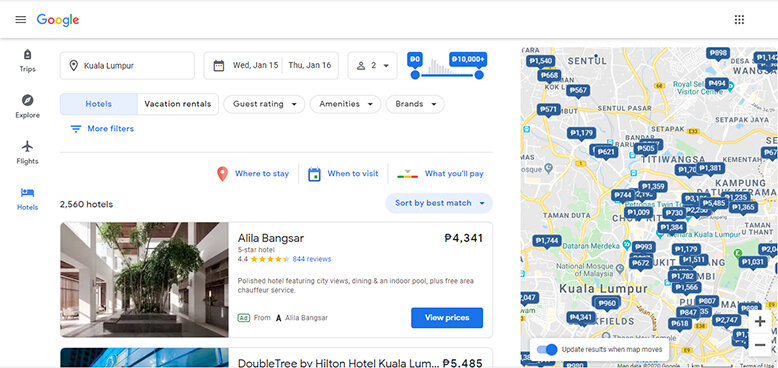 Find the perfect places for your stay
Based on all your past searches and trips, Google Travel will suggest hotels that cater to what you need. Your hotel results will tell you if you've stayed in a similar hotel before as well as other alternatives within the area. Not to mention, they can also suggest nice accommodations nearby points of interests and attractions you've searched, so you can find a place that's accessible and convenient for you. But if you think tracking your past searches is too much, you can opt to disable that in your account settings.
Set your budget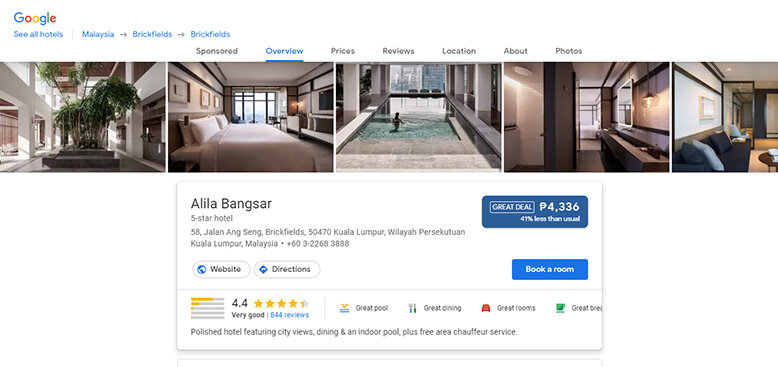 See the overview and breakdown of your accommodation expenses
Of course, trip planning isn't complete without us laying down a budget for our getaway. As much as we need to travel to give ourselves a break, it's still important to be responsible and practical and not spend more than what we have saved. Now Google Travel's new features can help you be on top of your finances. When you finally decide on which hotel you'd be staying, you can confirm the whole cost before booking. By clicking on the "Overview" and "Prices" tabs, Google Travel will show you the nightly breakdown, as well as the total price for your whole stay including tax and other fees.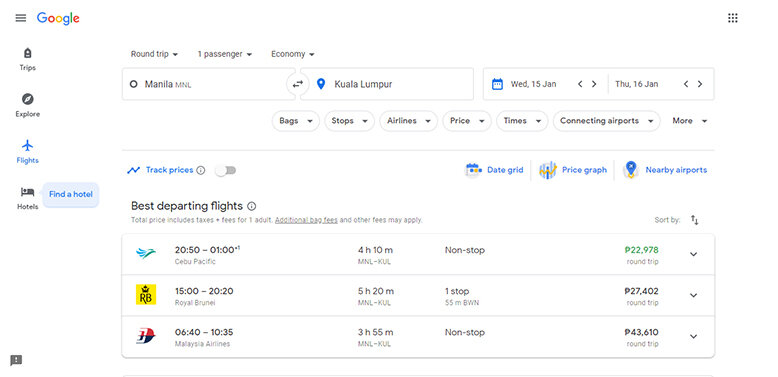 Score better deals by comparing flights based on their prices and schedule
If you're flying to your destination, the Flight section also offers an average of the flight prices. Google checks out all the different plane routes available and suggests the cheapest ones for your date of departure. Neat, isn't it?

Complete your travel itinerary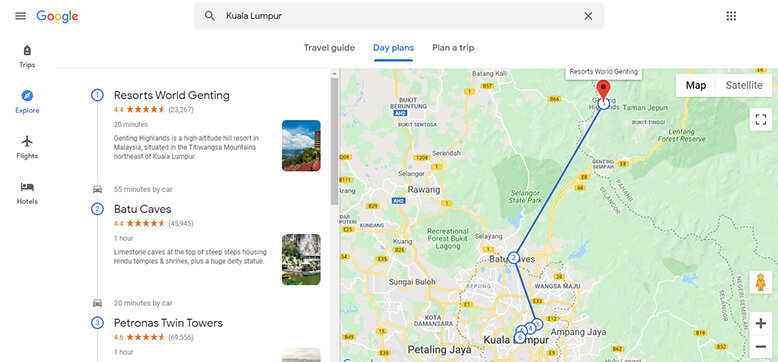 Google Travel suggests itineraries for your convenience
Aside from helping you book your stays and flights, Google Travel also suggests interesting things you can try on your trips. On the Explore section of the site, you'll find top activities based on traveller and local insights. If you don't have time to put together your trip, you can check out Google's pre-planned day trips, which even includes travel time estimates so you can decide whether it's fit for your sched.
Plan at your own pace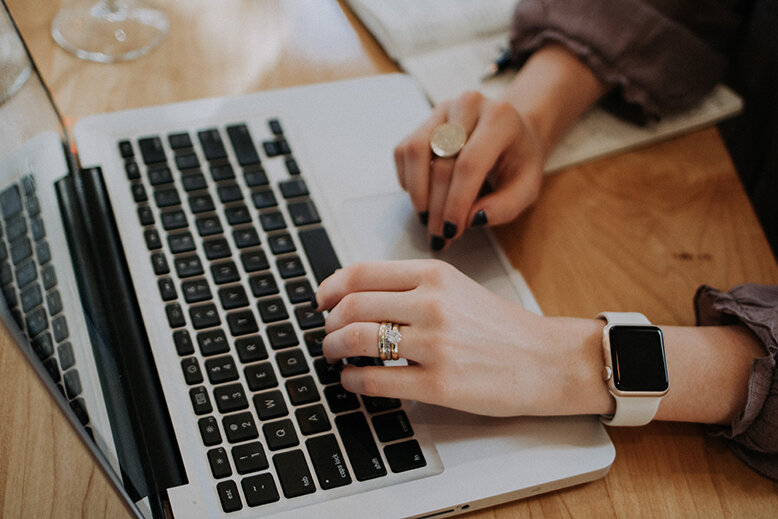 You can easily return to your researching whether you're on the desktop or mobile site as long as you're logged into a Google account
We're all working with a hectic sched every day, so it's totally understandable if you can't wrap up all your planning in one sitting. If you have to go on about your other tasks, feel free to exit the site. If you're signed into a Google account, you can return later on to see your past and upcoming trips, as well as the ones you're still researching. Mobile users can add a shortcut to the site to their phone's home screen for quicker access next time.
Next, finish up your travel prep by packing along these style essentials.