Sunny, frilly, flirty and dreamy — these are the words to describe Happy Andrada's Spring/Summer 2020 Bridal Dressing Robe Collection. In just a single glance, you can already see the uniqueness of each piece with its intricate embroidery. There were no skimping done while creating these dressing robes. From the luxurious fabric choices to the Swarovski crystal embellishments, anyone will feel like a queen while donning one.
Happy Andrada Spring/Summer 2020 Bridal Dressing Robe Collection
But the best thing about these creations? They're versatile. More than just using them as cover-ups while primping for a big day, they can also serve as your main outfit layered with other striking pieces for an ensemble that's like no other. With a palette selection of ice cream pastels, delicate jewel tones, and classic designs, you can easily stand out from the crowd.
Happy Andrada Spring/Summer 2020 Bridal Dressing Robe Collection


To learn more about the craftsmanship and inspiration behind this stunning collection, we interviewed the woman behind the work. Ahead, Happy Andrada shares her creative process and tips on how to style these pieces.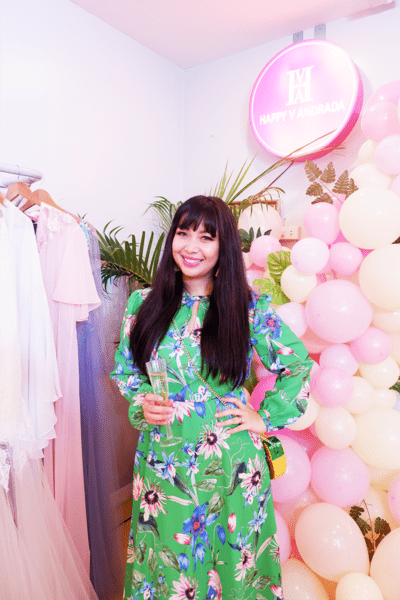 Why choose dressing robes to focus on in this collection?
"When I got married, it's when I started thinking about dressing robes. I had a hard time choosing which dressing robe to wear. I didn't want to wear something traditional like the usual satin ones. I wanted it to be something different, something that I would own. So with my current collection and all the dressing robes that I made, it's all one-of-a-kind, so you don't have anyone that has the same one. You don't have anyone dressing up like you. So it's all for you."
What inspired you to do a Spring/Summer bridal dressing robe collection?
"I wanted Happy Summer, this latest one, to feature pieces made from materials that are perfect for the summer weather and can be used for other occasions. I've had clients who bought a dressing robe from me but they wore it as a gown with lining for evening parties. So in this Spring/Summer collection, all the outfits are versatile, easy to wear, they're soft, they're sheer. And these can also be worn by brides if they opt for a beach wedding or can be styled for various events."
Can you walk us through your work process, how do you conceptualise collections?
"This latest one is inspired by my trips. My husband is from Nice in France and they have very hot weather during the summer. I envisioned a collection of lightweight clothes to wear for the season and the collection came about. When we travel, I get inspiration from the culture, art, food, people and even the environment itself. Inspiration is truly everywhere."
What are your favourite pieces from the collection?
"I really like the super sheer dressing robes and also the bridal dressing gown with the 3D lace appliques, because it's very detailed. I love the texture; I love detailing."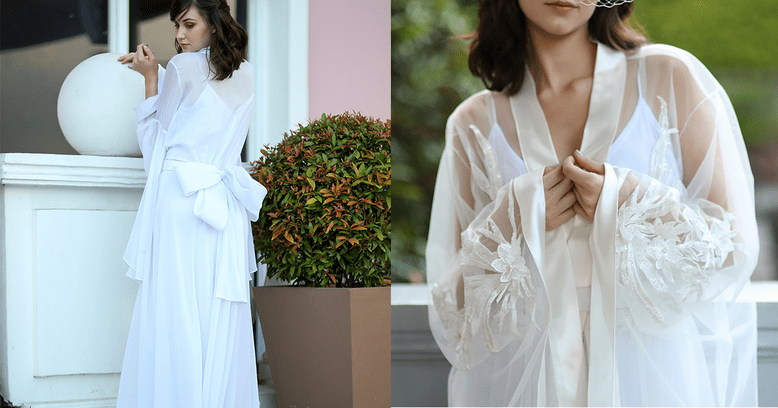 Happy Andrada Spring/Summer 2020 Bridal Dressing Robe Collection (Images courtesy of Happy Andrada)
Can you give us tips on how to style these pieces?
"Some people, they wear the dressing robes with an inner garment like camisole and trousers. Sometimes, they turn it into like a trench coat-looking outerwear. For the beach, you could also wear it with a lovely swimsuit underneath. Or you can wear it as is but with a long lining and it will look like a sleek gown or a pretty wrap dress."
Happy Andrada Spring/Summer 2020 Bridal Dressing Robe collection is now available at www.happyandrada.fashion and at Fashion Art Boutique located at #24 KD corner K1st Kamuning, Quezon City.
This interview was edited for brevity and clarity.
Attending a nuptial soon? Here are some wedding guest outfit ideas for summer weddings.