At the tender age of nine, I fell in love with a hair fragrance for the first time — one with a lush floral-fruity aroma that wafted up my nostrils each time I opened a bottle.

Fast forward to 20 or so years: ​
Herbal Essences
​products still smell wonderful, even though the current collection features an entirely different range of scents and key ingredients. But it is evident that the brand has undergone significant evolution, from reformulations led by new developments in hair science to its partnership with the Royal Botanic Gardens, Kew (or RBG Kew for short).
The full range of Herbal Essences products

But why did a leading global haircare brand feel the need to work closely with a botanical scientific organisation in London? When I received an invitation to spend a day at Kew Gardens with Herbal Essences, I jumped at the chance to get the answer.
The Singapore delegates with Saint Tiu, Principal Scientist at P&G Asia Pacific Haircare

After a 16-hour plane journey to London and a good night's sleep, along with other members of the media and content creators from Singapore, Malaysia and Thailand, we braved brisk autumn winds to explore the Gardens. Here are some of the things we learned.
More than a botanic garden
While it's a popular spot for dates and family outings, it is also home to over 68,000 living plants and considered one of the most biodiverse places on Earth.
Royal Botanic Gardens, Kew is also an internationally important botanical research institution. Their mission? To unlock the potential of plants and fungi through scientific discovery and collaboration across an extensive network of botanists across the globe.
The facade of the research institute
However, their work does not stop at research and education. RBG Kew has worked closely with Herbal Essences to vet and authenticate the key botanical ingredients used in their products. Not only does RBG Kew play an integral role in the conservation of plants globally through seed collection efforts across its international network, research, and the study of conservation genetics, but RBG Kew has also participated in a multitude of projects across other industries. For instance, the botanical authority has previously served as a consultant for the ​
Harry Potter
series to ensure fans cannot obtain the plants mentioned in the books and movies (preventing them from holding Potions experiments at home).
A historical vault of plant knowledge
We were taken on a tour of the Herbarium — a rare opportunity, as it is generally open only to researchers upon request. We learned that there are over seven million different dried plant specimens dating to as far back as 1696 — approximately 80 per cent of all plant types in the world — carefully preserved and stored in the building. This historical database is used to compare with present-day botanicals for a wide range of purposes, such as the identification, naming, and classification of plants, and verification of the botanicals present in the ​Herbal Essences bio:renew range of hair care products.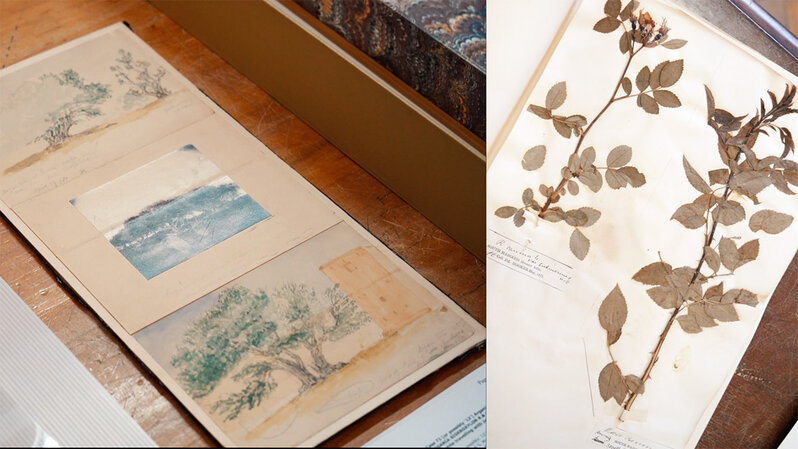 Some specimens at the Herbarium's library
Through the Herbarium library's historical illustrations of goats scaling argan trees (that grow as high as 30 metres) to eat their fruit, we learned how argan oil — a key ingredient used in several
Herbal Essences bio:renew
products — is produced. Argan seeds, scattered on the ground after the goats finish with their feast, are harvested and pressed for a nutrient-rich oil that is beneficial for health, skin, and hair.
A haven for endangered plants
First opened in 1863, the Temperate House at Kew Gardens is the world's largest remaining Victorian glasshouse standing today. Spanning over 4,800 square metres and constructed with 15,000 glass panes, this sparkling structure protects 10,000 temperate plants, many of which are the world's rarest and most threatened.
Inside the Temperate House

"The area of interest here at RBG Kew is to understand plant diversity," said Professor Monique Simmonds, Deputy Director of Science at Royal Botanic Gardens, Kew. "When we understand the diversity of plants, we can maximise their use. Often, if you can find a use for it, it's then more relevant to be able to keep the habitats those plants grow in in good condition."
A living collection
At the Princess of Wales Conservatory, we got to see an extensive living collection of plants from the Tropics, including a wide selection of Aloe vera plants that are used for RBG Kew's vetting and authentication process for the Herbal Essences bio:renew range.


Extracting Aloe vera

"There are a lot of species of Aloe but with our partnership with the Royal Botanic Gardens Kew, we are able to identify that the Aloe vera we're using is one that is potent; it has a lot of polysaccharides," shared Saint Tiu, Principal Scientist at P&G Asia Pacific Haircare. "Aloe vera has a lot of healing properties and moisturising properties that can deliver great benefits and formulations containing it can deliver great benefits to the hair.
Unlocking the secrets of plants
At the Jodrell Laboratory, we learnt about the botanical fingerprinting process the scientists at RBG Kew undertake to identify and authenticate the key botanicals that go into every Herbal Essences bio:renew product. ​ ​By participating in an experiment there, we also discovered the benefits of histidine, an antioxidant naturally found in hair, skin, and plants.
An experiment showing how Herbal Essences clears up impurities in water

Derived from fermented corn sugar, histidine — a core ingredient in the Herbal Essences bio:renew formula — traps, neutralises, and removes the buildup of free radicals caused by everyday stressors that can damage hair.
And so this is Christmas
Having concluded our main tour of Kew Gardens, we stayed on to bask in Christmas at Kew, an annual festive trail in the Kew Gardens comprising breathtaking light installations and projections that definitely put us in the mood for Christmas. An immensely popular event, tickets for it sell out well ahead of time, so some planning is required for anybody planning to visit.
Lights are up at Kew in time for the holidays

If you're looking to come by some other time, Professor Simmonds offers these suggestions: "The glasshouse is always lovely and you get an idea of the diversity of plants. You can actually learn something while going around. If you want to have something where you're really connecting to nature, I think that some of the conservation areas where you could walk through the woodlands are good. In springtime, when you've got the bulbs as well, that's just an extra-sensory experience. So it's visual but you can also smell something. That's just lovely."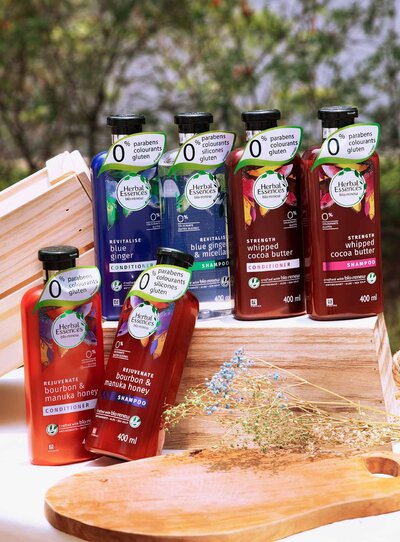 The range of Herbal Essences products
Discover the plant ingredients that are in Herbal Essences products. Enjoy the hair-refreshing benefits of ​Alpinia Galanga Rhizome Extract and Betula Alba Bark Extract, among other plant extracts ​, ​found in the ​
Herbal Essences Micellar Water and Blue Ginger
​range. Rejuvenate dull hair with the help of plant ingredients such as Ecklonia Radiata Extract and Safflower Seed Oil in the ​
Herbal Essences Bourbon and Manuka Honey
range. Strengthen damaged hair with the power of Cocoa Seed Butter and more in the ​
Herbal Essences Whipped Cocoa Butter
range.
Find out more about Herbal Essences' partnership with RBG Kew ​here​.